Tuesday Turn About #177 It's Beginning to Look a Lot Like Christmas
Come and join us for Tuesday Turn About link party.
It's Beginning to Look a Lot Like Christmas! Welcome the holiday season with this collection of fun and festive Christmas ideas! Tuesday Turn About Link Party #177
Hello and Happy Tuesday! I hope you are having a fabulous start to the week!
Welcome to this week's Tuesday Turn About! I can't believe that we're already half-way through November and that Thanksgiving is next week. It feels like this month is flying by!
Have you started decorating for Christmas, or do you wait until after Thanksgiving? I have started adding a just few holiday touches. We are hosting Thanksgiving, so we will be waiting until the day after Thanksgiving to decorate our tree. I don't think there's a right or wrong way to approach holiday decorating. I say that you should do what makes you and your family happy.
So even though I haven't decked the halls quite yet, I am really excited for the upcoming holiday season. And of course, there's nothing like a little snow to get you into the holiday spirit. Here in Connecticut, we are expecting our first snow of the season today! It's really beginning to look a lot like Christmas!
Are you ready to get this party started?
In case you missed it, we had shared some fantastic ideas your Thanksgiving celebration. You can read all about them HERE. We crafty with some fun and creative seasonal craft ideas. You can learn more HERE! And, last week we started sharing some holiday inspiration. You find it all HERE.
Be sure to head over to My Wee Abode and Reinvented Delaware to check out EIGHT additional features from Tuesday Turn About! If you haven't been featured at My Family Thyme this week, you may have been featured there!
Before we check out this week's new features, let's get some helpful tips.
Household Tip
In preparation for holiday baking time, I had shared some of my favorite baking tips, like this simple tip to help keep brown sugar soft and this tip to soften butter quickly. This trick will help make cold butter easier to work with while making a pie crust. I also shared one of my favorite baking products.
This week's tip will help you with cookie baking. Do you ever have the problem of cookie dough getting stuck in your cookie cutters? The solution is simple. Dip your cookie cutters into flour with each cut.
If you don't want to add additional flour, there's another solution…unflavored non-stick spray. Just give the cookie cutter a spray and it will keep the dough from sticking.
Likewise, if you have the problem of dough getting caught in your cookie scoop, give your cookie scoop a spray with unflavored, non-stick spray. This will help your cookies be a uniform size and shape. Happy Baking! 🙂
Julie's Blogging Tip
Quick tip…
Remember to clean-up your email list each month. If your email provider has a 'purging' tool (most do), using it will help you analyze your stats more clearly and you won't have to pay for those that are not your true audience. 🙂
My Family Thyme
Make a Bread Cornucopia for Thanksgiving | How to Make Perfect Pumpkin Bars
My Wee Abode
DIY Plush Chunky Yarn Christmas Wreath |
Christmas Decor and DIY Ideas for a Small Home
Reinvented Delaware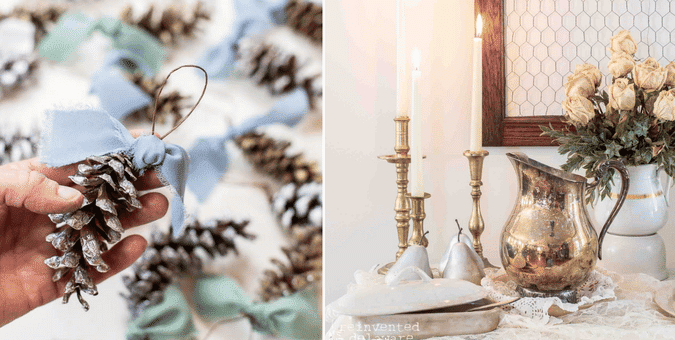 Cheap DIY Pinecone Ornaments | Vintage Buffet Tablescape for the Holidays

Easy DIY Paper Christmas Decorations
Are you looking for some simple holiday decorations to make for the upcoming season? Shelley from Calypso in the Country shared her Easy DIY Paper Christmas Decorations. I love how you can change the look by using a variety of patterned papers. Such a fun, easy, and pretty decoration!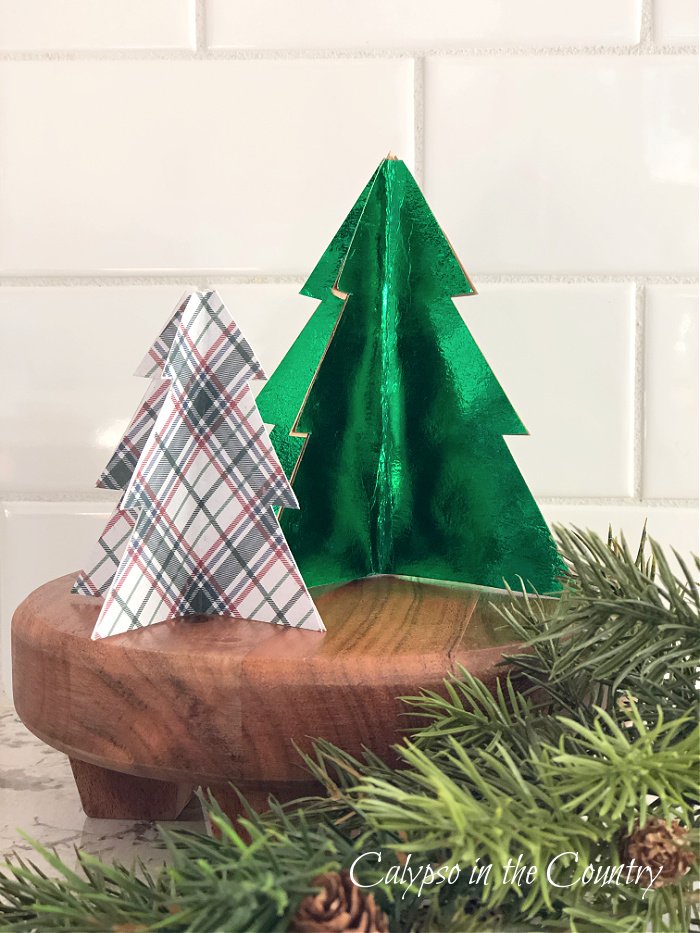 Mason Jar Sugar Cookie Mix Recipe
It's the season of gift giving! If you are looking for a simple, budget-friendly and festive homemade gift, this Mason Jar Sugar Cookie Mix Recipe from Walking on Sunshine Recipes is for you! This is the perfect gift idea for coworkers or neighbors. Who will you make one for?
DIY Fresh Rosemary Trees
Do you love the scent of fresh rosemary? Why not bring it into your home this holiday season with these DIY Fresh Rosemary Trees from Tanya at TwelveOEight? Such an easy project and a great gift idea too!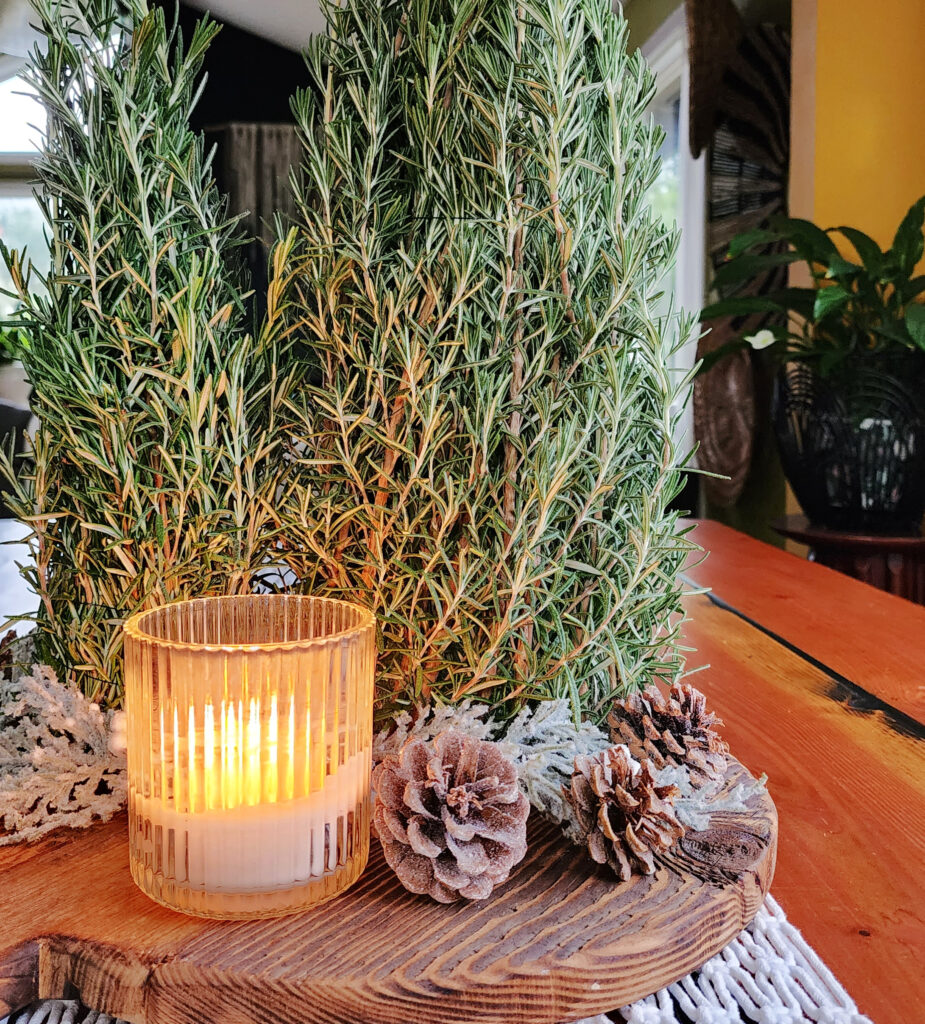 Peppermint Hot Chocolate Cocktail
Are you looking for a fun and festive drink to serve at your holiday gathering? The flavors of peppermint and chocolate come together in this decadent cocktail. Michelle from The Wooden Spoon Effect shared her Peppermint Hot Chocolate Cocktail. Doesn't this look amazing?! I can't wait to give this recipe a try!
Before you get started, take a look at our guidelines:
This party is for home decor and home-related posts only (recipes, organizing, DIY, crafts, etc.). Link up to 3 related posts. Please do not link up informational posts that do not relate to the topic.
If you would please not link up shops, advertising, round-ups, other link parties, or any posts promoting sales, we would appreciate it.
DO NOT PIN FROM IMAGES ON THIS PAGE (it just won't work right on Pinterest). However, please visit the original post/source and pin from there. That works perfectly!
Please make sure that your images are in a jpeg or png format. If we can't save your image, we may not be able to feature you. So sad!
By linking to the party, you give us permission to share your projects on our blogs and social media. We will always give proper credit with a no-pin image.
Tuesday Turn About Link Party runs from Tuesday at 6 pm EST through Saturday 1 am EST! Join us during those times each week.
Thank you so much for visiting! I can't wait to see what you share this week!
Wishing you a beautiful week ahead!