Tuesday Turn About #176 Holiday Inspiration
Sharing easy, creative and festive holiday inspiration for the upcoming holiday season! Tuesday Turn About Link Party #176 Holiday Inspiration
Hi Friends and Happy Election Day! I hope you're enjoying a wonderful week!
Here in Connecticut, mother nature has been a little mixed up. Over the weekend, it was warm and humid. My brother actually turned on his air conditioning! Then today, it was cold and blustery…feeling more like December. It feels like it's gone from summer to winter in a day!
While I am not a fan of winter weather, I am looking forward to being cozy and all of the sights, sounds, scents, tastes, and feels that the upcoming holiday season will bring.
To get us in the spirit of the season, I am sharing FOUR amazing features that will give you a big dose of inspiration to get you and your home ready for the holiday season.
Let's get this party started!
In case you missed it, we had shared some fantastic ideas your Thanksgiving celebration. You can read all about them HERE. And, last week we got crafty with some fun and creative seasonal craft ideas. You can learn more HERE!
Be sure to head over to My Wee Abode and Reinvented Delaware to check out EIGHT additional features from Tuesday Turn About! If you haven't been featured at My Family Thyme this week, you may have been featured there!
Before we look at the features for this week, let's get a new blogging tip!
Julie's Blogging Tip
This week's tip is probably a 'rerun', but I really cannot stress this enough.
When I first started using a DSLR camera, to say it was a steep learning curve is an understatement. I had SO much to learn, and still do… darn those rhinestone embellishments!
But, one key to getting better at snapping a picture is having a friend (blogging or otherwise) that is (gently) honest. I am blessed and have several of these people in my life. Over the last 6 years, I've gone to those friends (and family members) and asked them for their honest opinion about images I have taken. It can be exasperating at times, but it helps me persevere, fine tune my skills, and make me a better photographer!
My Family Thyme
Cranberry Orange Muffins | How to Make Sparkling Cranberry Orange Sangria
My Wee Abode
How to Add a Winter Crate to Your Tiny Entryway | DIY Coastal Farmhouse Winter Wreath
Reinvented Delaware
Easy Shrimp Bisque | DIY Gift Ideas

How to Make Small Christmas Trees With Fresh Lambs Ear
The holiday season is a time for crafting and creating! Diane from South House Designs made the most adorable homemade table top Christmas trees. I love the natural beauty and am inspired to plant some lambs ear, so I can make these next year! Head over to learn How to Make Small Christmas Trees With Fresh Lambs Ear.
Cranberry Orange Margarita Recipe
Are you entertaining this holiday season? If so, it's always a good idea to have an easy recipe for a festive, seasonal cocktail to share with your guests. You will love this delicious Cranberry Orange Margarita Recipe from Michelle at Thistle Key Lane. Isn't is pretty, too?!
Easy Paper Snowflakes
Are you looking for an easy, inexpensive winter decoration? Anna from Sky Lark House shared these gorgeous Easy Paper Snowflakes. I love how simple they are to make, yet they are so beautiful. This seasonal craft would make a great decoration, garland, ornament or gift embellishment. I can't wait to make a few!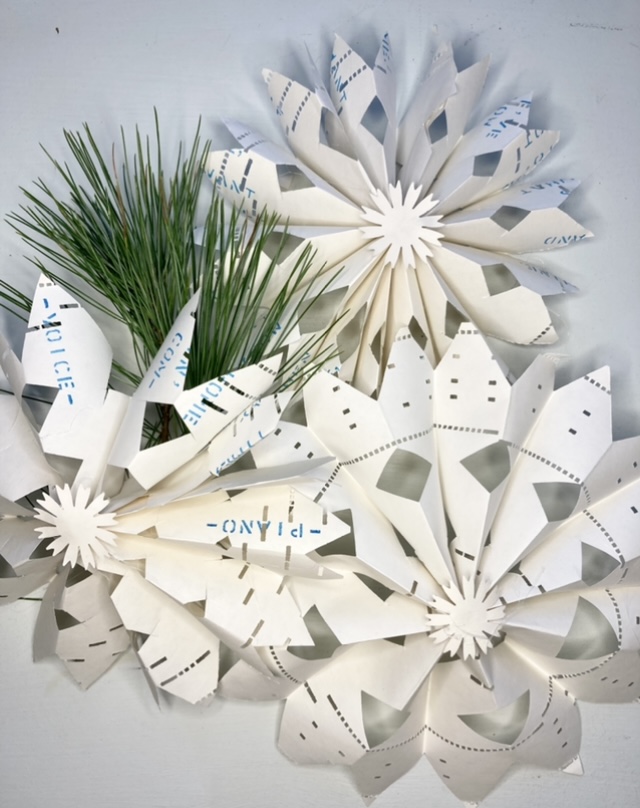 Light Fixture Thrift Flip
I love entertaining for the holidays and try to do little, inexpensive updates around the house before I start my holiday decorating. This Light Fixture Thrift Flip from Maria at Pure Happy Home is such an inspiring project. I am so amazed at Maria's creativity and talent to transform this thrift store light fixture from drab to fab!
Before you get started, take a look at our guidelines:
This party is for home decor and home-related posts only (recipes, organizing, DIY, crafts, etc.). Link up to 3 related posts. Please do not link up informational posts that do not relate to the topic.
If you would please not link up shops, advertising, round-ups, other link parties, or any posts promoting sales, we would appreciate it.
DO NOT PIN FROM IMAGES ON THIS PAGE (it just won't work right on Pinterest). However, please visit the original post/source and pin from there. That works perfectly!
Please make sure that your images are in a jpeg or png format. If we can't save your image, we may not be able to feature you. So sad!
By linking to the party, you give us permission to share your projects on our blogs and social media. We will always give proper credit with a no-pin image.
Tuesday Turn About Link Party runs from Tuesday at 6 pm EST through Saturday 1 am EST! Join us during those times each week.