Make a Bread Cornucopia for Thanksgiving
Using ready-made dough, this edible bread cornucopia is so simple to create and is the perfect addition to your Thanksgiving table!
This post contains affiliate links. If you click on an affiliate link and purchase something, I may receive a small commission, at NO additional cost to you.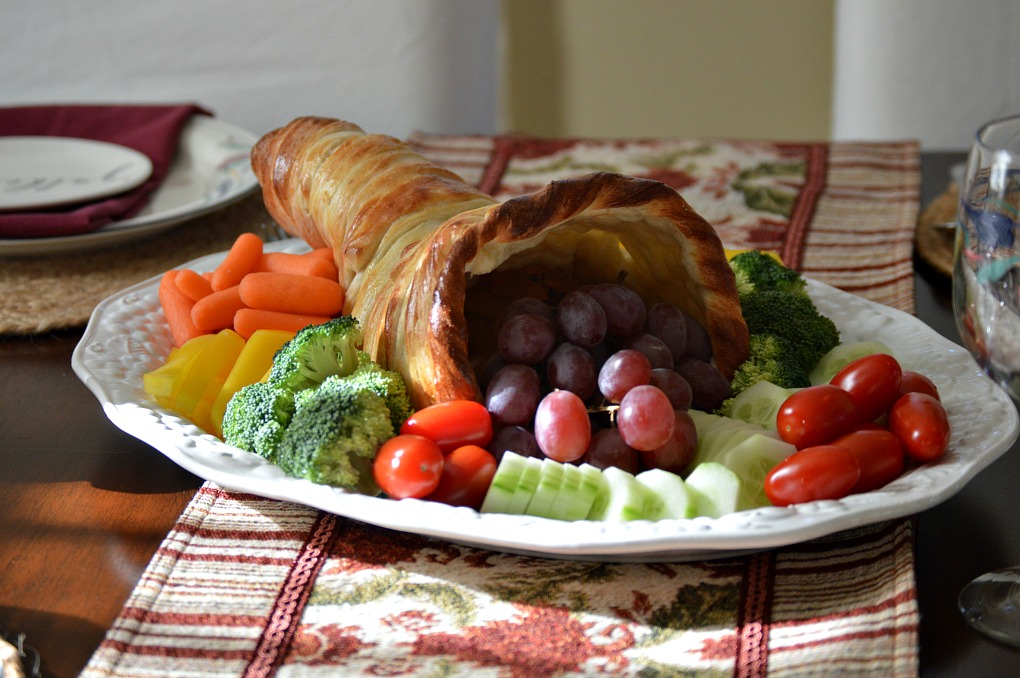 It's time for the November Pinterest Challenge! If you aren't familiar with the Pinterest Challenge, it's a monthly blog challenge to motivate us all to not just pin, but to make it happen. This month I am sharing this this Thanksgiving Bread Cornucopia! Here is the Pin inspiration –>> Instructables.
TO JOIN NEXT MONTH'S #PINTERESTCHALLENGE, CLICK HERE TO SIGN-UP ⇒ December Pinterest Challange
Thanksgiving is a holiday where we gather with family and friends to give thanks for all of the blessings in our life.  The cornucopia, or horn of plenty, is a traditional symbol of the holiday.
I have been making this bread cornucopia for many years. I began by making it for my first elementary classes for our Thanksgiving feast.  Then, when I had my own children, I always included this fun and festive centerpiece in our Thanksgiving dinner.  These past couple of years, I have not included it and it has been missed.  I recently was scrolling Pinterest and spotted this pin.  I instantly knew what I should make!
When I went to the market to pick up the ingredients, I couldn't find Pillsbury breadsticks.  Instead, I purchased a couple of cans of Pillsbury pizza crust.  It worked out just as well.
Ingredients:
2 cans of Pillsbury breadsticks (or pizza crust)
aluminum foil
non-stick spray
1 egg
1 tablespoon water
pizza cutter
pastry brush
To create your own bread cornucopia, follow these simple step by step directions:
Preheat your oven according to package directions.
Create a cornucopia shape with your foil and spray it with non-stick spray.
Open cans of dough.  If you are not using breadsticks, use a pizza cutter to cut the dough into strips.
Starting at the end of the cornucopia, wrap the dough strips around the foil, slightly overlapping the dough.
When complete, twist the final dough strip and place around the opening of the cornucopia.
Beat the egg and a tablespoon of water in a small bowl to create an egg wash.
Brush the egg wash onto the bread cornucopia and bake.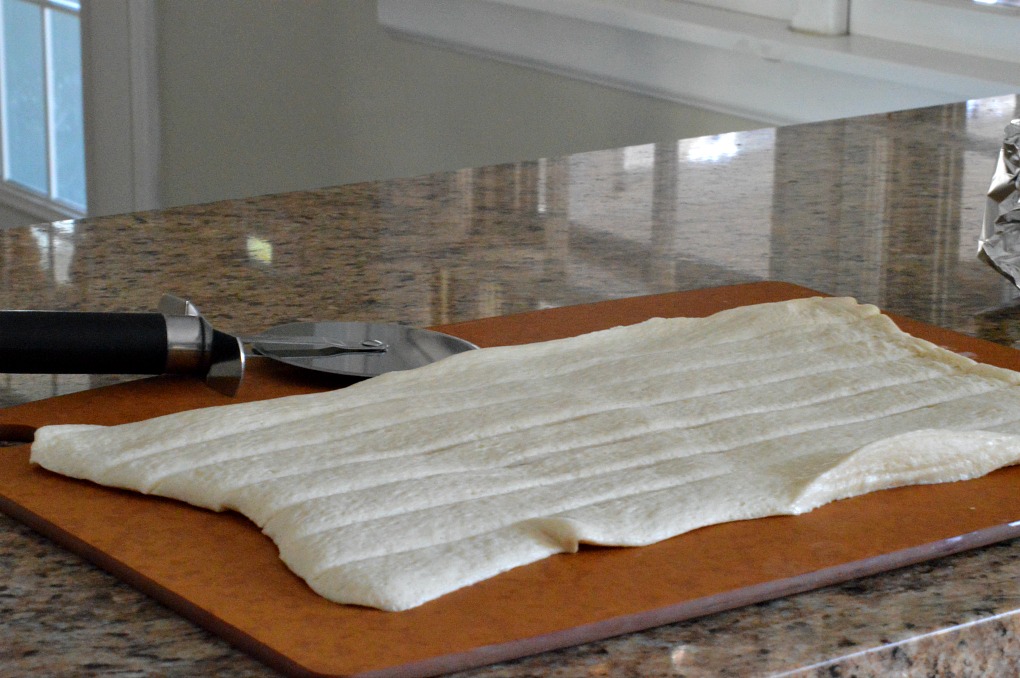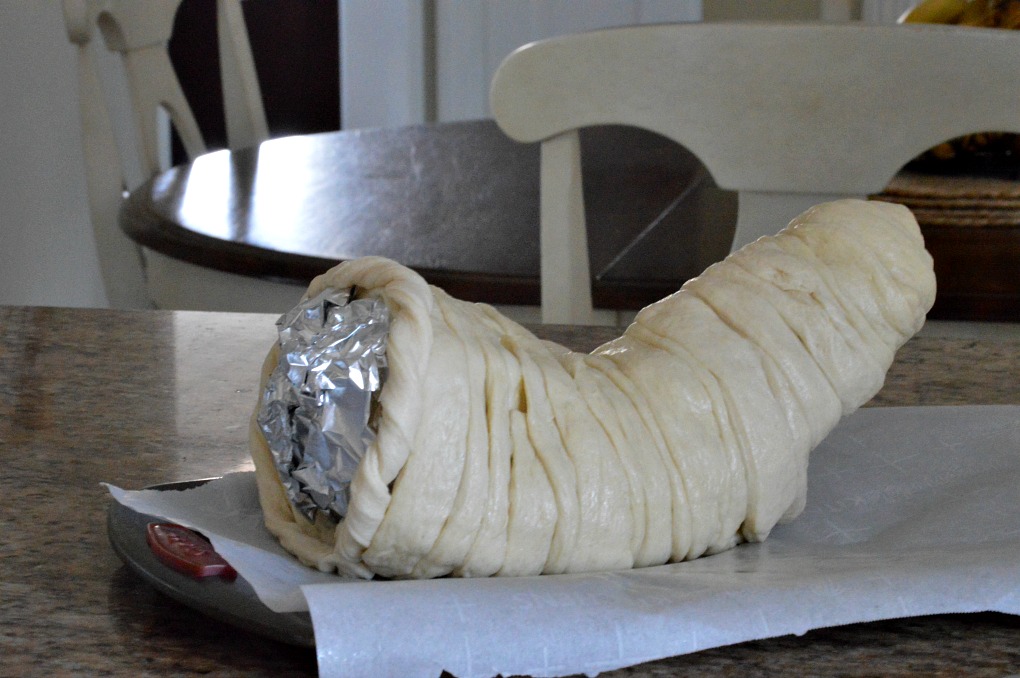 Keep an eye on it as it may brown quickly.  After mine was browned, I tented it with foil and let it bake an additional few minutes to ensure the dough was cooked.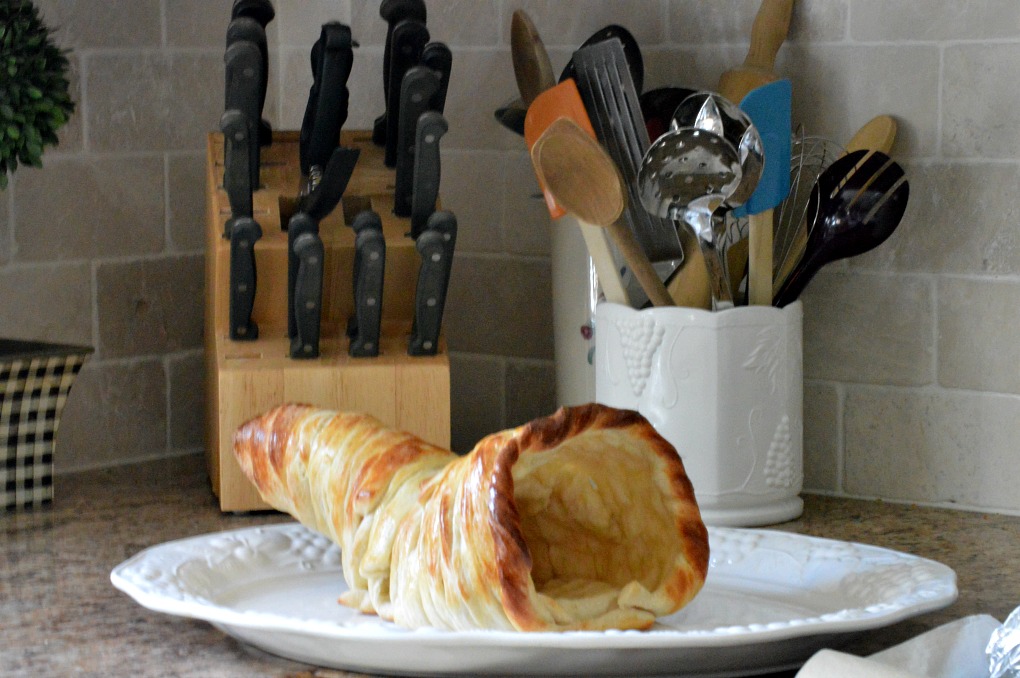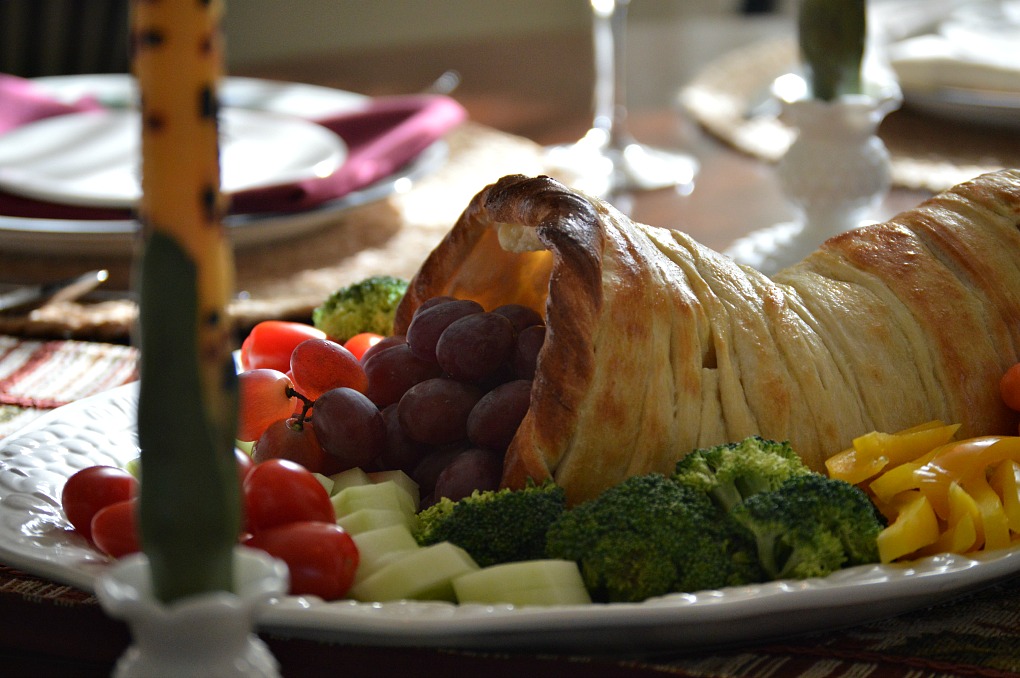 I hope you enjoy this festive, edible bread cornucopia on your holiday table.  Wishing you a blessed Thanksgiving!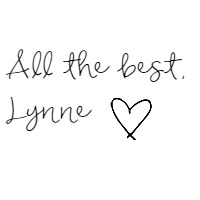 If you like would like to save this post for later, please pin it here!
---
For more Pinterest inspired projects from this month's Pinterest Challenge hosts, check out the links below ↓

My Pinterventures  •  Eye Love Knots  •  Faeries and Fauna
  Cookies Coffee and Crafts  • Across the Boulevard • Purple Hues and Me
My Family Thyme  •  Our Good Life  •  Farm Girl Reformed
Decorate and More with Tip  • Mom Home Guide  • Our Unschooling Journey  
 This Autoimmune Life  • Christina Faye Repurposed •  Stone Cottage Adventures
Love My Little Cottage  •  My Bijou Life  •  K's Olympic Nest
All That Life Stuff  •  Seeking Serenity & Harmony •  Alayna's Creations
Peony Street  •  DIY Vibes 

 Now, let's see what the other hosts have created ⇓⇓