Embroidery Hoop Christmas Ornament
Looking for a simple, pretty homemade Christmas ornament?  This embroidery hoop Christmas ornament is easy to make and will add some farmhouse charm to your tree this year! Thank you to DecoArt for providing me with Americana Acrylic Paint.
This post contains affiliate links. If you click on an affiliate link and purchase something, I may receive a small commission, at NO additional cost to you. 
I am so excited to be part of the 2019 Ornament Exchange Link Party hosted by the creative and talented Erlene from My Pinterventures. In this Christmas ornament exchange, a group of craft bloggers were matched up and asked to create a homemade ornament for each other.
I was matched up with Marie, the lovely lady behind the inspiring blog, The Interior Frugalista. Marie is such a creative and talented person. When we connected, I learned that she likes red and traditional Christmas colors. I decided to make her a farmhouse style embroidery hoop Christmas ornament, with traditional Christmas colors. I hope she likes it!
What I like about this homemade ornament is that it can be personalized to your tastes and style. Depending on the paint colors,paper, and embellishments you choose to use, you can definitely make it your own.  To make this embroidery hoop Christmas ornament, just follow this simple tutorial.
Materials:
embroidery hoop
scrapbook paper
scissors
acrylic paint (I used DecoArt acrylic paints)
paint brushes
glue gun with hot glue
twine
holiday embellishments (greenery, miniature pinecones and berries)
Directions:
First, take the embroidery hoop apart.  Using the inside of the hoop as a tracer, trace the circle onto the scrapbook paper.
Next, cut out the circle and set aside.
Paint the embroidery hoop and set aside
When dry, put the hoop back together.
Then glue the scrapbook paper onto the back of the embroidery hoop.
Lastly, decorate with holiday embellishments. I used hot glue to add these to the my ornaments.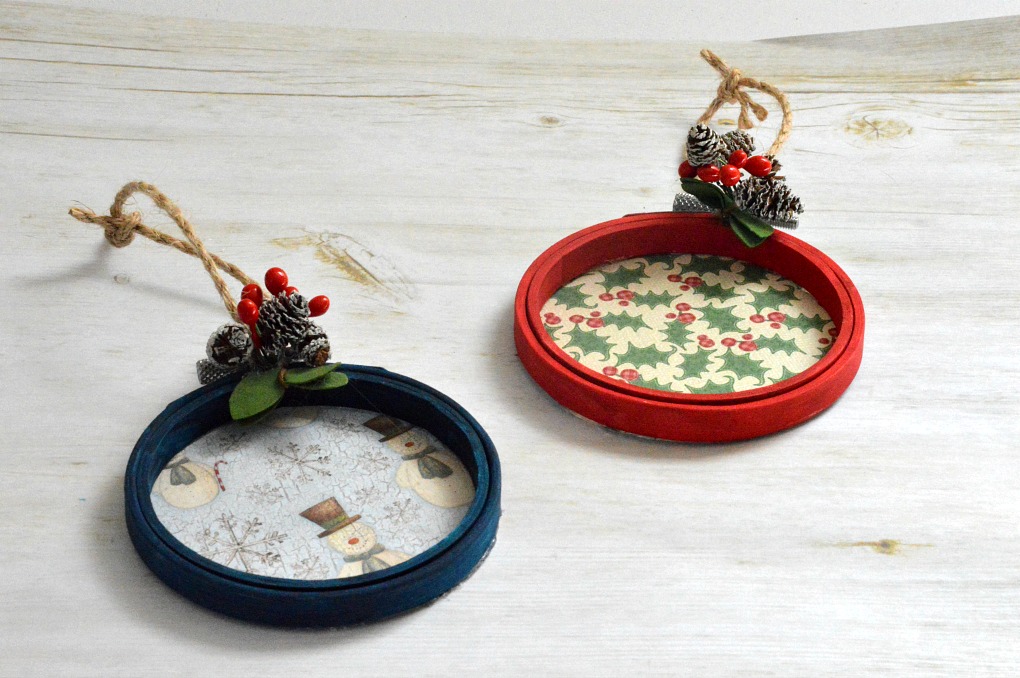 Here are some other Christmas ideas you might like:
With the holidays right around the corner, I will be making a few of these embroidery hoop Christmas ornaments for family, friends, and for my tree too!  Do you like to make your own Christmas ornaments?  If so, you are sure to be inspired by all of the creative ideas below!
You are invited to the Inlinkz link party!