How to Make Christmas Ornament Reverse Canvas and a GIVEAWAY!
Follow this simple tutorial to make a beautiful framed DIY Christmas Ornament Reverse Canvas. Use an inexpensive canvas to make this holiday wall decor!
This post contains affiliate links. If you make a purchase after clicking my links, I will receive a small commission at no additional cost to you.
I love summertime.
I love the carefree days with warm weather and colorful flowers.
I love making and canning homemade blueberry jam, as well as spending time on my coastal inspired porch.
But I have to confess that I am already thinking ahead and getting excited for Christmas!
It's less than six months away. Just thinking about the upcoming holiday season makes me smile. I love everything about the Christmas season…especially the crafting, decorating, and gift giving!
So this week here on My Family Thyme, we're going to be celebrating Christmas in July!
What better way to celebrate Christmas in July than with a wonderful GIVEAWAY!
I am so excited to be collaborating with my talented friend Val from Farm Valley Home to bring you an amazing giveaway. She makes the most amazing chunky knit blankets and curates beautiful home decor items for her shop.
Before I share the details of the giveaway…let's do a little crafting.
How about a reverse canvas?
Made from an inexpensive canvas and some sweet mini ornaments, this cute Christmas craft will make a great gift.
Or you use it for holiday decor.
It's so easy to make, why not make more than one?
Materials needed to make Christmas Ornament Reverse Canvas: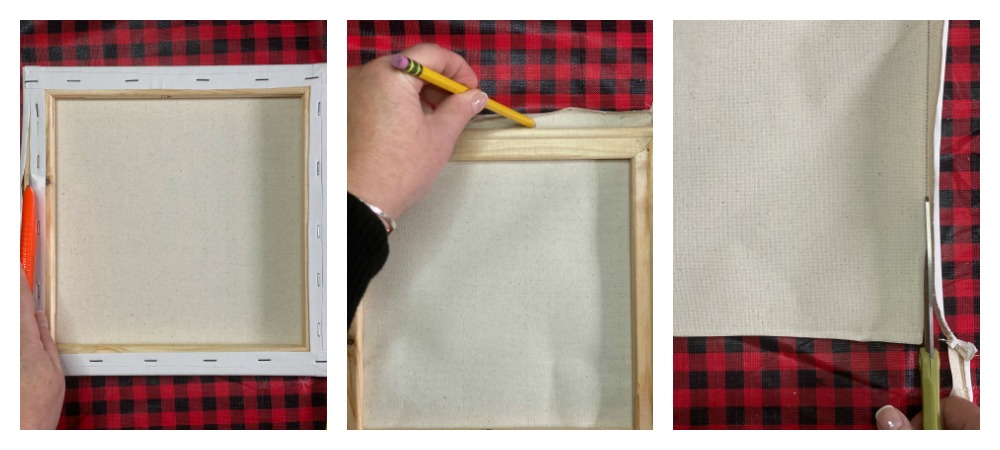 Directions to make a Christmas Ornament Reverse Canvas:
Turn your canvas so that the back is facing you. Carefully use your utility knife to cut the canvas and

remove the canvas from the wood frame it is wrapped around.

Paint, stain, or wax the frame. (I used Annie Sloan's Dark Wax.)
Trace the canvas around the outside of the frame. Trim the canvas inside of the traced line so that it fits on the back of the frame.
Carefully use your glue gun to glue the canvas to the back of the frame. Attach it so the natural colored side is facing the front and the white side is facing the back.
Arrange the ornaments in the shape of a tree (or perhaps a wreath, or an initial!)
Using your glue gun, glue the ornaments into place.
To make a bow, take your three pieces of ribbon and line up the two widest ones.
Gather or pinch the ribbon together. Use an over, under pattern and then tie with the thinnest ribbon.
Trim your bow to your desired length and glue it to the frame.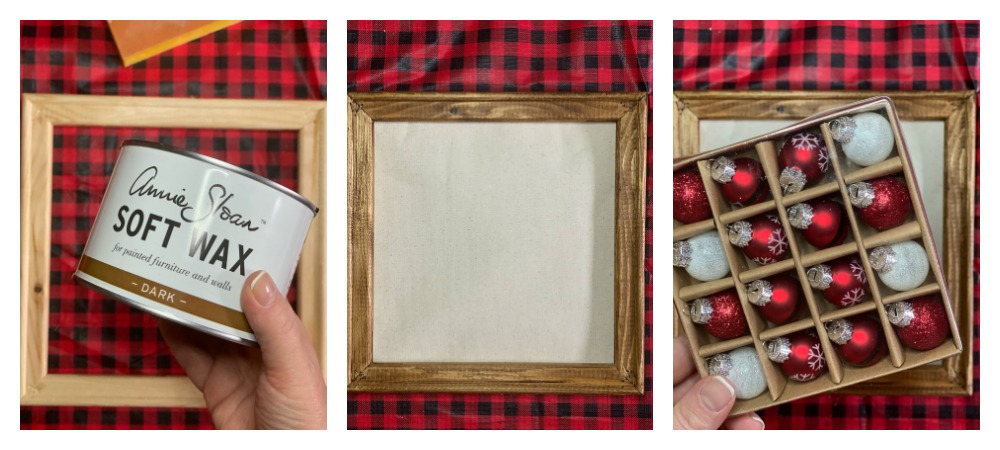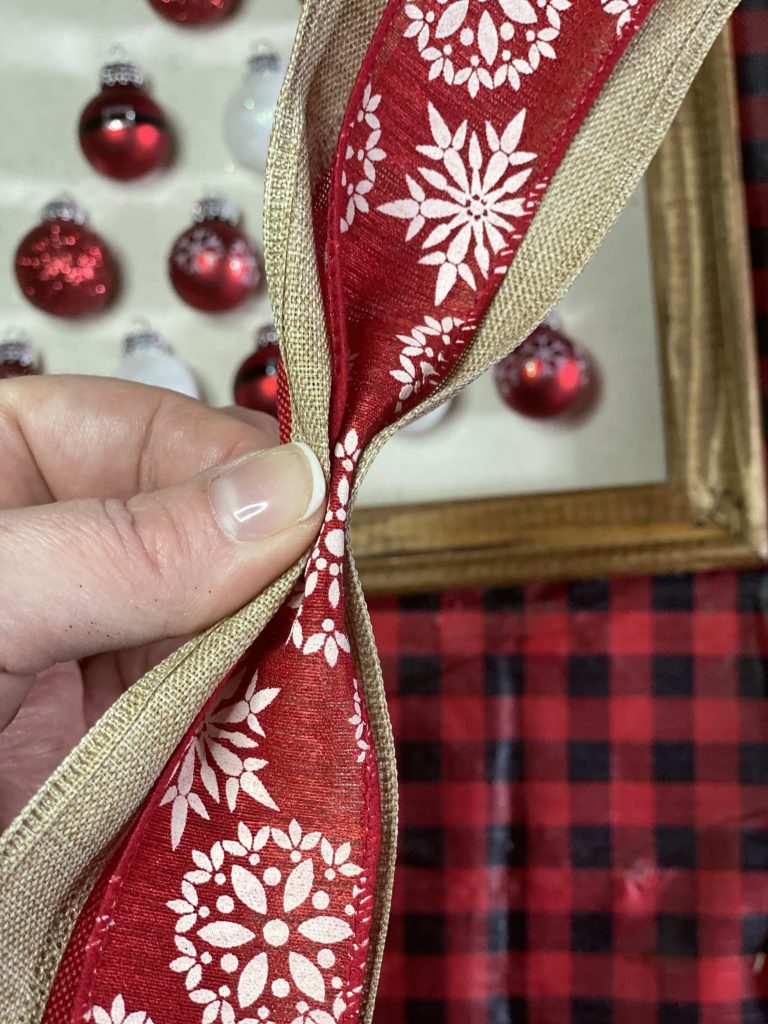 This DIY Christmas Ornament Reverse Canvas is such a cute and easy craft! It is so affordable too! This project cost only about $5 each to make. Wouldn't this make a great holiday decoration or gift?
Now for our GIVEAWAY!
To say thank you for following along and to celebrate Christmas in July, my friend Val from Farm Valley Home and I are having a giveaway! One lucky winner will receive a beautiful, handmade chunky blanket, a Christmas dough bowl candle and a $25 Target Gift Card!
The winner will be selected and contacted on Sunday, July 25, 2021.