Festive and flavorful, these White Chocolate Chip Cranberry Cookies are crispy on the outside and soft on the inside.  These cookies will definitely become a holiday favorite!
This post contains affiliate links. If you click on an affiliate link and purchase something, I may receive a small commission, at NO additional cost to you.

Hello Friends! I am so glad you are here! With Christmas right around the corner, have you started thinking about holiday baking? Today, I am so excited to be joining a group of talented bloggers for Cookie Week, hosted by the lovely Maryann from Domestically Speaking. Please be sure to visit the wonderful variety of recipes at the bottom of this post!
These White Chocolate Chip Cranberry Cookies are both festive and flavorful. Crispy on the outside, while soft and chewy on the inside, these cookies will definitely become a holiday favorite!
This recipe was given to me by my friend and colleague, Kerry. Along with being a dedicated teacher, Kerry is a talented baker. Every Christmas she makes homemade cookie dough for her friends and coworkers. It's something we all look forward to each year. I used her recipe for the dough and then added white chocolate chips and dried cranberries. The sweetness of the white chocolate complements that tartness of the cranberries. Add that combination to this flavorful dough and the result is one delicious cookie.
For these cookies, you will need just a few simple ingredients.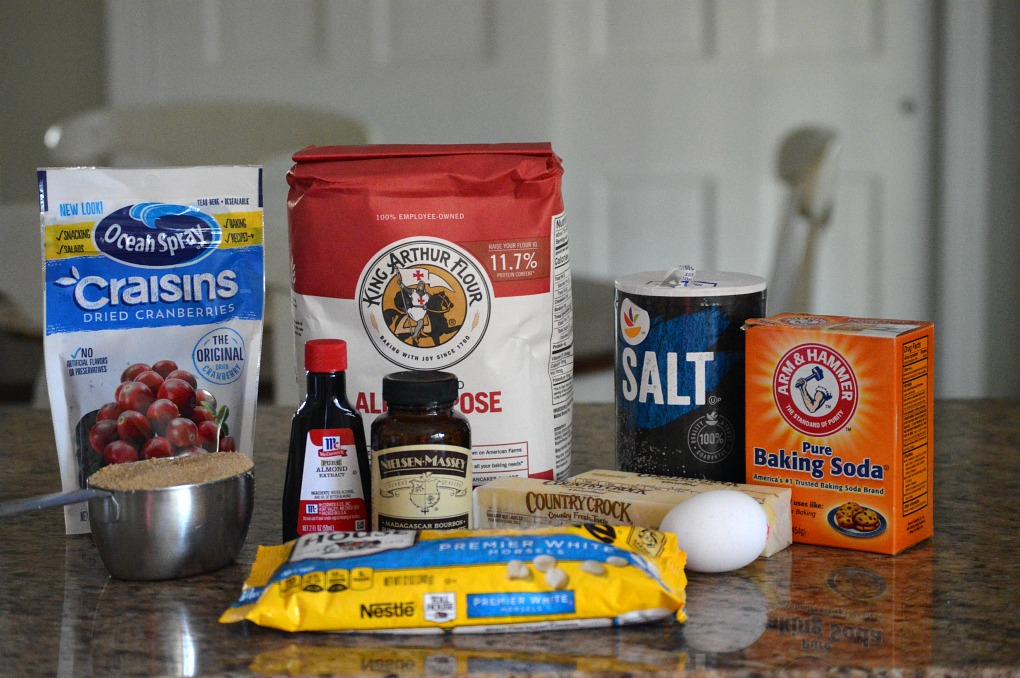 White Chocolate Chip Cranberry Cookie Ingredients
2 cups all purpose flour
3/4 teaspoon baking soda
1/2 teaspoon salt
1 cup unsalted butter (room temperature),
1 cup light brown sugar
1 egg
1 teaspoon vanilla extract or paste
1/2 teaspoon almond extract
1 cup white chocolate chips
1 cup dried cranberries
Instructions:
Before you begin making the cookie dough, set out your ingredients so the butter and egg will be room temperature.
Preheat the oven to 350 degrees.
This dough comes together very easily. First, sift the all purpose flour, baking soda, and salt together. Then set aside.
Using an electric mixer, beat butter and sugar together until smooth and creamy. To this mixture, add one egg, vanilla extract, and almond extract. I like to use vanilla paste, but vanilla extract works well too.
Add dry ingredients to butter/egg mixture and mix until combined. Then mix in white chocolate chips and dried cranberries.
Use a medium-sized cookie scoop to scoop the dough onto a parchment-lined cookie sheet. These cookies will spread out as they bake so be sure to space them a couple of inches apart. You can bake these right away, but they are better if you can refrigerate the dough (overnight if possible).
Bake at 350 degrees for 10-12 minutes, until golden brown.
I'm thinking that I might be leaving these for Santa this year!
Here are a couple more tried and true cookie recipes:
What are your favorite holiday cookies?  Please check out all of these delicious cookie recipes!
Monday's Cookies
Christmas M&M Peanut Butter Cookie Bars
Santa's Whiskers Christmas Cookies
Tuesday's Cookies
4 Ingredient Peanut Butter Cookie
Wednesday's Cookies
Easy No Bake Peppermint Gingersnap Cookies
Easy Spritz Cookies (not pictured)
Thursday's Cookies
Christmas Surprise Cookie Recipe
White Chocolate Cranberry Cookies
Friday's Cookies
If you'd like to save this post for later, pin it here!