Ribbon Wrapped Christmas Ornament
This DIY ribbon wrapped Christmas ornament is one of the easiest and prettiest ornaments to make!  This beautiful homemade ornament would make a great gift too!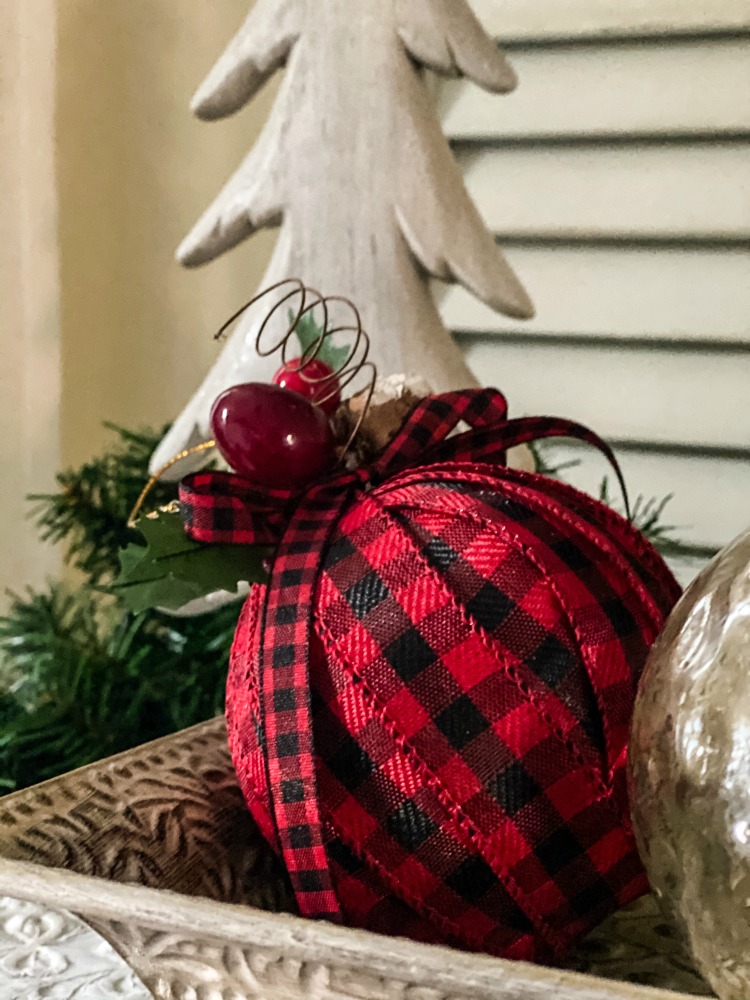 Christmas time is right around the corner and we are getting ready to deck the halls. Since we're all staying home more, my family and I are going to decorate a little earlier.  Why not enjoy the beauty of the season a little longer?  Today I am honored and excited to join an amazing group of bloggers for the "Let's Get Festive" Christmas Blog Hop, hosted by Rachelle from My Hubbard Home. If you are visiting from Southern Nell's Gracious Living, welcome! Today we are sharing some fun and creative Christmas ornaments. Be sure to visit my friend, Sonya Burgess, next and check out all of the fun and festive ornaments!
Please join me and a group of crafting friends this Saturday, November 7th for a Christmas Craft-a-thon Facebook Live event, between the hours of 12-5 p.m. EST.  I will be there at 3:00 EST to chat with you and make this DIY ribbon wrapped Christmas ornament.
Please see my Facebook page for details. I hope you will join me there!
To celebrate the upcoming holiday season and this event, I am giving away a $25 Amazon Gift Card and a homemade ornament!
Please see the bottom of this post for a chance to win! 
Today I am sharing a tutorial for an easy and pretty DIY ribbon wrapped Christmas ornament. This ornament is such a great craft project because it is inexpensive, quick and easy to make, and can be made for variety of home decor styles.  The ribbon and holiday pick you choose with determine the style of your ornament.
What supplies do you need to make a DIY Ribbon Wrapped Christmas Ornament?
ball shaped ornament (you can use a styrafoam one or a paper mache one)
7/8 inch wide ribbon in your choice of pattern.
3/8 inch coordinating ribbon (I used red and black gingham ribbon.)
Christmas pick of holly and berries
glue sticks (I like to use these Gorilla Glue Hot Glue Sticks.)
scissors
How Do You Make a DIY Ribbon Wrapped Christmas Ornament?
Begin at the top of the ornament.  Carefully use a dab of hot glue to secure the ribbon to the top of the ornament.
When the ribbon has been wrapped around the ornament, secure the opposite end with a small dab of glue.  Cut the ribbon.
Repeat this process, slightly overlapping each ribbon over the previous one, until the entire ornament is covered.  Your ribbon will cross on the bottom.
Next, use your wire cutters, carefully trim the excess wire from the holly and berries Christmas pick.
Push the wire Christmas pick pieces into place and carefully secure with a dab of hot glue.  Be careful not to burn your fingers!  I recently ordered these finger caps to protect my fingers from being burned.  I can't wait for them to arrive!
Add a piece of your thinner ribbon around the stem of the pics.  This will hide the glue and stems of the pic.
Lastly, hang the ornament on your tree, or display as part of a vignette and enjoy!  I think it will look great next to my Christmas Ornament Reverse Canvas. This ornament would also make a great gift too!
Be sure to visit all of these talented and creative blogging friends for some creative Christmas ornament inspiration!
I am looking forward to seeing you all on Saturday, November 7th between the hours of 12-5 p.m. EST for our Christmas Craft-a-thon.
Drop me a comment and subscribe to entered in the $25.00 Amazon Gift Card and this homemade ornament!  If you are already a subscriber, just leave a comment below.
Little Lantern DIY Christmas Ornament
How To Make An Elegant DIY Christmas Ornament
My Favorite DIY Christmas Ornament
Ribbon Wrapped Christmas Ornament
How To Create A Simple Chinoiserie Christmas Ornament
Festive Jingle Bell Ornament Using Dollar Store Supplies
DIY Mason Jar Lid Christmas Ornament
Ornament For Music Lovers
alt="JPG #10″ />
alt="JPG #11″ />
alt="JPG #12″ />

Ribbon Angel Christmas Ornament

10.a URL

11.a URL

12.a URL
This post contains affiliate links. If you click on an affiliate link and purchase something, I may receive a small commission, at NO additional cost to you.