Planting a Fall Window Box
It is so easy to add a touch of autumn to the exterior of your home by planting a fall window box.
As the autumn season approaches, I am beginning to get my home ready. I recently shared my Simple Subtle Early Fall Decorating Ideas and now is the perfect time update my summer window boxes with some fresh plants for fall. And, nothing says fall like bursts of rich, warm colors and eye-catching blooms.
This post contains affiliate links. Please see my disclosure policy here. Thank you for your support.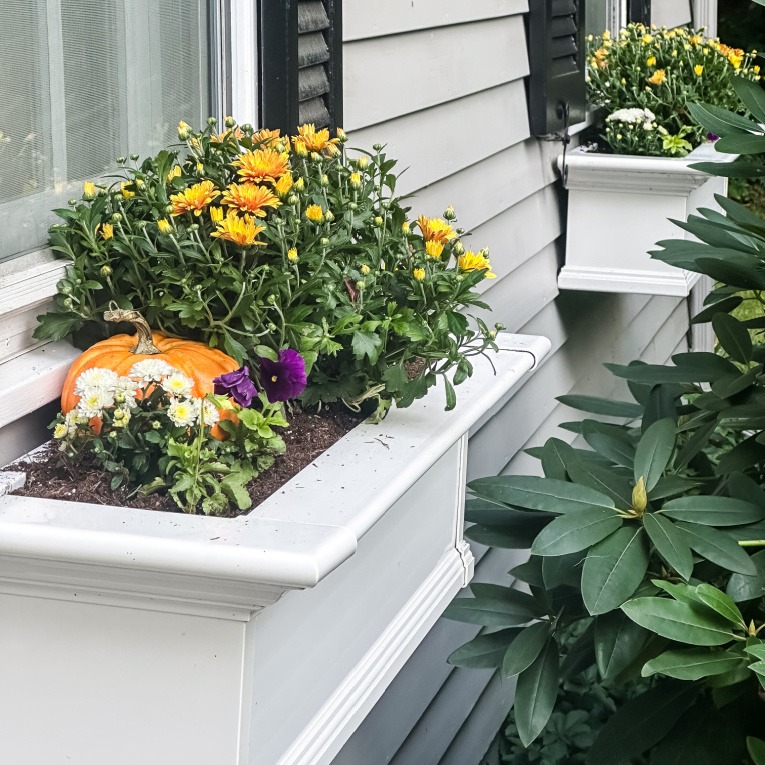 Window Boxes
I had always loved flower boxes and a couple of years ago, after having our home painted, we finally added them. Since then, I have had fun experimenting with different plant combinations throughout the seasons to create eye-catching window flower boxes.
I chose flower boxes made from PVC because they will not rot and have a self-watering reservoir feature. If you choose a wooden flower box, be sure to prepare your box to allow for proper drainage.
It is important to remember that once filled with potting mix, plants, and water, your window box will be very heavy. Be sure that your flower box is sturdy and secured to your home.
Shop a Variety of Window Boxes

Select Colors of the Season
The warm, rich colors of fall bring about a feeling of cozy comfort. From deep, rich scarlets to golden ambers, the variety of color combinations is plentiful.
Choosing Plants for a Fall Window Box
For a professional looking flower container garden, choose a grouping of at least three plants. For my container gardens, I usually follow the combination of thriller, filler, and spiller. This means that you want to have one plant that is the focal point.
The thriller should be vertically prominent and eye-catching. It can be an ornamental grass or a blooming plant. The filler is the mid-size plant that will fill in the space. Lastly, the spiller is the plant that will grow to spill or cascade over the edge of the container.
For these fall window boxes, I chose beautiful bronze chrysanthemums as my thriller. Next, I added mini white mums and vibrant purple and yellow pansies as fillers. When I was shopping for plants, I did not find a good selection of spillers. I may go back and add in some sweet potato vine or ivy. What do you think?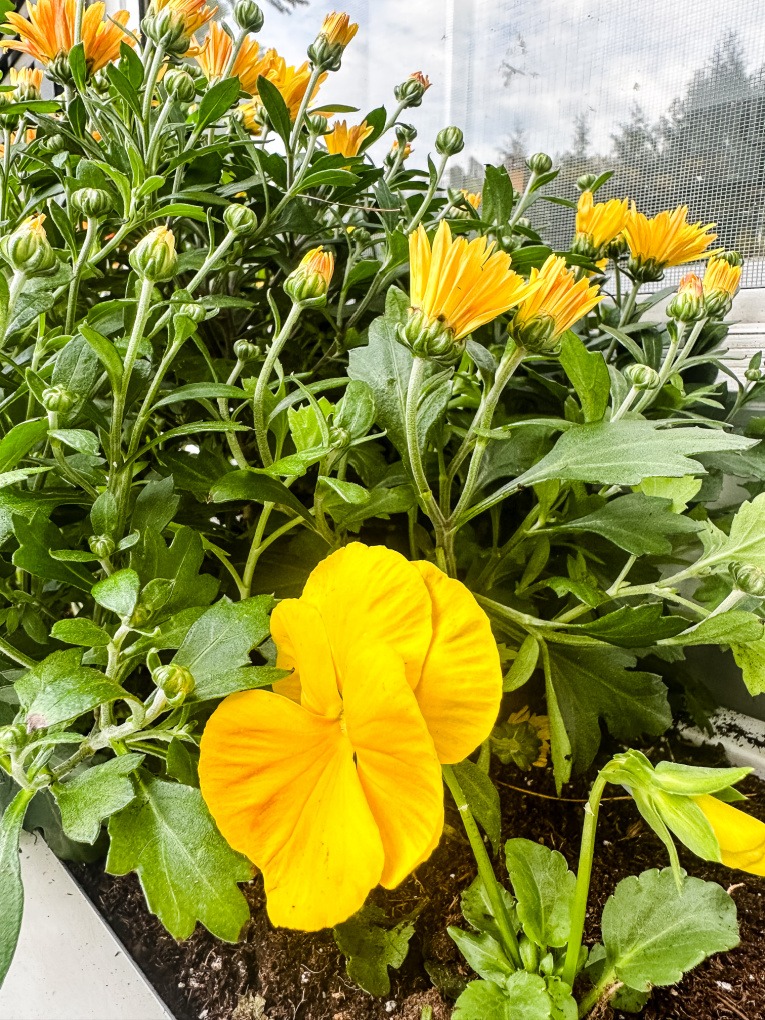 Tip: Choose mums with many buds that are not yet in bloom to ensure you will be able to enjoy the flowers longer. Repotting will also be less traumatic to these plants.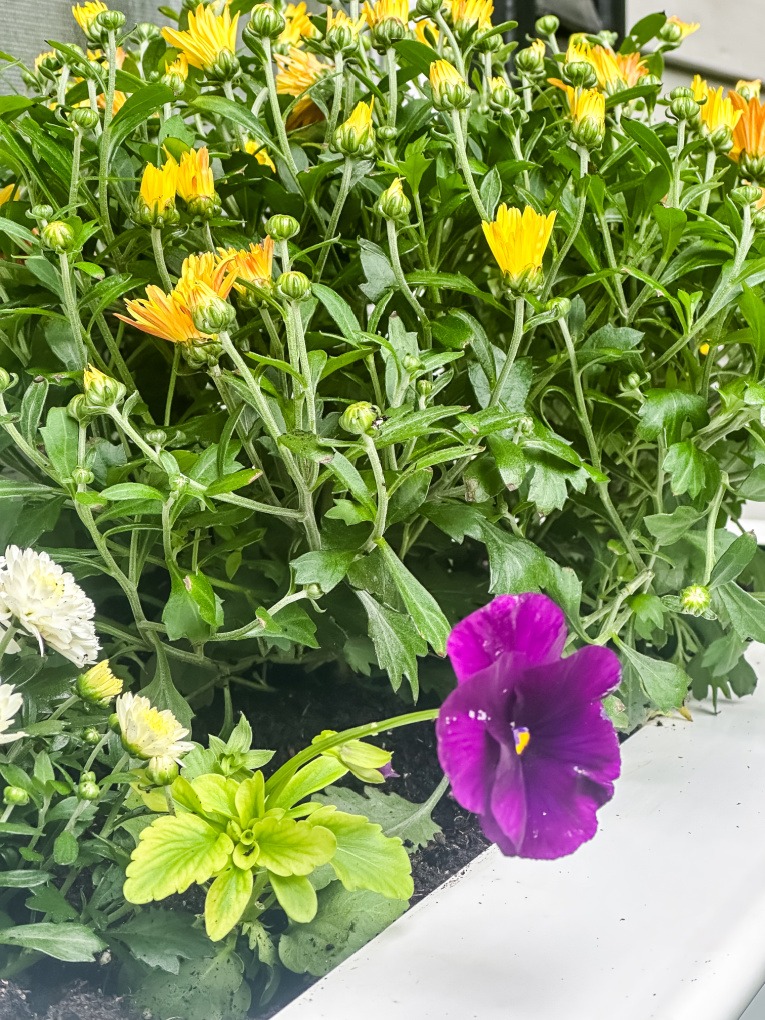 Other plants to consider:
Marigolds
Ornamental Cabbage/Flowering Kale
Planting a Fall Window Box
When planting, stay consistent so that you will have cohesive look, especially if you are planting multiple window flower boxes.
I like to lay out my plants on the flower window box before beginning to plant.
Begin your planting with your thriller plant. Next, add the filler plants, and lastly, add any spiller plants.
For an additional pop of color and texture, you may want to consider adding real or faux mini pumpkins and gourds.
How Long Will Mums Last?
Mums will last approximately 4 to 8 weeks after they begin to bloom. To maximize bloom time, look at the buds and check for healthy, sturdy branches when purchasing.
I hope this inspires you to add some fall color to the exterior of your home. If you have any questions about anything, please feel free to reach out to me. I would love to connect with you on Facebook, Instagram, Pinterest, or here on the blog!