It is the final week of the ORC and I am sharing my home office reveal! Learn how I transformed this room into a stylish and functional space 
This post contains affiliate links. If you click on an affiliate link and purchase something, I may receive a small commission, at NO additional cost to you.
Hello!  If you are visiting from the One Room Challenge website, welcome! My name is Lynne, and I am a Connecticut wife, mom of two young adults, and an elementary school teacher.  I started My Family Thyme as a way to share my love of all things home and family.  I would love to connect with you over on Instagram, Facebook, and Pinterest!
The Spring One Room Challenge is coming to an end, and I am so excited to share my newly refreshed home office with you! This is a challenge where featured designers and guest participants are challenged to transform a room in just six weeks. It is not a competition, but is a celebration of creativity and inspiration and I was thrilled to join in this season as a guest participant!
The space I began with was almost too embarrassing to share. This home office was definitely a catch all space, filled with hand me downs and tag sale finds. My goal throughout this challenge was to update and transform my bare home office into a stylish, cohesive, and functional space.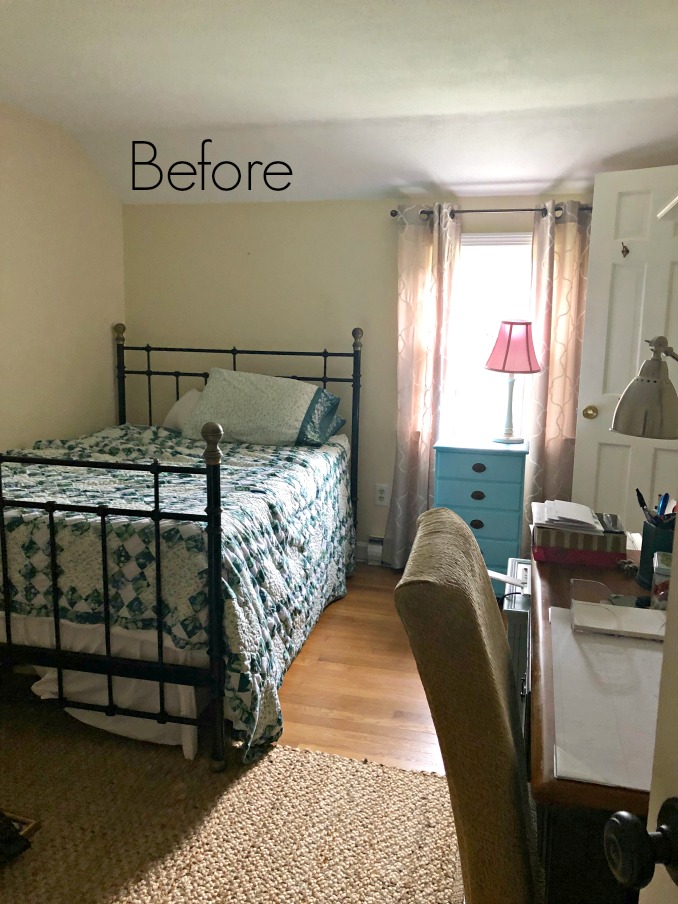 And here it is now…
The Walls
This room was completely transformed by the power of paint. I first started by painting the room. Of all of the colors, Stonington Gray by Benjamin Moore, was what I chose for the walls. I had the paint color lightened by 50% since thia room has only one north facing window, and therefore is the room in our home that gets the least amount of light. The result is a gorgeous, cool gray paint color that acts as a neutral, calming backdrop for the room.
Next, I used the Morocco Large Wall Stencil from Stencil It to create an accent wall. This was an easy and budget-friendly solution to adding sophistication to my space. I added some personality to the wall by incorporating my initials, as well as this fun DIY Dollar Tree Sign Art Project that I had made a couple of years ago. I just added a piece of scrapbook paper to the back to add a pop of color. A framed print from Martha's Vineyard completes the wall.
The Furniture
The furniture all got a new coat of paint to create a more cohesive look to the space. I shared two different methods that I used to update furniture with paint. Three pieces were painted using a paint sprayer, while the desk and printer cabinet were painted using my inexpensive DIY Chalk Paint.
I had purchased this rug from Michael's Crafts.  I loved the colors and am so happy with how it brings this room together.  Best of all, it was a deal at just $17!
I had cleaned out my mom's home…a home that also belonged to my grandparents.  I had moved many things from her home to mine.  During this time at home, I have been able to go through all of the treasures.  I found this silhouette of my mother as a young girl.  This makes me smile to have this hanging in here.
Storage and Organization Accessories
This memo board was a Hobby Lobby find and will help to keep me organized.
Would you believe these DIY Decoupage File Folder Organizers in this bookcase are made from old Amazon boxes and napkins?
This shelf belonged to my grandmother and my mom. I am using it to display some of my grandmother's bell collection along with a few special trinkets and pictures. I am not sure yet if I will keep it like this…we will see.
A Place for Guests
We decided to keep the bed. My son will most likely be moving out in the next year or so. We wanted to keep the bed to put in his room as he will most likely take his furniture.  I used a white coverlet that I had.  You can find a similar one here.  This vibrant floral pillow from IKEA adds a pop of color.
Above the bed, I hung a summer wreath that I had made during a recent Facebook Live as part of Craft and Chat Live.  If you haven't tuned it, I hope you follow me on Facebook and join me soon!
Lighting
I already had all of the lamps. The desk lamp originally came from IKEA and the milk glass lamp had belonged to my grandmother. I also kept the white table lamp, but gone is the pink lamp shade. It was replaced with a neutral, more contemporary shade from Walmart.
Thank you so much to Linda at Calling it Home and Better Homes and Gardens for hosting this One Room Challenge! Be sure to head over and visit the other One Room Challenge featured designers and guests.  You will be amazed at the beautiful transformations!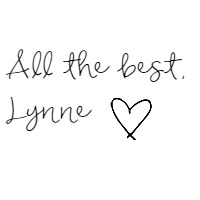 If you would like to save this post, please pin it here!