Do you love the smooth, matte look of chalk paint?  Use what you have at home and follow this simple recipe to make your own DIY chalk paint using plaster of Paris and acrylic paint.
This post contains affiliate links. If you click on an affiliate link and purchase something, I may receive a small commission, at NO additional cost to you.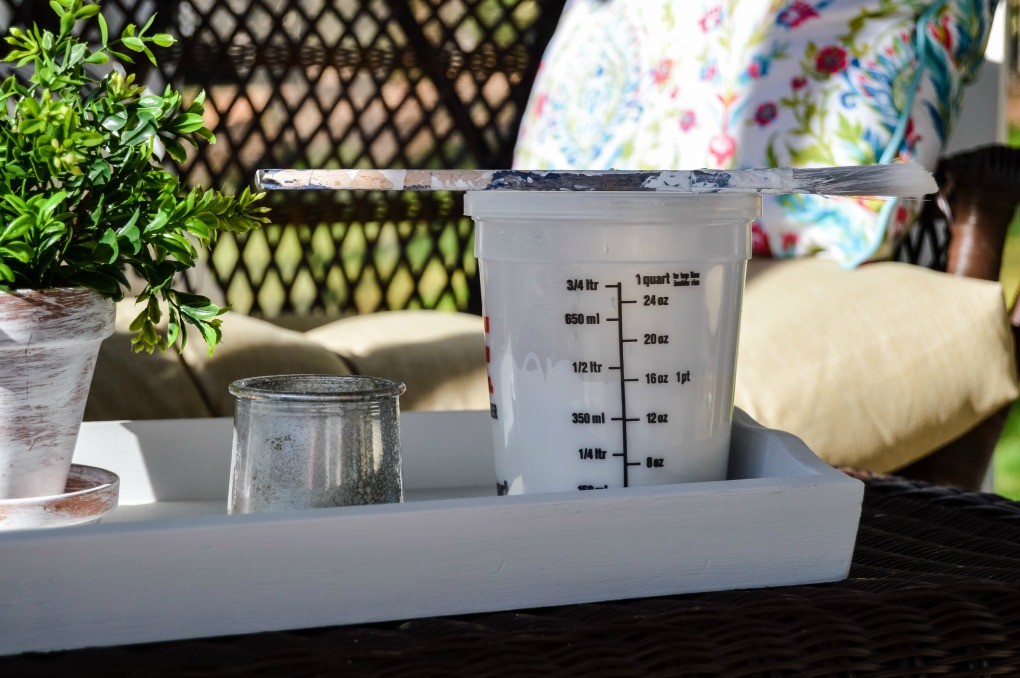 Have you ever thought about what a big impact a little paint can make?
Do you like to transform dated furniture and accessories and give them a new life for very little money?
I am a big fan of chalk paint and have been using it in my home for years. I have used it on furniture, cabinets, and accessories throughout my home. The only problem is that chalk paint can be pretty expensive to buy and with us all being at home, it may not be easy to get.
Don't buy it, when you can make it instead. Use what you have at home and follow this simple recipe to make your own DIY chalk paint!
How can I make my own chalk paint?
You can easily make your own chalk paint at home.  The recipe is quite simple. It only requires three ingredients that you probably already have. You need water-based paint, in flat or eggshell finish, Plaster of Paris and water. Just mix one part Plaster of Paris to three parts paint.
Before deciding on a paint color in my home, I usually get a sample size of the paint to try out on the wall. I had a pint of Benjamin Moore paint in an eggshell finish, which is perfect to use to make chalk paint!
Materials:
Latex paint (flat or eggshell works well)
water
container with lid
measuring cup
plastic spoon or stirrer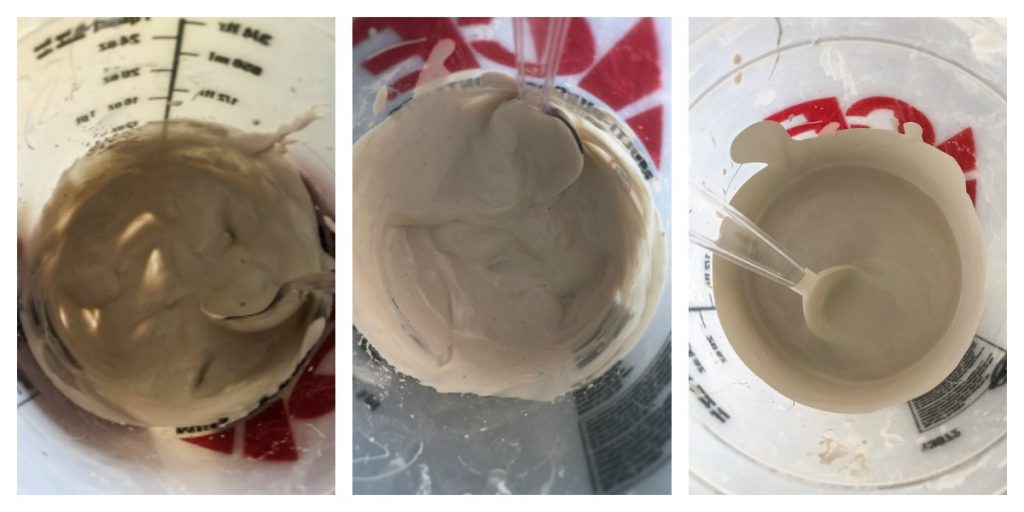 Procedure:
Measure Plaster of Paris and put into a clean container.
Add water and mix. You want to add enough water to create a smooth paste with a consistency similar to sour cream or mayonnaise.
Add paint and mix thoroughly.
Why use chalk paint instead of latex paint?
I am a big fan of chalk paint because it is so easy to use. There is no need to prime your project before you paint. Always clean the piece to remove any dust or dirt before applying. This paint has great coverage and adheres well. It will take about 2-3 coats to cover completely and leaves a smooth, chalky matte finish.  This type of paint is easy to distress and create a chippy, rustic look.
Do I need to seal chalk paint?
Sealing a painted piece a matter of preference and use.  If it is going to get a great deal of wear and tear, I would definitely go ahead and seal it.  A common sealer that I use for chalk paint is wax.  I like to use a clear wax.  This wax deepens the color, gives the piece a little bit of sheen, and is very easy to apply.  Using a waxing brush, rub the wax onto the painted piece.  Then, using a clean cloth, buff the piece.  I like to use my husband's old t-shirts.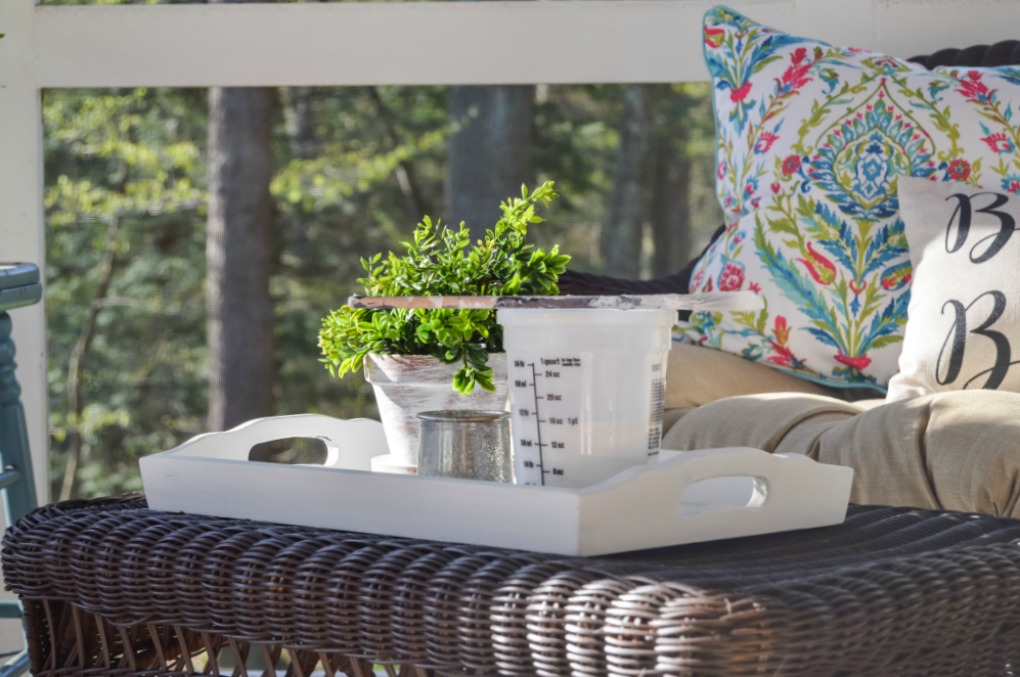 This old tray got a quick and easy update with this DIY chalk paint.  I put the tray on my porch and set my DIY Faux Mercury Glass Votive Holders and Dry Brush Painted Flower Pot on it.
Now that you know how easy and inexpensive it is to make chalk paint, what painting projects are in your future?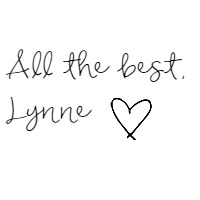 To save this post for later, pin it here!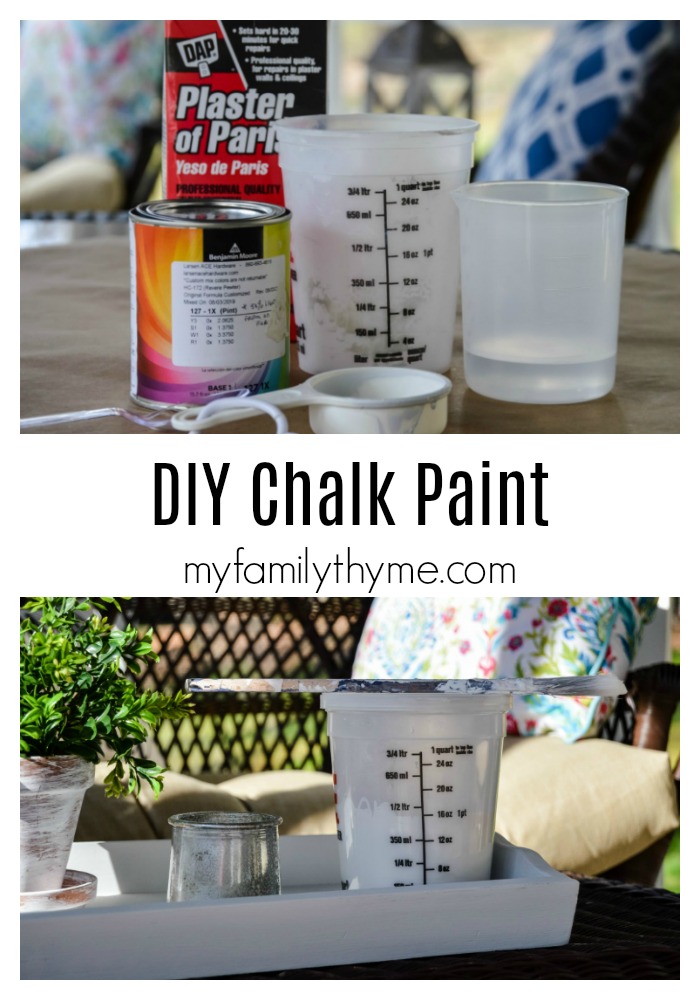 I recently shared this DIY Chalk Paint on a Facebook Live.  Please head over to Facebook to check it out and follow along as I will be sharing a new idea there every Thursday in May as part of Craft and Chat Live.  I would love to connect with you there.