How to Update Furniture With Paint
As part of the One Room Challenge, I am sharing two different methods I used to update furniture with paint.
This post contains affiliate links. If you click on an affiliate link and purchase something, I may receive a small commission, at NO additional cost to you.
Hello Friends!  I hope you are well.  It is Week 7 of the One Room Challenge and I can't believe we only have one week to go!  I am thankful for the additional time that was given because I have needed it!
My Home Office Space
During week one of the challenge, I shared my plan for transforming our bare home office into a stylish, functional, and cohesive space.  The room was a catch-all of mismatched tag sale finds and hand me downs.  It lacked storage, organization, and style. I spent weeks two and three painting the walls a beautiful cool gray color and the trim a crisp white, using this easy and efficient trick for painting windows.  This gorgeous gray paint color that acts as a neutral, calming backdrop for the room and has made the space feel much lighter and brighter.
Last week I partnered with Stencilit.co and shared how to use a wall stencil to create an accent wall.  This week I am bringing some cohesion to the space and sharing how I updated the furniture with paint.
I have been cleaning out the home that belonged to my mother and grandparents and had found some treasures that I would like to keep.  As a result, I have several mismatched pieces…mostly these hand me downs along with a tag sale find.  I decided to use two different types of paint and methods on these pieces.
Method #1 to Update Furniture with Paint:  Creating a Smooth Finish with a Paint Sprayer
For the small chest of drawers, the bookcase, and the wall shelf, I decided to update these pieces by applying both primer and paint with a paint sprayer.
Materials:
Process:
I chose to do this outside as we had a few consecutive days of sunny, dry weather.
I first cleaned all of the pieces thoroughly using Krud Kutter.  Using the paint sprayer, I applied the Stix primer to all of the pieces.  I let them all dry overnight.  It is important to make sure to thoroughly clean the paint sprayer between each coat to keep it working properly.
The next day I repeated the process with Benjamin Moore's Advance paint.  I applied one coat and then let it dry for overnight before applying a second coat.  Then I let these pieces sit for another 24 hours.  This paint is cures to create a durable finish.
Method #2 to Update Furniture with Paint: DIY Chalk Paint and a White Wash Pickling Wood Stain
For the wood storage cube and desk, I decided to make my own DIY Chalk Paint, but this time using a sample of Benjamin Moore's Van Courtland Blue.  This color is timeless, yet brings a little bit of contemporary feel to the pieces and making it into chalk paint made the painting process so easy.  You can read about how easy it is to make your own DIY Chalk Paint here.  There is little prep work needed and there is no need to prime the piece before painting.
For the top of the desk, I wanted to do something different…something a little unexpected that would bring in a coastal feel.  I went to my local Ace store and found exactly what I was looking for…this Minwax White Wash Pickling Wood Stain. I loved using this product because it was easy to use, dried quickly, and is water-based, so it cleaned up with soap and water!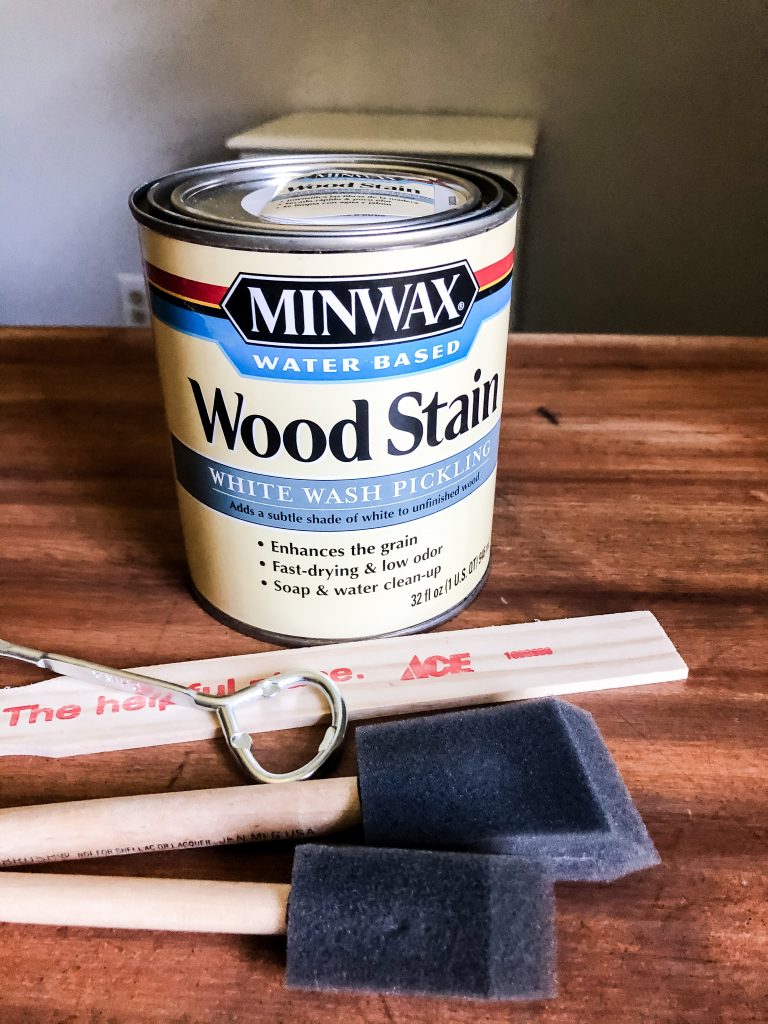 Applying the Stain
To apply the stain, I first sanded down the desktop and used a microfiber cloth to clean it.
After stirring the stain well, I applied it using a foam brush, going with the grain of the wood.
I let it sit for a few minutes before wiping it with a clean cloth.
I repeated that process 3 times, letting it dry between coats.
I did not apply a top coat as it seemed to dry to a very durable finish.  I will also be using a desk calendar on my desktop.
To finish the desk off, I found some glass pulls at Hobby Lobby on sale for 50 percent off!
Now every time I walk by this room, I can't help but smile. This space is really coming together! It is amazing how easy it is to update furniture with paint.
I am very grateful to Linda at Calling it Home and to Better Homes and Gardens for sponsoring this challenge.  This is not a competition, but a celebration of creativity and inspiration. Be sure to stop by and check out the progress of the talented and creative featured designers and guest participants.
This upcoming week I will be sharing a simple and pretty DIY for organization.  I will also need to add some accessories and recover the chair.  Then I hope to see you at the end of the week for the final reveal!
If you would like to save this post for later, please pin it here!