One Room Challenge Home Office Plan
Welcome to Week 1 of the One Room Challenge!  Learn how I will take our bare home office and transform it into a functional and beautiful space!  
The One Room Challenge has officially begun and I am so excited to join in as a guest participant!  The One Room Challenge, hosted by Linda at Calling it Home and Better Homes and Garden, is a challenge where featured designers and guest participants are challenged to transform a room in just six weeks. This challenge is not a competition, but is a celebration of creativity and inspiration. This year things are a bit different due to our current situation with Covid19.  The ORC is beginning a month later than originally planned and we will have 8 weeks to complete our spaces.  If you are looking for design inspiration, check out these talented and creative featured designers and guests each week!
Since we have all been working from home, our home office/guest room has gotten a great deal of use.  Unfortunately, this room is just not very functional.  Years ago it had been used as a guest room, but we very rarely have guests stay there.  It is primarily used my home office.  However, this space lacks storage, organization, and style.  It often ends up being a catch all, with piles everywhere.  This challenge is the perfect opportunity make it a beautiful, organized and functional space…of course, on a budget.
This is the space I am starting with.  It is almost too embarrassing to share, but this is real life, right?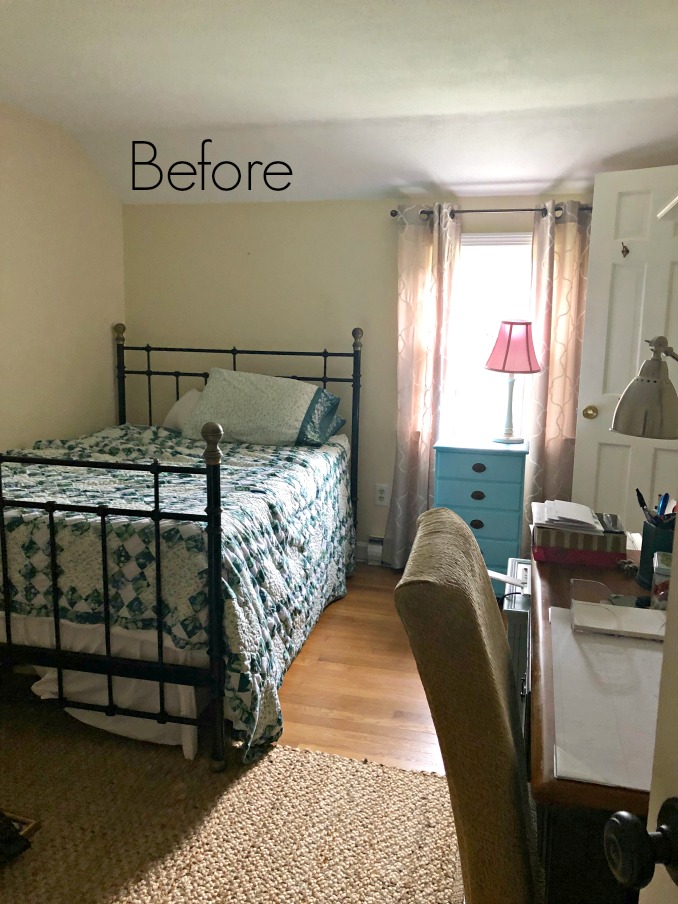 This bare room is a collection of hand me downs, mismatched furniture, and tag sale finds.  I want to bring a cohesive style to this space with light colors, neutral fabrics and simple accessories.
The Plan
paint the walls to make it lighter and brighter
add a wall treatment to add style and personality
add a new window treatment
paint the furniture
add storage
add lighting
add accessories to help with organization
Although we rarely have guest, we will be keeping the bed.  My son will most likely be moving out in the next year or so.  I want to keep the bed to put in his room as he will most likely take his furniture.
I can't wait to get started!  Next week, I plan to have the room painted. Be sure to come back next week and don't forget to check out what the other One Room Challenge featured designers and guests are up to!