DIY Baseball Block Style Picture Holder
Are you looking for a special Father's Day gift for your favorite baseball fan?  Surprise him with this cute DIY Baseball Block Style Picture Holder.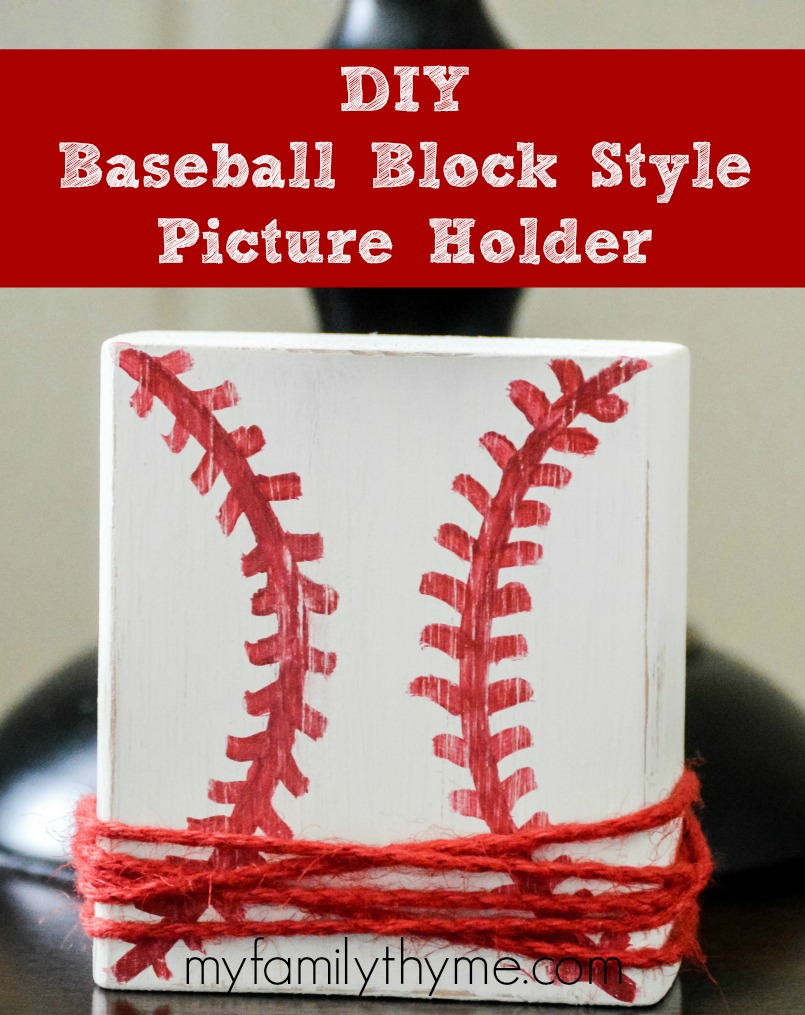 It's time for the May Pin Challenge! The purpose of the Pinterest Challenge is to motivate us to not just pin, but to make it happen! This month's challenge is about Father's Day or projects geared towards the men in our lives. The pin I chose was this baseball themed block picture holder from this talented crafter's Etsy shop.  Her shop is full of creativity!
TO JOIN NEXT MONTH'S #PINTERESTCHALLENGE, CLICK HERE TO SIGN-UP ⇒ June Pinterest Challenge
My husband, Andy, is a huge sports fan.  He loves football, basketball, and hockey, but without a doubt, baseball is his all time favorite.  After the holidays, he begins counting the days until pitchers and catchers report for Spring Training.  This sport has bonded our family.  From Little League games to cheering on the Boston Red Sox in Fenway Park, baseball has been part of every spring, summer, and fall in our home.
This year we are missing baseball.  So I thought a baseball themed gift would be perfect for Father's Day this year.  I am planning to surprise Andy with this cute DIY baseball block style picture holder. To make this DIY picture holder, you need just a few materials that you may already have on hand.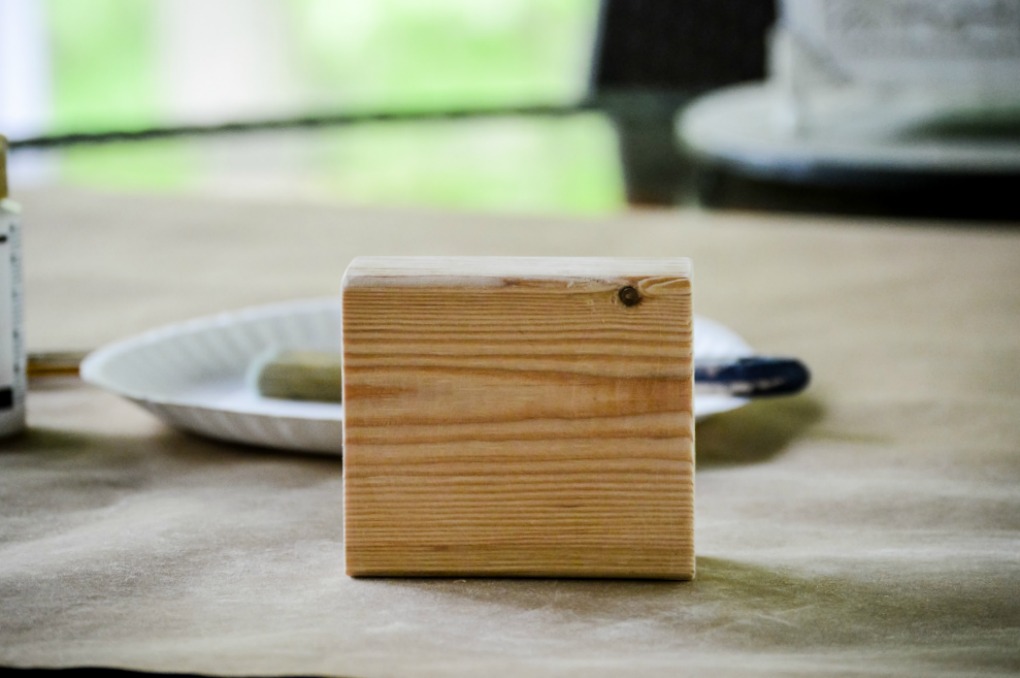 Materials:
wood block (mine is a 4 inch piece cut from a 2 by 4)
paint (I used Warm White and Santa's Red from DecoArt)
paint brushes
sandpaper
pencil
twine
hot glue/glue gun
How to Make DIY Baseball Block Style Picture Holder:
Cut the wood block.  My block is a piece of a 2 by 4.  It is 4 inches by 4 inches.
Sand the sides so it is smooth.
Paint the wood block using the warm white paint.  I painted my block with 2 coats for even coverage.
Using a pencil, sketch where you would like to make the laces.
Using a thin brush, paint in the laces.
After the paint is completely dry, distress by lightly sanding.
Lastly, add twine by hot gluing it to the back and wrapping it around the block.  Hot glue to secure.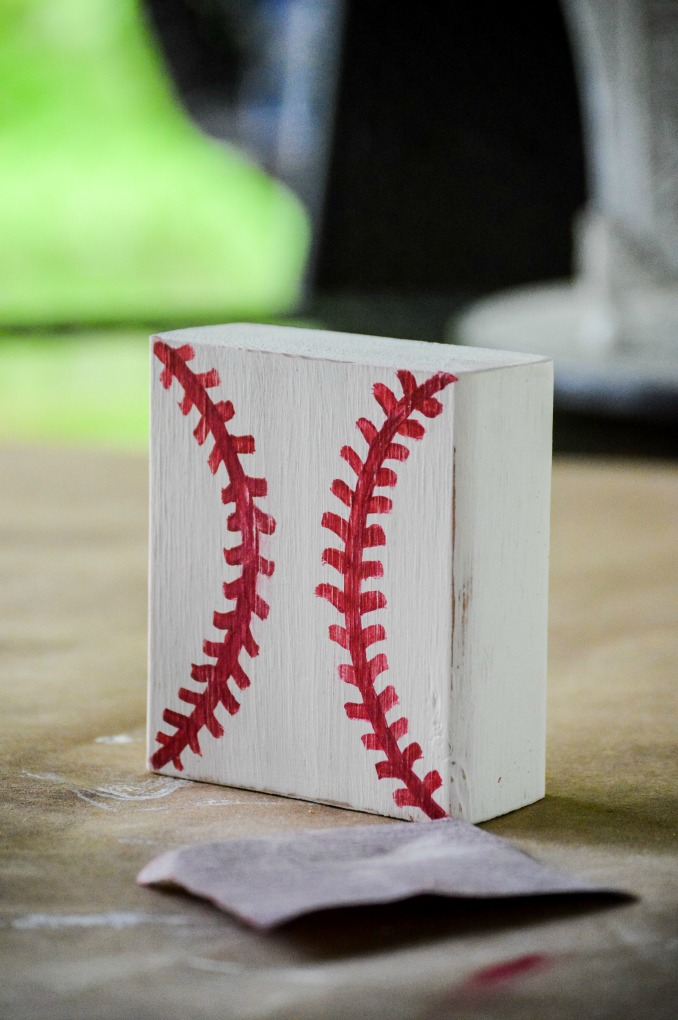 I have tucked in an old baseball card from when our son was just a little guy.  This is such an easy and inexpensive craft that will hold memories for years to come.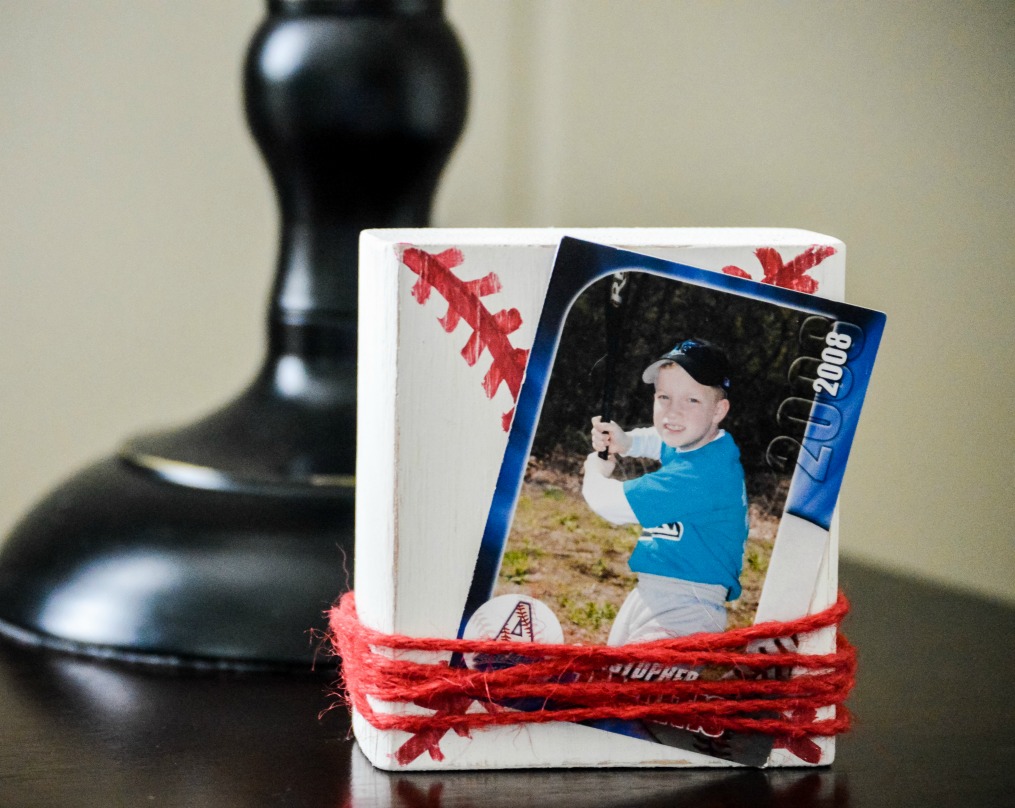 I hope you will feel inspired and want to make your own too!  I will be sharing this craft this Thursday at 4:00 EST on My Family Thyme's Facebook page as part of Craft and Chat Live.  I would love for you to join me there!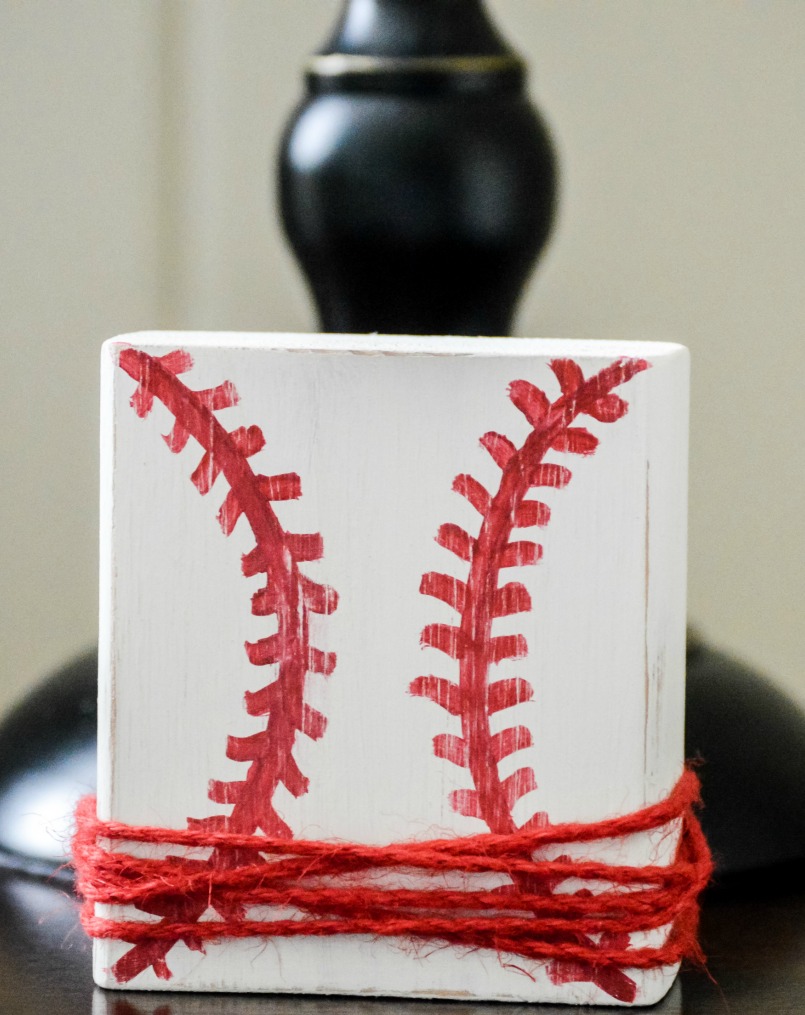 For more Pinterest inspired projects from this month's Pinterest Challenge hosts, check out the links below ↓
My Pinterventures • Across the Boulevard • Cookies Coffee and Crafts • Farm Girl Reformed • Slices of Life • Decorate and More with Tip • Purple Hues and Me Life Beyond Kitchen • Simple Nature Decor • White Arrows Home Mom Home Guide • Stone Cottage Adventures • Teadoddles Our Good Life • My Family Thyme
Now, let's see what the other hosts have created ⇓⇓