How to Make a Sign Without a Stencil
Learn how to make a beautiful, seasonal farmhouse-style sign without a stencil! You will love this easy and inexpensive project!
This post contains affiliate links. If you click on an affiliate link and purchase something, I may receive a small commission, at NO additional cost to you.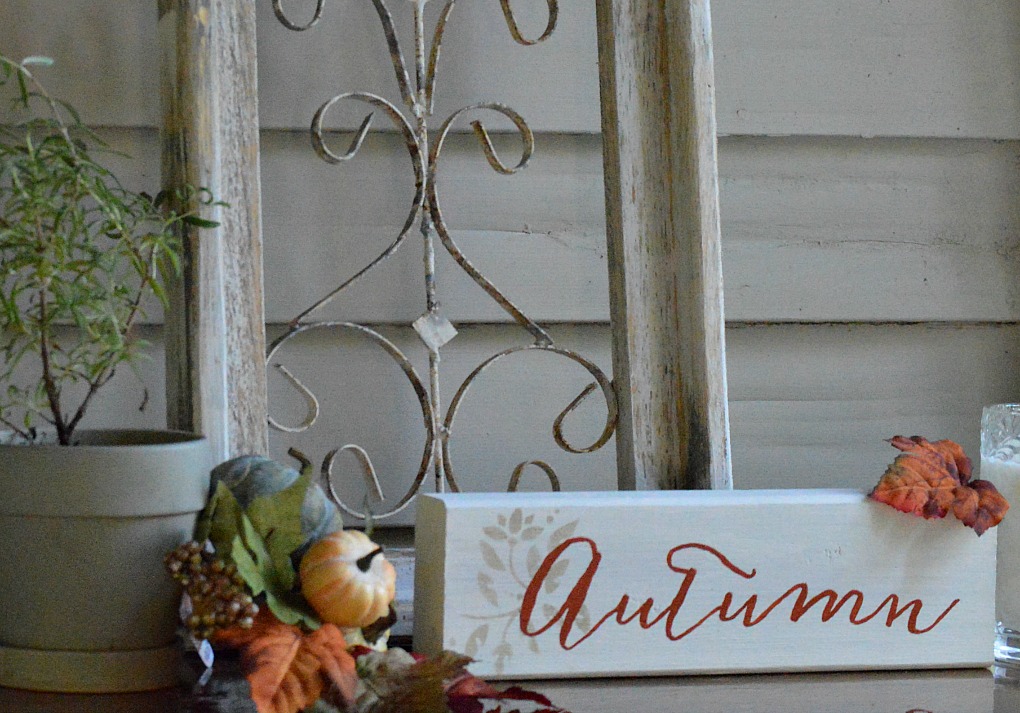 Hello! Have I got a great project for you! Today I am sharing a trick that you can use to make yourself a farmhouse-style sign for any time of year! It is so easy and you don't even need a Cricut or a stencil. Just think…you can make your own farmhouse sign for Halloween, Thanksgiving, Christmas…the possibilities are endless. You can make your own farmhouse style sign for just a couple of dollars!
It's the first day of the Harvest Home Hop! My friend, Juliette of A Loverly LIfe has organized a wonderful fall inspired blog hop. Over the next few weeks we will bring you ideas and inspiration to welcome fall into your home. If you are joining me from Nicolle, A Tiny Nest, welcome! I will definitely be using her great tips for making my pumpkins last longer!
This is such a simple method that I have used when I made my DIY Sign That Almost Wasn't and created Back to School, Christmas, and Valentine's Day Chalkboard Art for my kitchen chalkboard.
For this project, you will need:
wood block (I used an 8 foot 2 by 4 from my local home improvement store, cut into 1 foot sections and sanded)
DecoArt stencil (This is optional. I did choose to use a stencil to add a little decoration to the sign.)
variety of paint brushes
printable (I made this Autumn printable by just printing out the word in a decorative font, in landscape mode.)
pencil
How to Make Your Sign:
Paint your wooden block the color of your choice. I used Warm White acrylic paint by DecoArt. This is one of my favorite Deco Art colors. It is a creamy white that provides a beautiful base.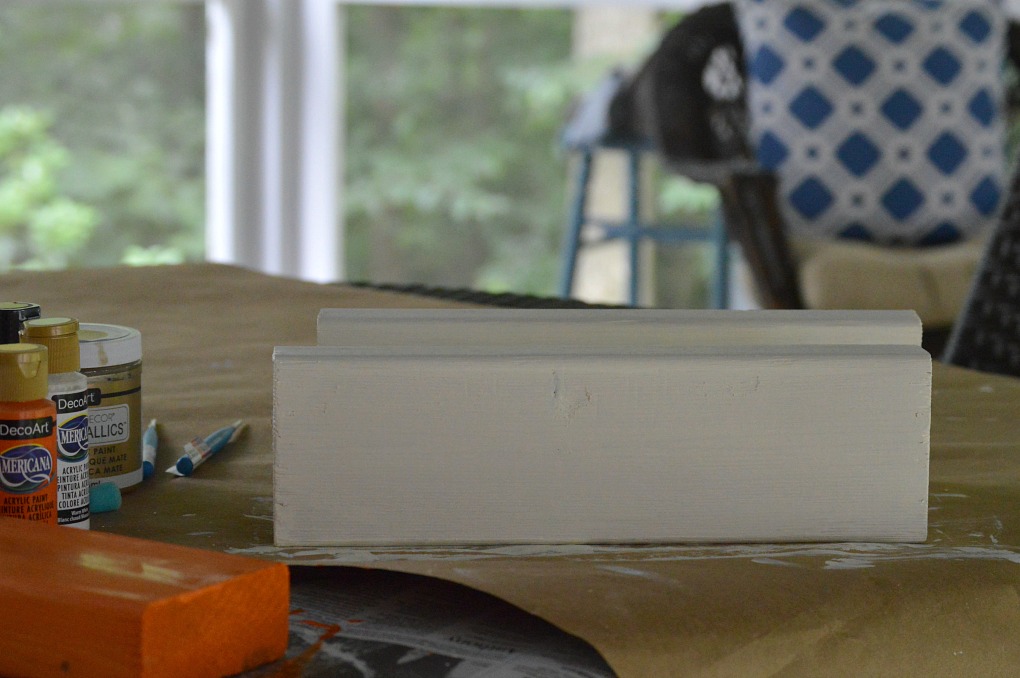 When the wood block is completely dry, stencil a design of your choice onto the block. If you would like to add a little decoration to your sign, use painter's tape to adhere the stencil to your project. I also like to use a paper plate as a paint tray.
Using a foam stencil brush, gently dab off any additional paint. You need very little paint to stencil. Gently dab the foam brush directly onto the stencil, being careful not to rub. I used DecoArt Americana Decor Metallics paint in gold.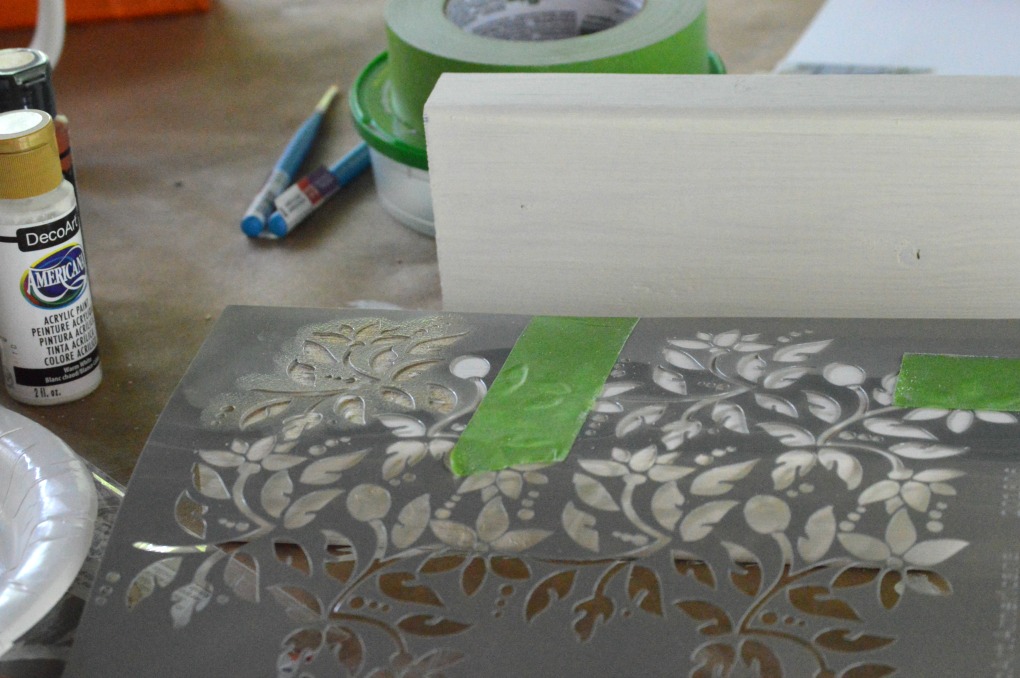 Next take your printable and rub the back of it with pencil.
Using the painter's tape, tape your printable on the block and carefully trace the letters. I used a pen and pushed down hard.
With a fine paint brush, fill in the lettering with your choice of paint. I used DecoArt Americana Satin Acrylic paint in the color, Paprika.
When all the lettering is complete, you are done.
Such an easy and inexpensive project!
I hope you give this project a try! What kind of sign would you like to make?
If you would like to save this post for later, please pin it here!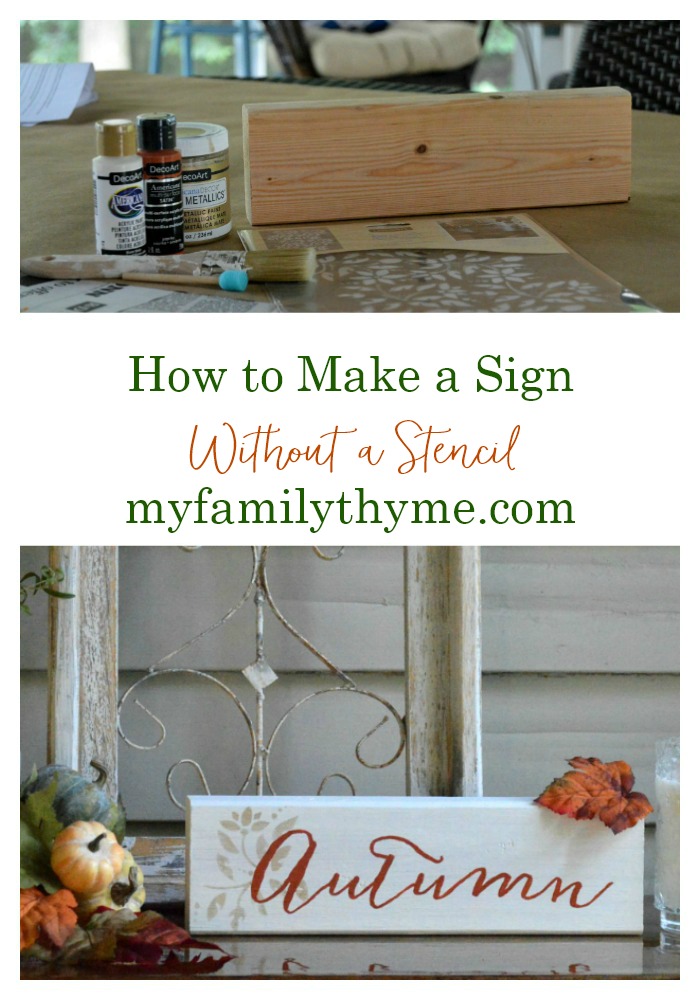 Please head over and visit the other bloggers sharing their Harvest Home ideas. There are so many amazing ideas for adding touches of fall into your home. Next is Stephanie from Gathered in the Kitchen She is so creative and I just love her wood sign!
Thank you so much for visiting today! I would love to connect with you on Facebook, Instagram, Pinterest, or here on the blog!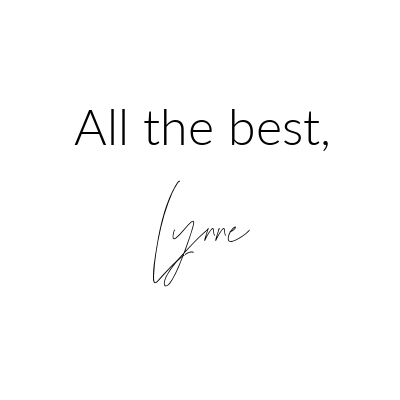 Shop some of my favorite fall finds!