Easy DIY Embroidery Hoop Wreath With Fabric
Learn how to create a beautiful DIY Embroidery Hoop Wreath using an embroidery hoop, fabric, ribbon, and embellishments.
There's still a couple of days left in July. I just couldn't let our Christmas in July celebration end without joining some blogging friends in sharing some early inspiration for a Blue & White Christmas. If you are visiting from one of these blogger buddies, welcome. We have a variety of blue and white styling and making inspiration for you! Enjoy! I'll get us started with this Easy DIY Embroidery Hoop Wreath with Fabric.
Add a seasonal touch and welcome your guests with this simple wreath. This DIY Embroidery Hoop Wreath with Fabric is a great wreath to make because it is easy, inexpensive, and best of all, can be customized for any season, occasion, or holiday that you would like. Let's get started!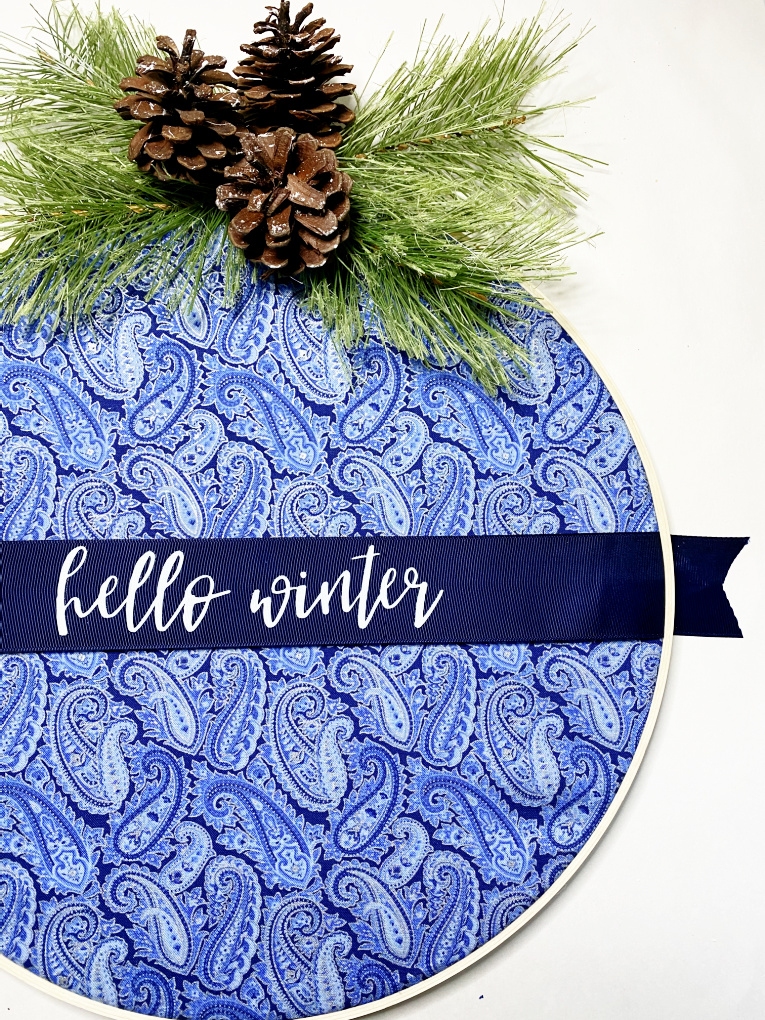 What do you need to make an embroidery hoop wreath?
For this wreath you will need a few simple materials. I have included some affiliate links for your convenience. There is no additional cost to you. Please see my disclosure policy for more information.
an embroidery hoop (I used a 12 inch embroidery hoop. Whichever size you choose will be the size of your wreath.)
choice of fabric (I purchased 2 inches more than the size of my embroidery hoop. Since the fabric is folder, I was able to make 2 wreaths.)
ribbon of your choice
fabric scissors (These are my favorite!)
hot glue gun and glue
choice of accents or embellishments for decorating
What will I need to add lettering to the ribbon?
ribbon (at least 1 1/2 inches wide)
Cricut Heat Transfer Vinyl
Cricut EasyPress or iron
parchment paper
How do you add lettering to the ribbon?
I used grosgrain ribbon that is 1 1/2 inches wide and followed the same process that I used HERE when I created a customized pillow cover with the Cricut.
How do you make an embroidery hoop wreath with fabric?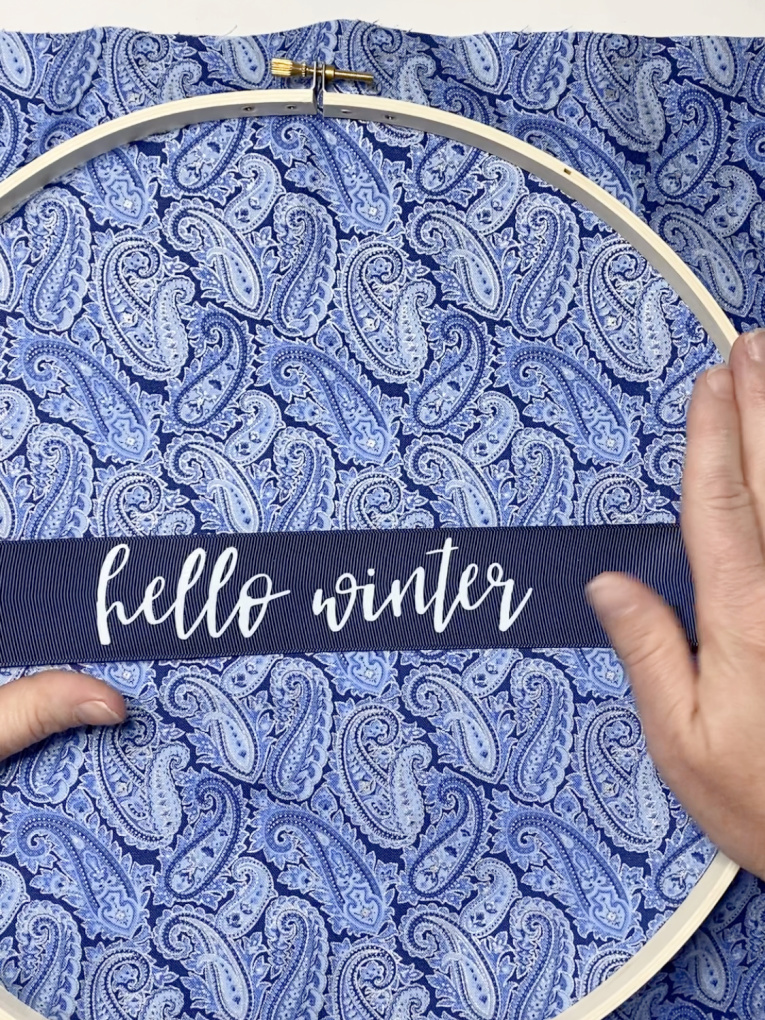 Iron your fabric.
Unscrew the top of your embroidery hoop to separate it.
Place the inner hoop down and lay the fabric and ribbon on top of it.
When you are happy with the placement, add the larger, outer hoop over it and tighten it by screwing the top.
Pull on the fabric and ribbon so it is tight.
Turn your wreath over. Using your fabric scissors, trim the excess fabric.
Use a hot glue gun to glue the excess fabric to the inside of the embroidery hoop.
How do you keep the fabric tight in an embroidery hoop?
By pulling the fabric tight, tightening the screw at the top and gluing the excess fabric to the hoop, the fabric has stayed tight in the embroidery hoop.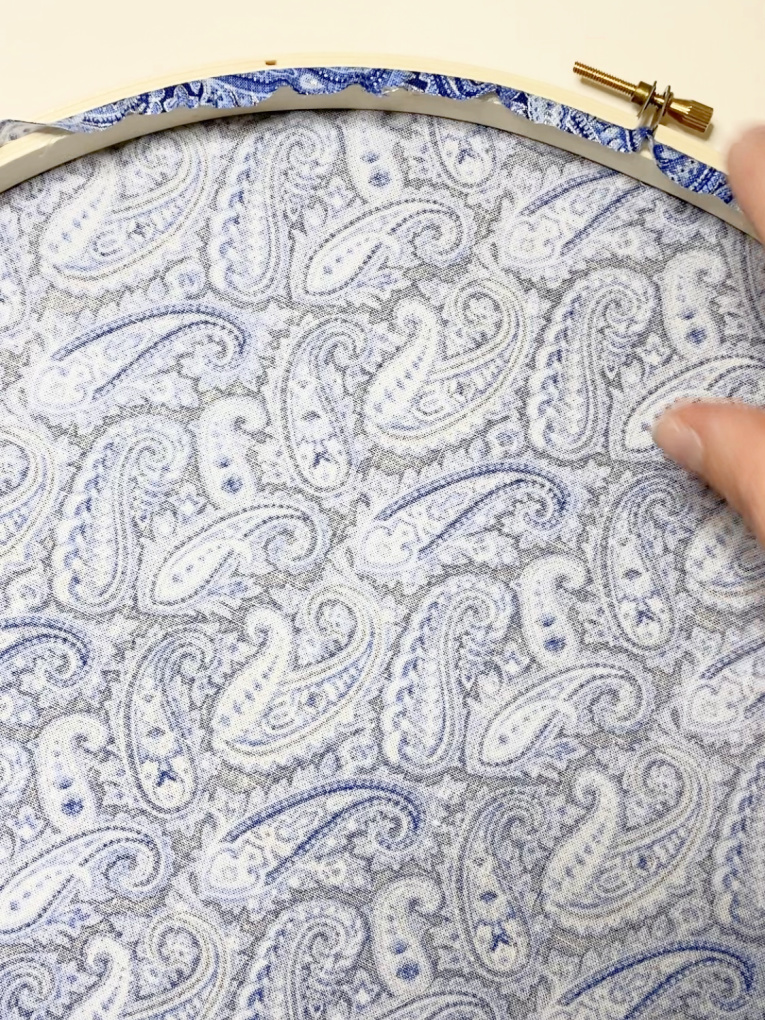 Decorate Your Wreath
Next, I went through my stash of craft supplies and dug out some fun accents and embellishments for decoration. I used pine cones, snowflake accents, and winter greenery floral picks. Floral picks are single stems of artificial leaves, flowers, or berries.
For my first wreath, I layered ribbon and created a bow using my Bowdabra Bow Maker. (I have had this tool for over 20 years and use it to make all of my bows!) Then I just added a snowflake accent.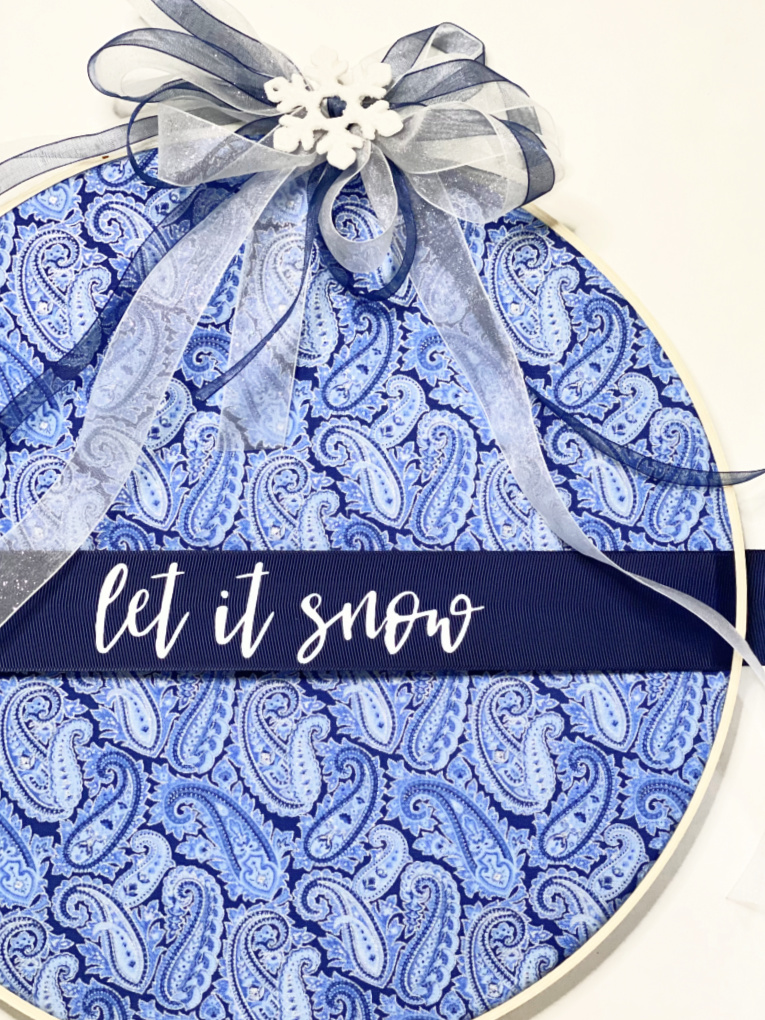 For the second wreath, I used a winter greenery floral pick. I took it apart and used my floral wire cutters to trim
Using some floral wire, I created a small swag with the pieces of greenery and then attached it to the wreath by gluing it into place with hot glue. I finished decorating with a few small pine cones.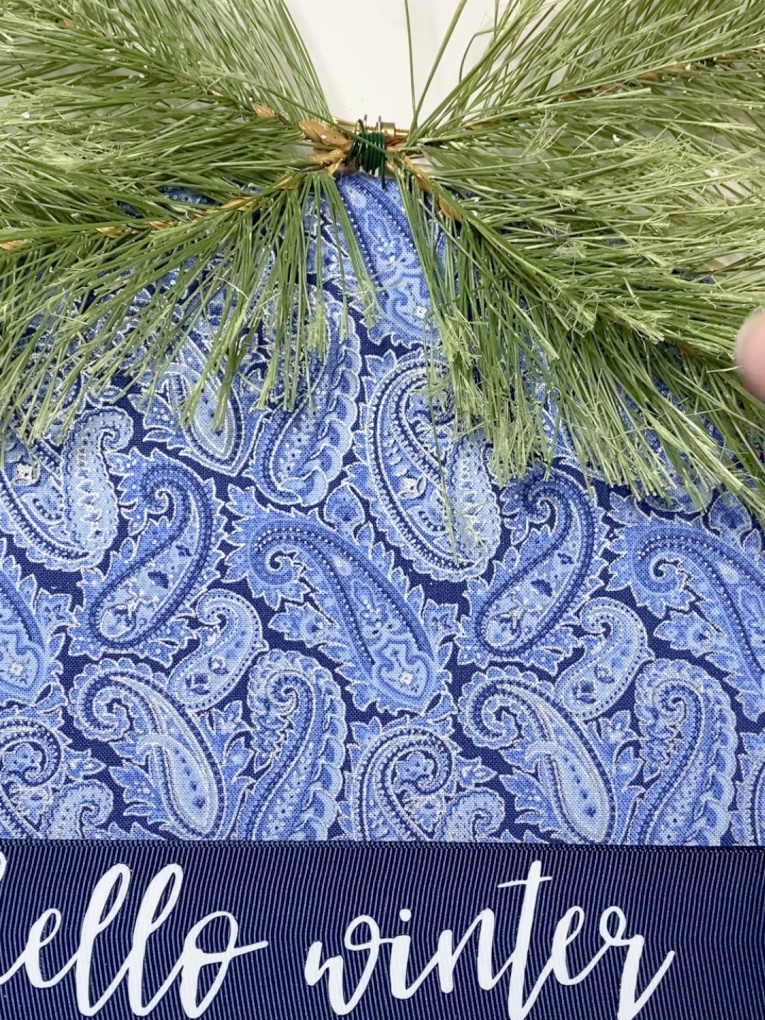 To trim the ribbon, just fold it in half and snip at an angle.
Now it is ready to hang.
How do you hang an embroidery hoop wreath?
You may need to add a hook to the wreath using ribbon. Cut a piece of thin ribbon and then glue the two ends of a ribbon together to create a loop. Then, glue the end of the loop onto the back of the embroidery hoop at the top center.
And now be sure to peruse/check out/explore the posts from my Blue & White Christmas friends. We have a bit of something for everyone!