Tuesday Turn About #150 Summer Home Ideas
Hello! Happy Tuesday!
I hope you all enjoyed a very Happy Mother's Day! Whether you are a mom, grandmother, aunt, caretaker, or friend, I hope all had a day filled with happiness and joy!
My daughter moved back home from college on Friday, so now my family is all home together for the summer and I couldn't be happier!
This past weekend we went to a local farm and stocked up on plants. After church on Sunday, I spent time planting some planters and my new flower boxes. I can't wait to share them with you soon!
It is finally feeling like spring here in Connecticut. It almost feels like Mother Nature finally flipped a switch! The sunshine and warmth has me (and my kids at school) starting to think about summer vacation. Inspired by summer, I am sharing some fun projects and decorating ideas for your summer home.
Be sure to hop over to My Wee Abode and Reinvented Delaware to check out SIX additional features from Tuesday Turn About! If you haven't been featured at My Family Thyme this week, you may have been featured there!
Weekly Household Tip
The last couple of weeks I have been sharing some fun household tips using cucumbers. You can read about them HERE and HERE. I have another for you!
Does your bathroom mirror fog up after you take a hot shower? To prevent this, try rubbing a cucumber slice along the mirror. It should help to eliminate the fog, while leaving a fresh, calming, spa-like scent.
Weekly Blogging Tip
Do you have a Facebook account for your blog? If you do, try this tip.
When featuring another blogger on your FB page, don't add a link to the post. Try only tagging the blogger's Facebook page in the post. It seems that FB wants us to STAY on Facebook, and when you tag another FB account, Facebook will give you more attention!
Try it. Since doing this, I've gotten much more activity on Facebook posts because FB is showing the posts more!
Though not a requirement at all, we would love it if you would subscribe and/or follow your hostesses on one or more of our social medias:
Let's Create Community!
---
My Family Thyme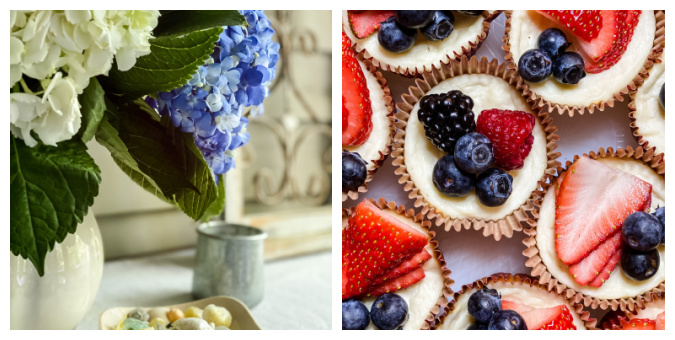 How to Create a Coastal-Inspired Porch | Skinnytaste Cheesecake Cupcakes
Reinvented Delaware
Old Fence Picket Projects | Rub-On Transfers for Furniture
My Wee Abode
Adding Summer Decor to a Tiny House | Patriotic Printables for Summer Holidays
---

Add a Touch of Lovely Lavender
Michelle from Thistle Key Lane shared How to Make Lavender Sachets. She used beautiful cotton fabric, along with some special vintage linens too. I'd like to make some for myself, but I think these would make a wonderful gift for my room parents this year too. Who would you like to make one for?
DIY Ikea Faux Architect Drawers
If you love a good furniture hack, you will LOVE this post! Julie from Farmhouse at 52 transformed a simple set of Ikea Rast drawers into a beautiful set of faux architect drawers. The creativity used in these DIY Ikea Rast Faux Architect Drawers is extraordinary!
Easy Patriotic Decor
In the summer, home decor is all about red, white, and blue! Debra from Common Ground shared how to add pretty patriotic touches to your home with Easy Patriotic Decor With Vintage Flags. I just love her style!
---
Before you get started, take a look at our guidelines:
This party is for home decor and home-related posts only (recipes, organizing, DIY, crafts, etc.). Link up to 3 related posts. Please do not link up informational posts that do not relate to the topic.
If you would please not link up shops, advertising, round-ups, other link parties, or any posts promoting sales, we would appreciate it.
DO NOT PIN FROM IMAGES ON THIS PAGE (it just won't work right on Pinterest). However, please visit the original post/source and pin from there. That works perfectly!
Please make sure that your images are in a jpeg or png format. If we can't save your image, we may not be able to feature you. So sad!
By linking to the party, you give us permission to share your projects on our blogs and social media. We will always give proper credit with a no-pin image.
Thank you so much for visiting! I am so grateful for you and appreciate you joining us each week! I look forward to seeing what you're creating and sharing this week!