Merry and Bright Christmas Home Tour
Welcome to my Merry and Bright Christmas Home Tour! It is the most wonderful time of the year and I am decorating with classic red, green, and beautiful plaids!
This post contains affiliate links. If you click on an affiliate link and purchase something, I may receive a small commission, at NO additional cost to you.
Welcome to My Family Thyme!
Merry Christmas! It's the most wonderful time of the year and I am thrilled to welcome you! I am so excited to be part of the final day Blogger's Best Holiday Tour, hosted by my sweet friend Kelly who blogs at The Tattered Pew!
If you are visiting from Ann of Dabbling and Decorating, welcome! Did you just love her festive holiday front door?! I love her style and her beautiful New England home! There has been so much gorgeous Christmas decorating inspiration all week! Be sure to check out all the participants at the bottom of this post!
Whether you are new to My Family Thyme or a returning friend, I am so happy you are here and spending some time here with me! I'm Lynne. I am a Connecticut wife, mom, and fourth grade teacher by day and a crafter, DIYer, and decorator by night! Welcome to my home!
Plaid in the Foyer
When you first enter my home, you will be in my foyer. We live in a traditional colonial that was built in the late 60s. No grand entryway can be found here! A couple of years ago, my husband and I added this DIY board and batten wall. This is one of my favorite projects because it was easy and inexpensive, yet so impactful! It definitely gives this space some much needed character and charm. Now, I love to change this space up for the seasons. Usually, I have my DIY watercolor art framed, but I recently purchased and printed this beautiful seasonal watercolor art from an Etsy shop. Do you ever change up your wall art for the seasons?
Of course, Christmas means pops of red, green, and beautiful plaids. This monogrammed pillow was made for me by my dear from Pinar from Happiest Inc. She is incredibly talented. I love the way the plaid coordinates with this plaid blanket draped over my grandmother's Hitchcock deacon's bench. Would you believe that this plaid blanket is my husband's baby blanket?
Here's one more view from our kitchen. The pops of color look so merry and bright!
Christmas in the Living Room
Let's head into the living room where we can enjoy the lights of the tree. Our tree is a collection of family memories. These ornaments tell our story and bring back fond memories of Christmas celebrations through the years.
Loops of wired plaid ribbon, along with wired burlap and gold ribbon woven with our treasures with make me smile.
More vintage ornaments that had belonged to my grandparent sit in a milk glass dish. It's easy to create vignettes by gathering similar themed items in a variety of heights, colors, and textures.
The Nativity
For our first Christmas together, my husband gifted me this nativity. For us, Christmas is all about the birth of Jesus. Every year we set the nativity up in our living room. It is something that my family looks forward to, particularly, my daughter, Elisabeth. This year, she set up the nativity when she was home from college for her Thanksgiving break. Only a couple more weeks and she will be home to celebrate Christmas with us!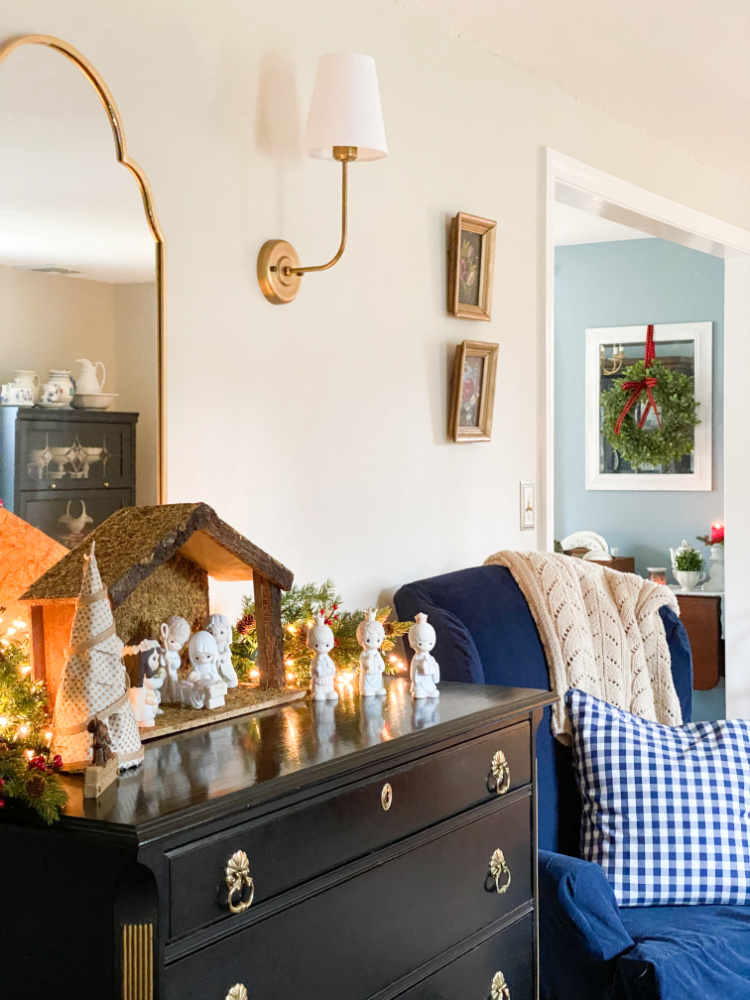 Around the nativity, I added some garland, greenery pics, and lights to make it a little more merry and bright! From this view, we're peeking into the dining room. Let's go in and check out some of the holiday touches.
Holiday Cheer in the Dining Room
This antique side table was another gift from my husband when we first were married. He saw that I was eyeing it every time I visited an antique shop in town and he surprised me with it. It is one of my favorite places in my home to decorate for the seasons.
This vintage toolbox belonged to my great grandfather. I have it filled with holiday dishes in a variety of patterns, cloth napkins, and a milk glass vase. Instead of worrying about staying with one style of decorating, I love to combine family treasures with new, more contemporary finds. Decorate with items that bring you joy!

On the velvet runner, I have placed my favorite candlesticks and lighted frosted mistletoe garland, both from Lights.com, as well as some berry picks, dried orange slices, and a few pinecones. I added a couple of my DIY Faux Mercury Glass Votive Holders. Would you believe these little votive holders are made out of yogurt containers? I love the little sparkle they add! Isn't it Merry and Bright?!
My friend, Pinar made me these gorgeous monogrammed napkins last year. I created a holiday place setting by combining a round jute placemat, with a charger from Dollar Tree, and my Pfaltzgraff Winterberry dishes. I used my grandmother's silver flatware. Again, don't be aftraid to mix new and old!
To decorate my hutch, I added this sign I had made from painting a Goodwill canvas print and stenciling a holiday message onto it. Holiday decorating can be simple and inexpensive.
A Few More Holiday Touches in our Family Room
Before you leave, let's head into my favorite room. Our family room is merry and bright! With its large windows, paneled walls and ceiling, it is a cozy room that brings us such comfort and joy. Last week shared how I added classic Christmas decor in our family room.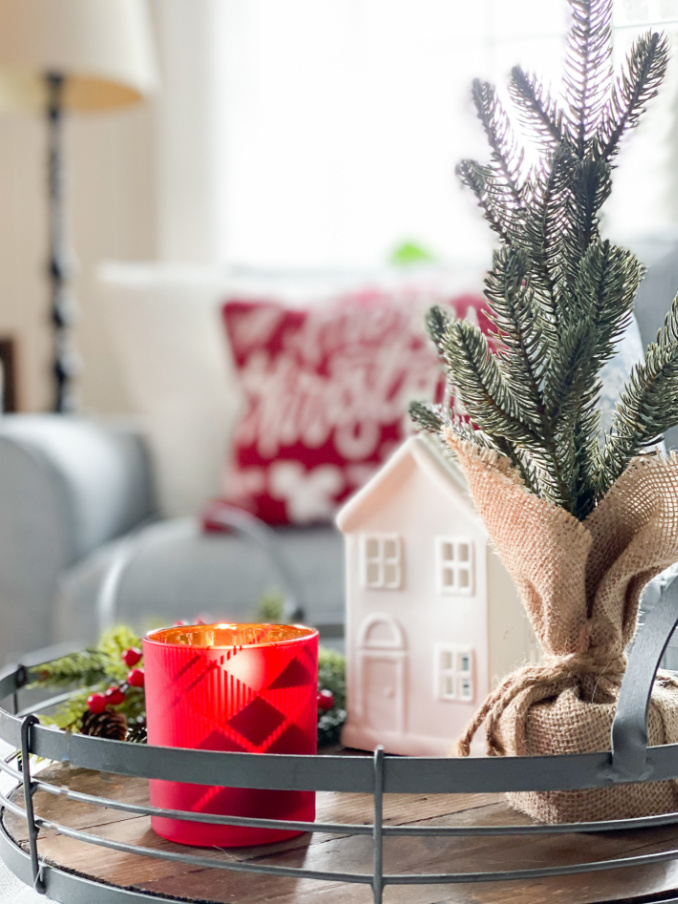 Since then, I have added to our Christmas mantle. I just can't seem to leave well enough alone! In addition to some greenery, a festive holiday sign, and red candles to add a little holiday cheer to my upcycled candlesticks, our family stockings and my Christmas ornament reverse canvas complete the mantle.
Thank you so much for visiting my home today! I would love to connect with you on Facebook, Instagram, Pinterest, or here on the blog! Now make sure to head over and visit my friend Kim at Cottage in the Mitten. She is so creative and talented. Her beautiful holiday home tour will leave you feeling inspired! Then, enjoy each of the tours below!
Wishing you a beautiful holiday season!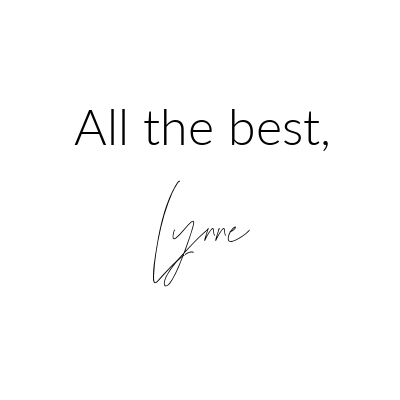 Bloggers' Best Holiday Home Tours
This week my friends and I are sharing our homes all dressed up for the holidays. We hope you will have fun visiting each of the tours below!
Monday's Tours

Tuesday's Tours

Wednesday's Tours

Thursday's Tours

Friday's Tours

Lora Bloomquist Create and Ponder