Simple and Inexpensive DIY Board and Batten Wall
CREATE A SIMPLE AND INEXPENSIVE DIY BOARD AND BATTEN WALL.  THIS EASY PROJECT WILL GIVE SOME BEAUTIFUL CHARACTER TO AN ORDINARY SPACE!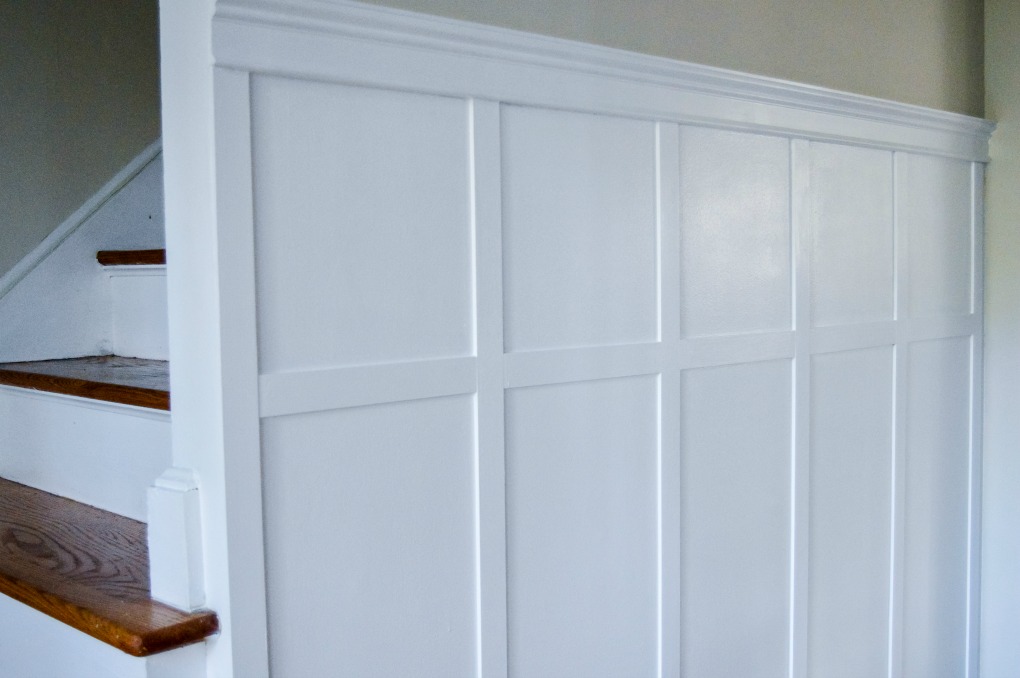 This post contains affiliate links. If you click on an affiliate link and purchase something, I may receive a small commission, at NO additional cost to you.
Welcome back to week 2 of the $100 Room Challenge, hosted by Erin from Lemon's, Lavender, and Laundry. I am updating my dark, boring foyer into a space with bright welcoming space with character and style. If you are following my progress on Instagram stories, you have seen a glimpse of some of my progress.
This challenge has been created by Erin from Lemons, Laundry, and Lavender. You may have seen Erin talk about this challenge on the Rachael Ray Show. This happens twice a year, in January and September. Bloggers have one month to completely transform a space with a budget of $100. I love this challenge because of all of the creative inspiration you will find here. You can definitely create a beautiful home on a budget!
As a part of my $100 Room Challenge, my foyer is receiving a board and batten wall. Today I am sharing how this simple DIY project made a large impact in a small space!
Planning and Shopping for the Board and Batten Wall
I first checked out a variety of tutorials and there are so many ideas out there! I combined the ideas to come up with a plan that would work best for my space and budget.
My husband, Andy, and I decided to just make one focus wall, using the existing wall and baseboard. This is our first attempt at a project like this, and to be honest, we wanted to keep it easy and uncomplicated. Since our walls are smooth, there was no need to add a "board" in the board and batten. We chose lattice as the battens. We decided on these strips of wood because they have some depth, but are thin enough to sit right on top of the baseboard.
I had some left over 1 1/2 inch poplar lattice that I thought I would use to save some money. However, I quickly realized that I did not have enough to complete the job and took a trip to my local Home Depot. When we got to Home Depot, we discovered that the lattice in stock was not only a different size, but also a completely different material. Even though it is such a slight difference, we opted to go ahead and get enough for the entire project and not mix the two types. We were able to do most of our cutting right at the Home Depot, which made this project even easier. However, this spending means that I am now at risk of going over-budget and have to get creative in other departments.
Supplies Needed:
Lattice strips for boards
Casing with ledge for top rail (1 1/16 inch by 3 3/8 inch)
pencil
5/8 inch brads
Miter box and saw
Sandpaper
Finishing nails
Hammer
Spackle or wood filler
Putty knife
White paintable caulk and caulk gun
Primer
Paint:  I used leftover paint from other projects.  The board and batten, as well as the trim was painted Extra White by Sherwin Williams in Extra White.  The walls received two coats of Revere Pewter, mixed at 50% in Matte.
Paint Supplies: brushes, small roller, roller cover, and paint tray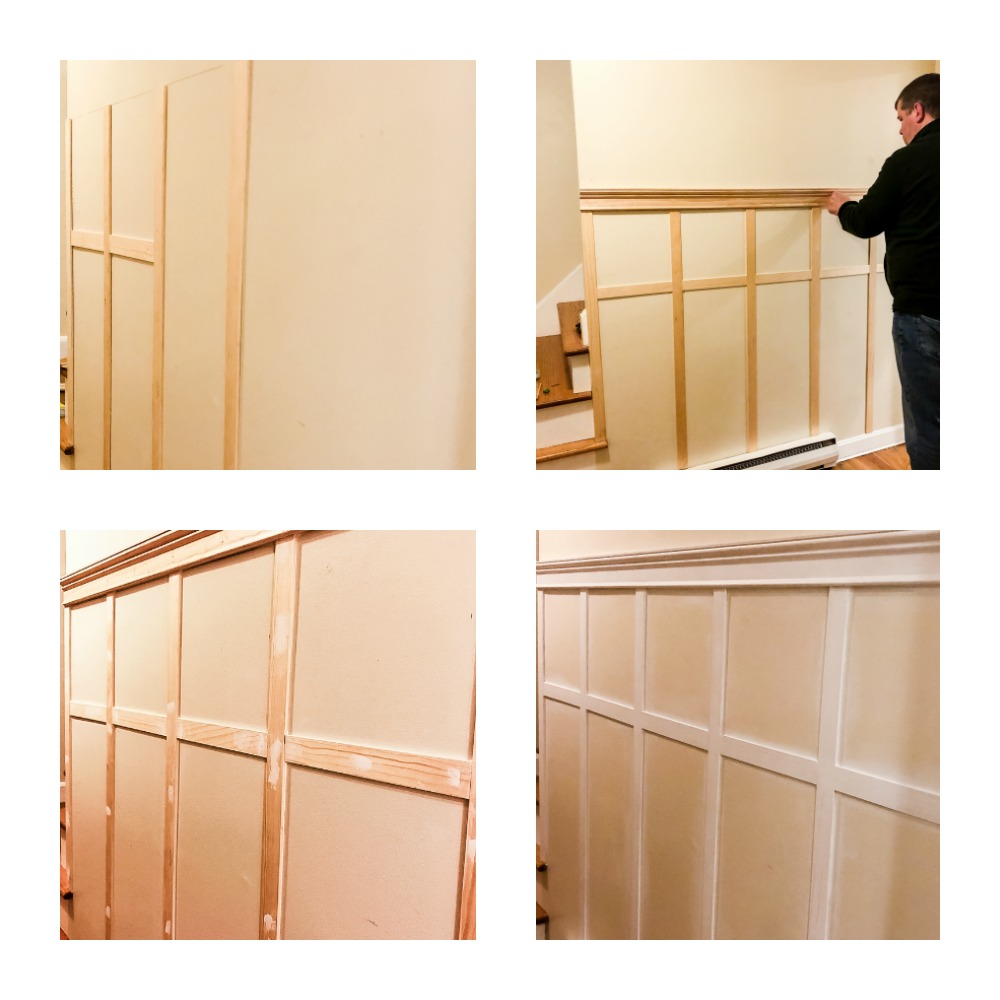 (I snapped a few pictures during the process with my phone…they're not great photos, but they give you an idea of the process.)
How to Install DIY Board and Batten
We measured 48 inches from the top of our baseboard.  Using a level and a pencil, we marked a horizontal line on the wall.
Before we began, we cut the vertical strips so that they would all reach the same height (We had the stair, baseboard, and heater to work around).  Using painter's tape, we set them out on the wall, 12 inches apart, to be sure it worked according to our plan.
We began with our vertical lattice strips.  We worked left to right, leveling and attaching the strips to the wall with brads, using the nail gun.  I only snapped a few pictures with my phone because it was a 2 person job!
Once we had two vertical lattice pieces attached, we measured 12 inches down from the top and inserted a horizontal piece to create a square.  Measure, level and remeasure before attaching.  We repeated this process until it was finished.
Add the top piece.  We decided to use a piece of casing with a ledge top. I love the character it adds! Again, we double and triple checked that it was level before attaching with finishing nails.
Next, I used white paintable caulk to caulk the seams where the casing met the wall and lattice boards.
Using a putty knife, I filled the nail marks with spackle and then lightly sanded.
Lastly, I primed all of the wood and then painted it using semi gloss enamel paint.
Now, every time I walk by this space, I smile. I love the character and brightness that this wall treatment adds to this space. Had I realized how easy this project was, I would have done it years ago!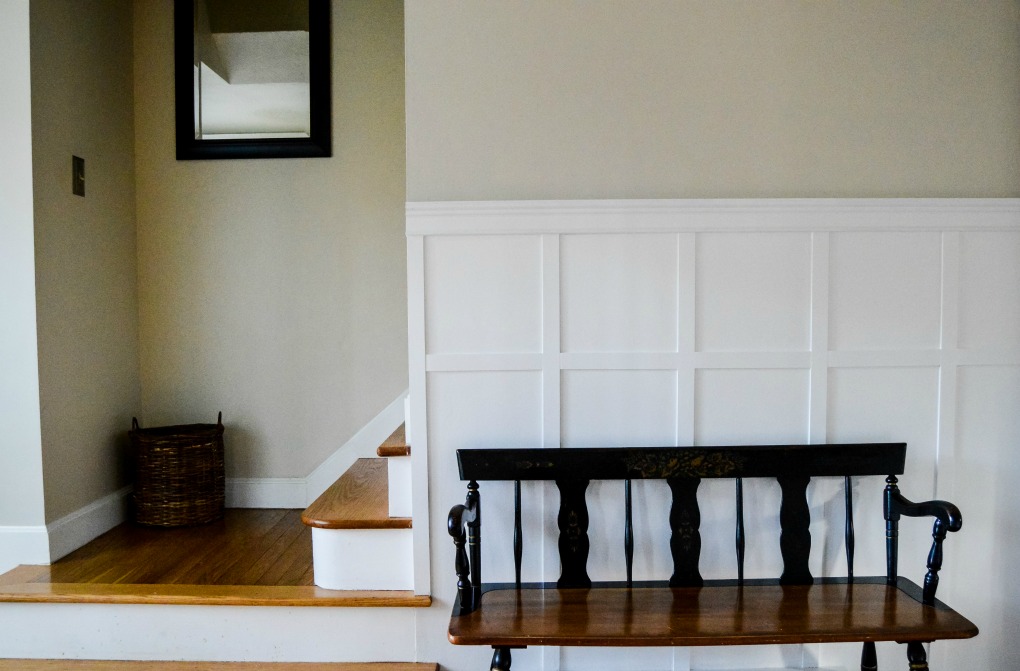 Materials Cost:
As I mentioned, the cost for this project was a little higher than I had planned, but still very inexpensive. I think I got a lot of bang for my buck! I was fortunate that I had many of the necessary items on hand from other projects. The cost of this project is:
Pine lattice 1 5/8 inch $51.00
Pine casing with ledge for top rail (1 1/16 inch by 3 3/8 inch) $23.41
DAP white paintable caulk $1.99
Andy has already joked that we can save the extra lattice I purchased because he is sure I will want to add more board and batten somewhere else.  He knows me well!  Where would you add this wall treatment in your home?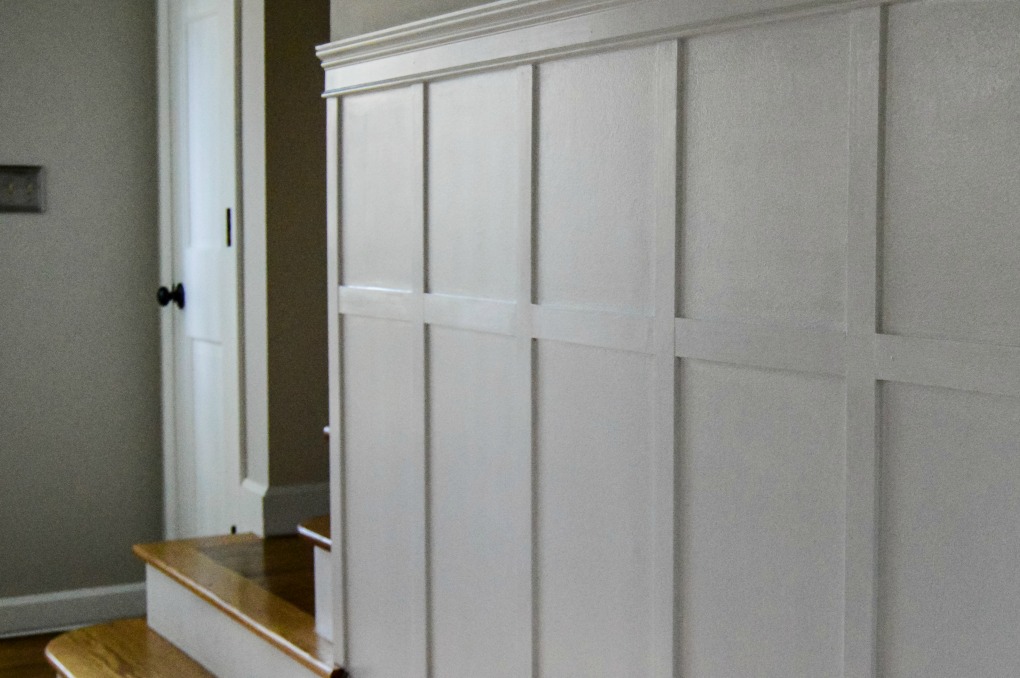 If you would like to save this for later, pin it here!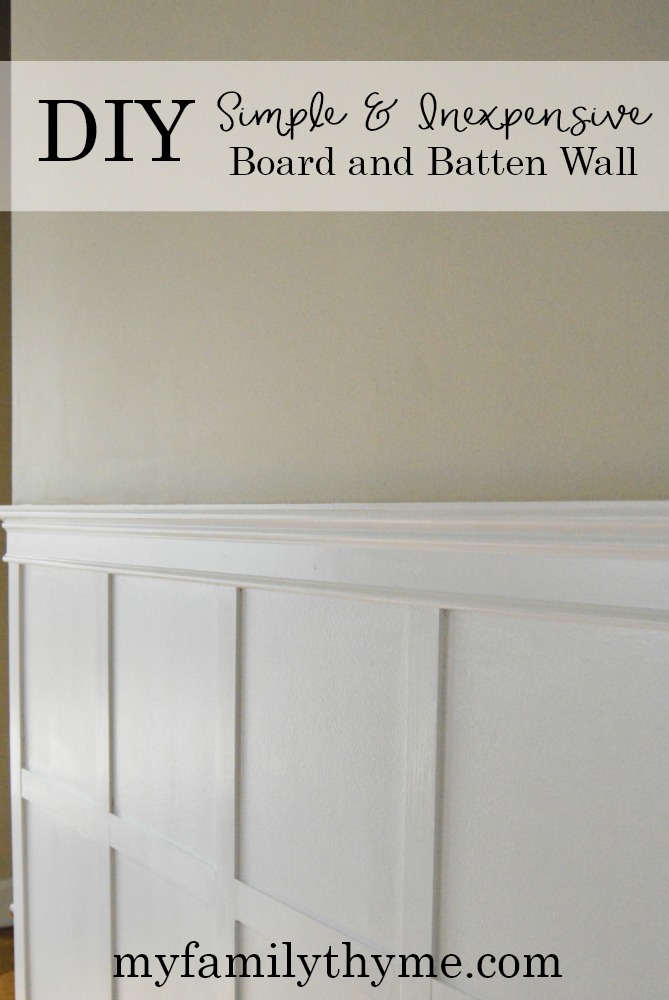 You are invited to the Inlinkz link party!