8 Tips for Getting Your Dining Room Guest-Ready
I am so excited to be partnering with Birch Lane to share 8 tips for getting your dining room guest-ready!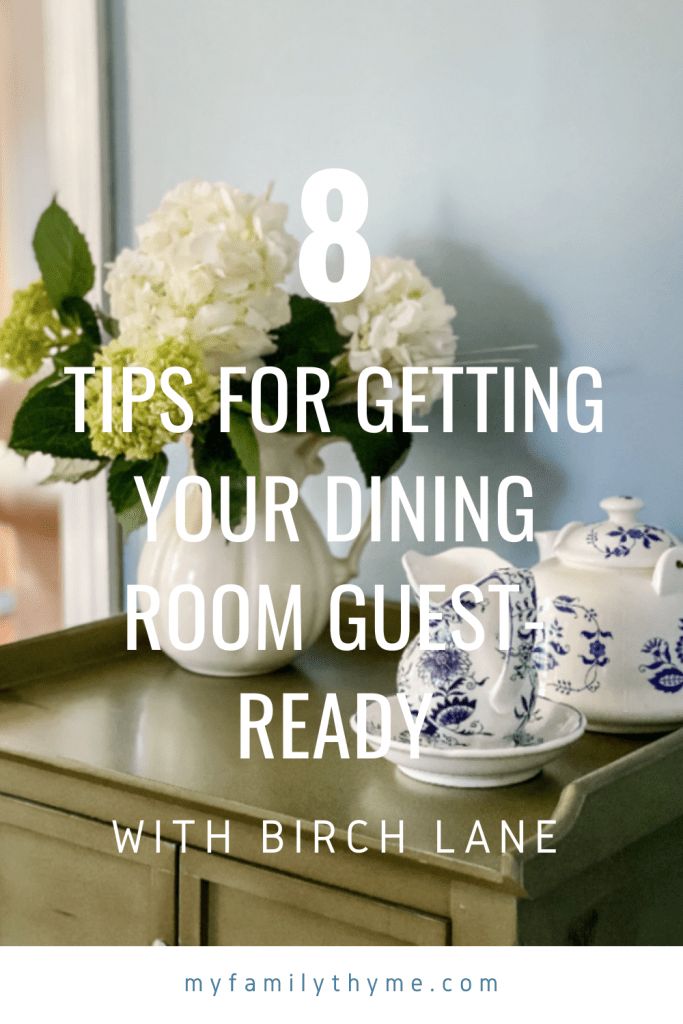 Years ago, when my husband and I were looking for our forever home, a dining room was a must on my wish list.
After looking at more houses than I wish to admit, we finally found our home, complete with a dining room.
I'm so thankful that we didn't compromise and stayed true to what we wanted. Our dining room is a space that I love.
Some days, it's the place where school projects and crafts are done.
This year, it has been a virtual classroom and a work space.
Our dining room is also the setting for birthdays, holiday celebrations, and Sunday dinners.
There's just something comforting about this room where we gather.
I've been dreaming of the time when we can share this space with friends and family again.  So you can imagine my excitement when Birch Lane asked me if I would share some tips for refreshing this space and some of my favorite dining room finds with you.
Are you dreaming of gathering in your dining room again too?
Let's get our dining rooms refreshed and ready for guests with these simple tips!
1. Declutter and clean:  If your dining room has become a catch all, remove any papers and clear all surfaces. Wipe down your woodwork and walls. Once you have a blank slate, you can plan your space.
2. Paint and DIY:  Add a new color! Paint is such a simple and inexpensive way to update a space. I recently painted my dining room a new color, Slate Blue by Benjamin Moore, and we love it. It's amazing what a difference a little paint can make. You can also add a bit of character to your space with molding or a project like this DIY Board and Batten. My husband and I were able to easily add this treatment to our home for less than $100.
3. Update your lighting:  Proper lighting can really impact a space. Changing out an old, dated fixture for an updated chandelier can  transform the look and style of your room. This is something that is on my to-do list, but will definitely be happening this spring. I love this Tennison Style Chandlier and this 4-Light Lantern Geometric Chandelier, both from Birch Lane. Which do you think would work best?
4. Define your space with a rug: Adding a rug can anchor the room by bringing in a color, texture, and style. Low-pile rugs and smooth natural fiber rugs are easier to clean, as spills and messes are inevitable.
5. Bring in a table for gathering:  I love a table that encourages gathering and conversation, but can also expand to for company. As a result, I tend to gravitate toward a rectangular table. I have shared two of my favorites below, both from Birch Lane.
6. Add a variety of seating options:  Whether a wooden bench, side chairs, or upholstered wingback chairs, a variety of seating options will ensure that all your guests will be comfortable. I have shared some great options below.  Which seating option would work best for your room?
7. Introduce stylish storage solutions: Do you have a collection of linens, silverware, and dishes? Store and display your items in style with one of Birch Lane's beautiful sideboards and buffets. A favorite of mine is the Clemons Sideboard, from Birch Lane.  It's on my wish list!
8. Accessorize:  Don't be afraid to shop your home and repurpose create a new look with accessories from other rooms. Add a wall mirror to reflect light and make your room feel more spacious. Bring color and personality into your space with art work. Did you know that you can create your own watercolor art work with your phone? You can read all about how I created these Martha's Vineyard Watercolor Prints here!
I think back on all of the beautiful memories that have been made in this dining room, and I look forward to many more to come.
I can hardly wait to gather friends and family and welcome them into our home.
How is your dining room decorating coming along?  Is your dining room ready for guests too?