$100 Room Challenge: Budget Foyer Makeover
I am sharing my plan to for a budget foyer makeover. As a participant in the $100 Room Challenge, I will create a bright and welcoming foyer, using a budget of just $100.
Hello! Welcome to My Family Thyme! I am so excited to be participating in the $100 Room Challenge, created by Erin from Lemon's, Lavender, and Laundry. This challenge happens twice a year, January and September. A group of home decor bloggers are challenged to makeover a space in their home, using a budget of just $100.
My focus word for the month of January is refresh, and January is the perfect time for this challenge. It is a time for embracing change, realizing possibilities, and experiencing a fresh start.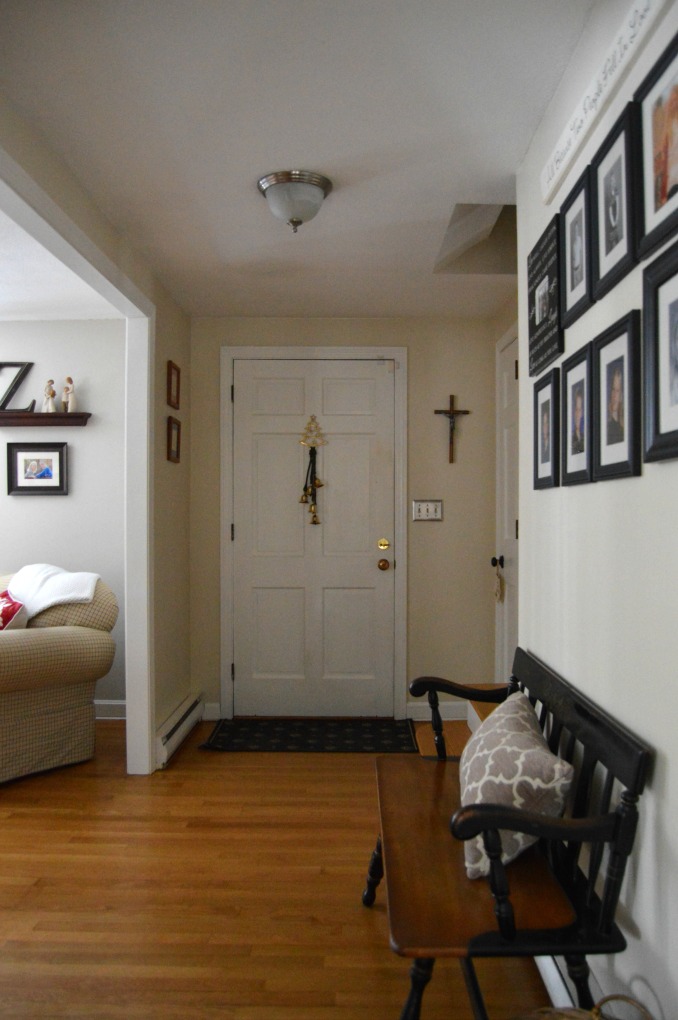 I share my home with my husband, our two almost grown children, and two dogs. We live in a traditional New England colonial, built in 1968. When you enter my front door, the foyer is the first space you see.  Other than neutral paint, refinishing the floors, and adding some pictures, we haven't done much with this space.  Several years ago, my son and I hung this wall of pictures together. These family pictures, along with many more, will be relocated as part of a gallery wall in the stairway.
This dark, boring space needs some character and style.  A few years ago, we updated our kitchen and I recently painted and refreshed our living room.  For this challenge, I would like to tie these spaces together by add a wall treatment and color.  I am confident that this foyer can be transformed into a beautiful and welcoming space.
I love the look of board and batten and have been wanting to add this wall treatment to our home. This is the perfect space to add some much needed character. I have never done a project like this before, but I am confident I can do it!
My Proposed Schedule for this Budget Foyer Makeover:
Week 1:  The Plan
Week 2:  Add board and batten to walls to add character.  Fill nail holes and caulk
Week 3:  PAINT!
Week 4:  Update wall decor and add accessories.
Week 5:  Reveal
The board and batten, as well as paint, will take up most of my budget. I have some ideas to update some art work and make some accessories for little or no money. If the budget allows, I would like to add a rug for some color and texture.  I can't wait to get started!
Thank you so much to Erin from Lemon's, Lavender, and Laundry for hosting this challenge. Be sure stop back every Wednesday this month to see my progress and the work of all the other talented people joining the challenge.
You are invited to the Inlinkz link party!