Organize Your Pantry Cabinet in 7 Easy Steps
Boost the functionality and organize your pantry cabinet with these 7 easy steps. You will be amazed at how easy it is to organize and transform your pantry cabinet by utilizing and labeling practical, stylish containers.
I have included some affiliate links in this post for your convenience. There is no additional cost to you. Thank you so much for your support.
How to Organize Your Pantry Cabinet in 7 Easy Steps
The kitchen is the heart of our home. It is the most used room and to be honest, it can easily become a mess! January is the perfect time to get it organized and improve its function so it can easily be maintained by our whole family!
Clear out your pantry cabinet
The first step to organization is to clear out your cabinet. Take everything out and set it on your counters or table so you can see what you really have. This will also help you when you grocery shop so you are not purchasing items unnecessarily.
Throw out expired items
Now that you have cleared out your cabinet, go through and toss any old or expired food.
Clean the shelves
Next, use this opportunity to clean your shelves or drawers. If you choose to line your shelves, this is a great time to do it.
Group similar foods together
Group similar foods together so you will be able to decide how you can best store them. I categorized the foods to decide what I would need to buy for storage containers. By doing this, you will also be able to easily see what you have on hand and it will make grocery shopping easier.
Plan and purchase storage solutions that work for you and your family
Consider your needs and what will work best for your family. How will your pantry cabinet function well for your entire family so it can be maintained? Purchase containers that will work for your needs.
I decided to go with baskets and some plastic storage containers. I had some plastic storage containers on hand, but decided to purchase a set of Rubbermaid Brilliance food storage containers. They are my new favorite! I love that they are BPA free, airtight, and I can see through them. And, best of all, they stack well to save space. It was a good buy!
Set up your storage containers
Repackaging everything is just not practical for my household. Instead, I used baskets. I divided the food into categories and made a basket for each. We have a basket to corral some baking items and one for breakfast items such as oatmeal packets. Individually wrapped protein bars, nuts and trail mix are in a basket, while individually bagged snacks are in another. Having food items in these baskets make it easy to grab and go snacks, especially when packing lunches in the morning. We have another basket for chips, and one for crackers.
Our cereals went into these storage containers, while baking supplies took a little more planning. I decided to repackage sugar, flour, corn starch, baking soda, baking powder, brown sugar, and confectioners sugar. Along with those dry goods, I also repackaged nuts, dried cranberries, chocolate chips, and oats.
Label your storage containers
Now that you have your pantry cabinet organized, you want to keep it that way. Labeling will definitely help to maintain this organization. I added these steel bin clip labels for the baskets. What I love about these steel bin clip labels is that they arrived with 30 preprinted sticker labels, along with a chalk pen, which made labeling so quick and easy!
For the plastic storage containers, I made vinyl labels using my Cricut Explore Air 2 cutting machine and some simple black vinyl.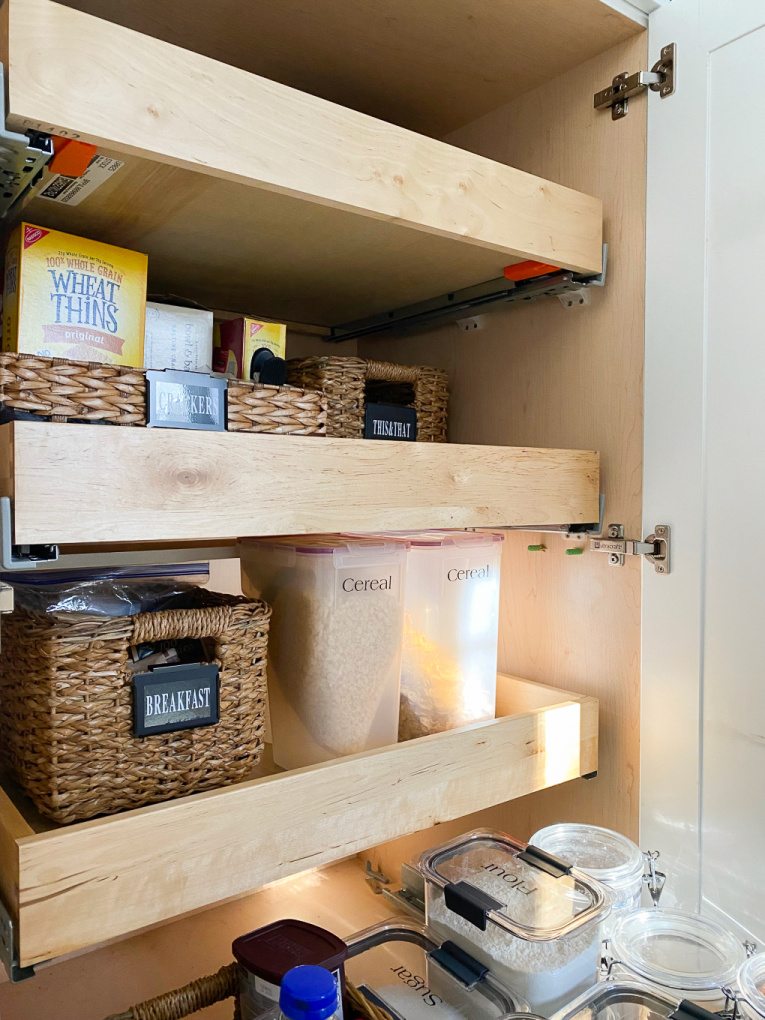 Some Additional Tips for Organizing Your Pantry Cabinet
Get your family involved. When I was grouping the foods together and deciding how it would work best for our family, I asked for input. If I want it to be maintained, it has to function well for everyone. Set it up how it will work for your family.
If you have pull-out drawers, consider adding a non-adhesive grip shelf liner can help to keep your storage containers from moving.
Choose storage containers that are clear and you can see through.
Write the expiration date for foods on the bottom of the storage containers with an erasable chalk marker pen or a dry erase marker.
Shop This Post

You can also find all of my favorite home decor and organization products in my Amazon Shop. Thank you for your support!
Thank you so much for visiting today! I would love to connect with you on Facebook, Instagram, Pinterest, or here on the blog! If you have any questions about this project, please don't hesitate to ask. Please let me know if you give this organization project a try. I would love to hear about your projects!