How to Make Reverse Canvas Valentine Art
Learn how easy it is to make a reverse canvas Valentine art sign. Use heat transfer vinyl and a few simple supplies to make this Valentine craft.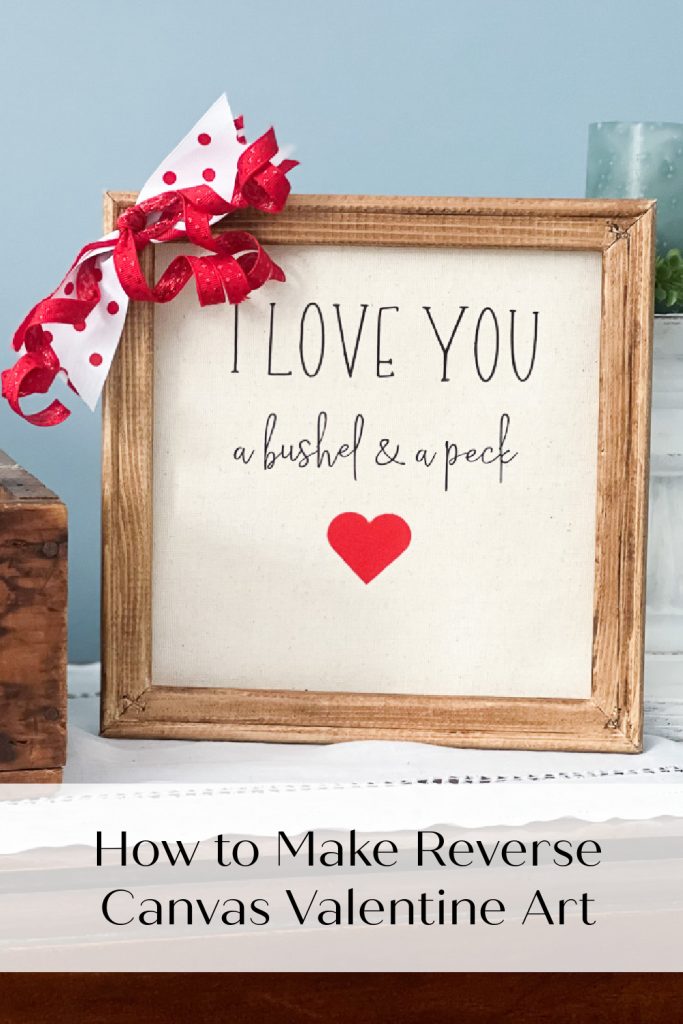 Welcome! I am so happy to be joining a creative group of my blogging buddies for a Valentine's Day Blog Hop, hosted by my lovely friend, Janet, from A Life of Balance. If you are visiting from Kim's beautiful blog, From Farmhouse to Florida, I am so glad you're here.
Growing up, my mom used to always sing the song, I Love You, A Bushel and a Peck, to me. When I hear those words, those beautiful memories come rushing back and I can't help but smile.
So when I was thinking about what I could do for my mom for Valentine's Day, that old, familiar song popped into my head. I could make her a reverse canvas sign with those words. I know those memorable words will bring a smile to her face too.
How to Make Reverse Canvas Valentine Art
What is a reverse canvas sign?
A reverse canvas sign is one that is made by taking an inexpensive white stretched canvas apart. The wood frame of the stretched canvas can be painted or stained and the canvas is reattached to the back of the frame. Either the smooth white side, or the more natural side can be used. Reverse Canvases make the most wonderful signs for all occasions and decor. Using scrapbook paper, I made an adorable Easter Bunny Reverse Canvas. For Christmas, I made a festive Christmas Ornament Reverse Canvas, using the cutest little ornaments.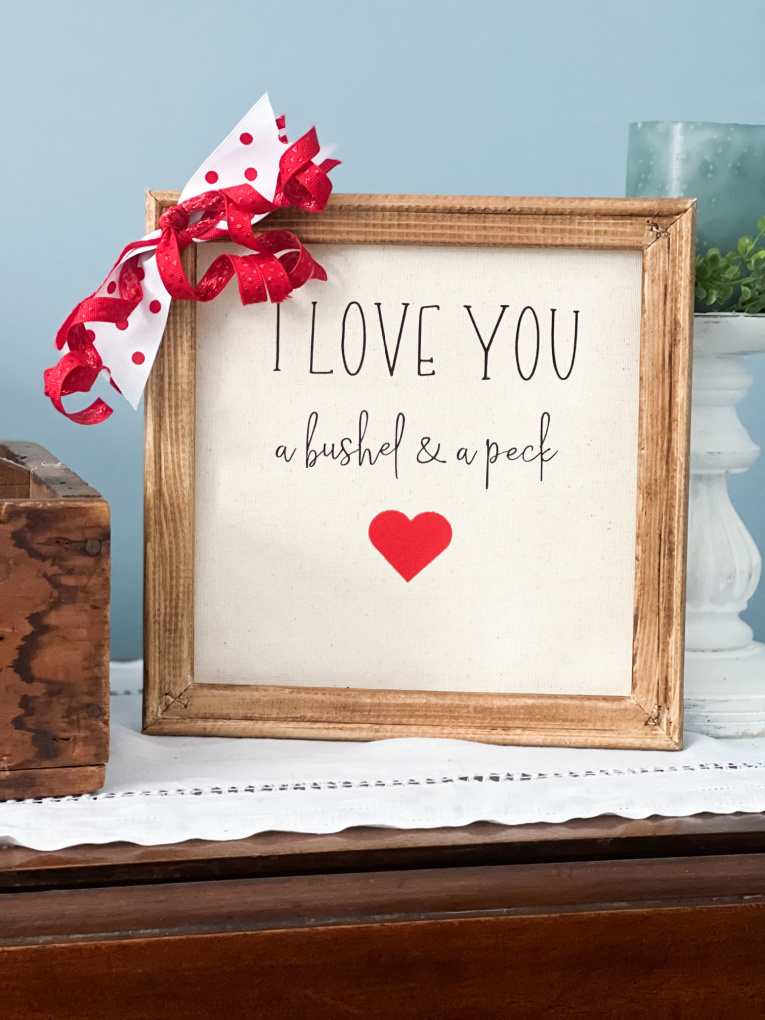 What supplies do I need to make a reverse canvas sign?
To make this easy and inexpensive craft, you need a few supplies. Although it looks like a long list, I tried to think of anything you may need. The worst thing is getting partway through a project and realizing you need something else!
Affiliate links are included in this post for your convenience, with no additional cost to you. Thank you for your support!
white stretch canvas (Any size will work. I used a 10 inch by 10 inch.)
utility knife or X-Acto knife
sand paper or a sanding block
stain or paint (I used Annie Sloan's dark wax)
rubber gloves, if using stain
sponge brush
paper towels
ruler
pencil
scissors
glue gun and hot glue
heat transfer vinyl
Cricut EasyPress or iron
parchment paper
ribbon (I used leftover ribbon from Christmas.)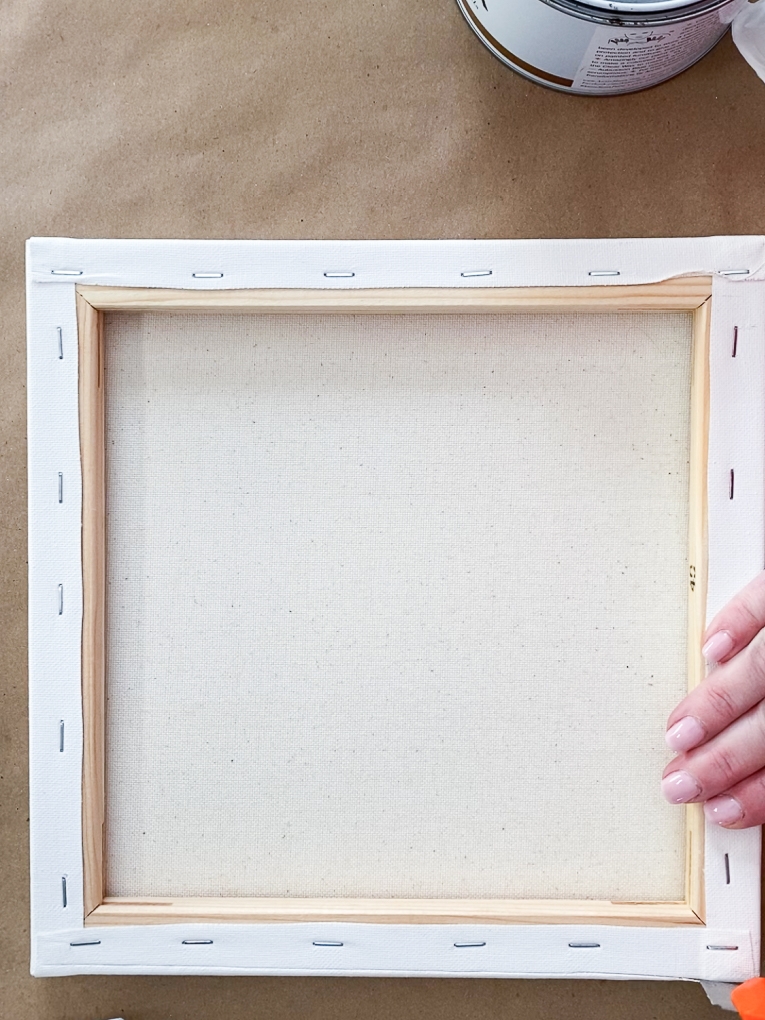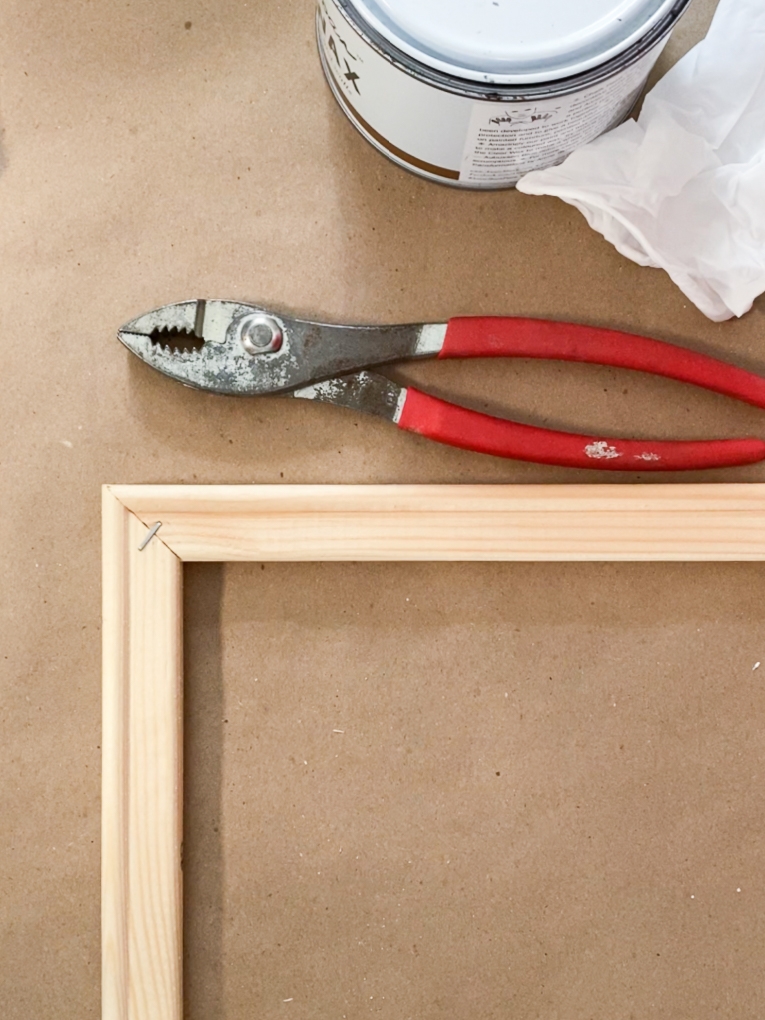 How do you make a reverse canvas?
First, turn your canvas so that the back is facing you. Carefully use your utility knife or X-Acto knife to cut the perimeter of the canvas, outside of the staples. Remove the canvas from the wood frame it is wrapped around.
This step is optional. You may want to carefully remove some of the corner staples. To remove a couple of the staples, I used pliers. I also sanded the corners and wiped them to remove any dust.
Next, paint, stain, or wax the frame. (I used Annie Sloan's Dark Wax.)
Measure the frame and use your pencil to mark your measurements. Then, using scissors, trim the canvas to size so that it can easily be reattached to the back of the frame.
Then, in Cricut Design Space, choose your text to create your message. For "I Love You", I used the font DTC Spring Charm. For "a bushel and a peck", I used the font Hey Marilyn.
Create the heart, using the shape tab, also in Cricut Design Space.
Use heat transfer vinyl on your cutting mat. When cutting the letters for your message, be sure to click on mirror. This is so important so that your message does not come out backwards!
Place your heat transfer vinyl on your cutting mat, shiny side down. I like to roll my vinyl on the mat to be sure that it is smooth, without any wrinkles.
Using you Cricut Machine, cut your vinyl.
Once all of the cutting is done, weed your vinyl. This means you need to use your weeding tool to remove the excess vinyl so that you just have the lettering left.
How do you add heat transfer vinyl to your canvas?
To add attach the vinyl to your canvas, follow these three simple steps.
Place your canvas piece onto a heat mat and arrange your design. I do use the Cricut HeatPress Mat. I have used an ironing board in the past, but I prefer this mat. It provides such a smooth, dry finish to my projects! Be sure to measure to be sure that the lettering is straight and even.
Cover your design with parchment paper and then apply heat, using the Cricut EasyPress. It only takes about 15-30 second to adhere. Then, let your vinyl cool for about 30 seconds.
When your design is cool, carefully peel the plastic covering. It will leave the vinyl adhered to your canvas. If it is not adhered well, repeat the heating process.
How do you reattach the canvas to the frame and finish your project?
Place the canvas on the frame, so you can see your design. Using hot glue, carefully reattach the canvas to the frame. I usually begin with a dot of glue in each of the corners and then add more if necessary.
Lastly, decorate! I made a simple bow by tying three different ribbons together and trimming the tails. These were leftover Christmas ribbons. The red and white is perfect for Valentine's Day!
How can you hang a reverse canvas sign?
I like the use the square canvas frames that I can stand on a table, mantle, or shelf. If I do hang it, I use Command Strips. When I bring this to my mom, I will bring a set of Command Strips to hand it on her wall.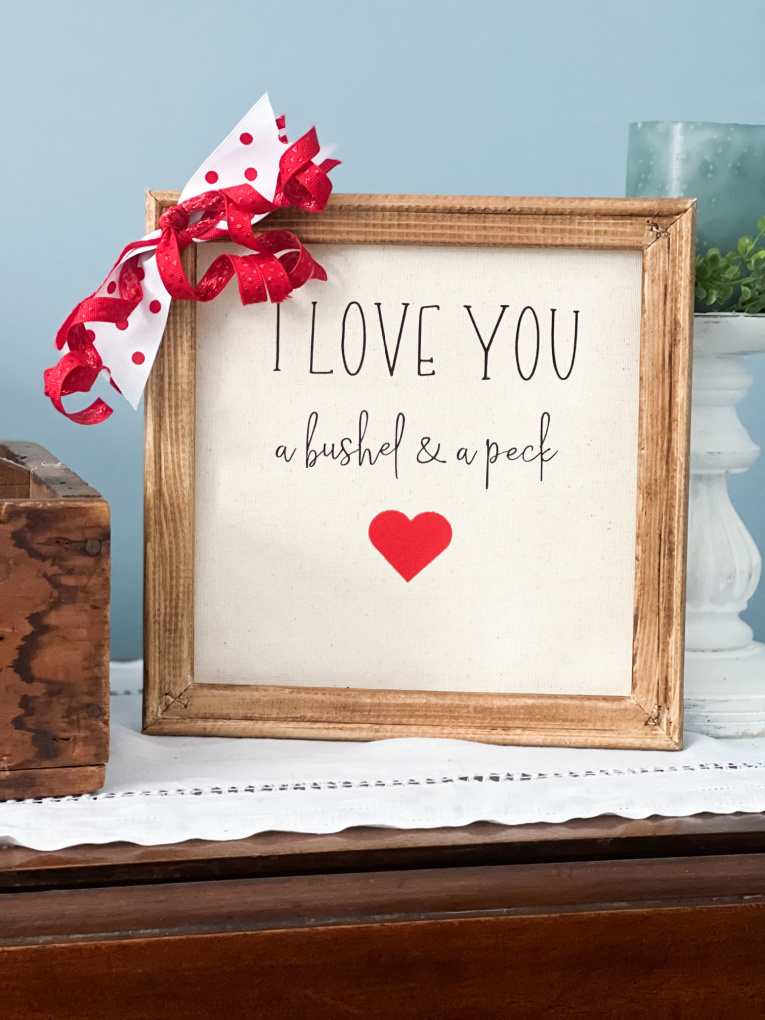 Shop This Post

Thank you so much for visiting today! I would love to connect with you on Facebook, Instagram, Pinterest, or here on the blog! Please let me know if you make this project. If you make one and post it, please tag me. I would love to see your projects!
Next on the tour is my dear friend, Sonya Burgess. I love her style. Everything she does is simply elegant. You don't want to miss her sweet Valentine's Day tree!
Valentine's Blog Tour
Want to see more Valentine's ideas? Well then, that's great because today, you are in for a treat!
❣️ 💟 💟 ❣️ More Amazing Valentine's Inspiration ❣️ 💟 💟 ❣️
Click the links below the images to go straight to their posts. ENJOY!
Chalking Up Success // Sweet Valley Acres // A Life of Balance // Peacock Ridge Farm
❣️ 💟 💟 ❣️ 💟 💟 ❣️
Cloches & Lavender // From Farmhouse to Florida // My Family Thyme // Sonya Burgess
❣️ 💟 💟 ❣️ 💟 💟 ❣️
Design of Your Life // Saved From Salvage // Zucchini Sisters
❣️ 💟 💟 ❣️ 💟 💟 ❣️