How to Create a Spring Arrangement Mixing Faux & Fresh Flowers
Get my easy tips for creating a beautiful spring floral arrangement by combining artificial flowers with fresh flowers.
Do you love creating and setting a beautiful table for the season? Colorful centerpieces always make a table extra special, but they don't have to be complicated or expensive.
When I first ordered these artificial tulips, I noticed that the maker of the tulips wrote that you may put them in a glass vase with water. I got to thinking…why not create a beautiful spring arrangement, mixing faux and fresh flowers.
Have you ever thought about mixing fresh flowers with artificial flowers? I recently shared my Fresh Spring Home Decor as part of of the 2023 Bloggers' Best Spring Home Tours, where I first shared this vibrant spring arrangement. Today I am going to share the simple process I used to create this colorful spring floral centerpiece, mixing faux and fresh flowers.
This post contains affiliate links. Please see my disclosure policy here. Thank you for your support.
What You Will Need to Create a Spring Floral Arrangement
mason jars (depending on the size of your wooden box, you may want either 16 ounce jars or 32 ounce jars.
artificial tulips (I purchased these in both red and white.)
daffodil stems (I purchased 2 bouquets at Trader Joe's for $1.99 each)
Spanish moss
The Wooden Box
I used my great-grandfather's wooden toolbox for this project. This rustic, vintage box is so special to me. If you would like to create this centerpiece, I have found some similar wooden boxes HERE, and HERE. You might also like this one too! I also think that this rustic wood box is so pretty!

The Faux Flowers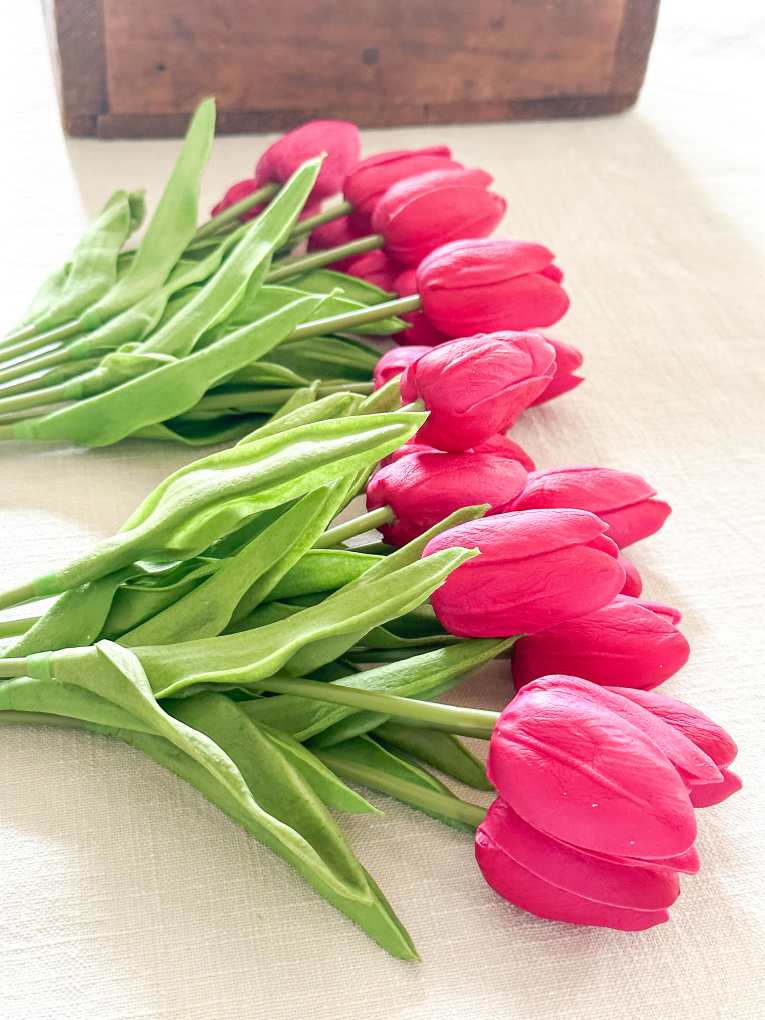 I chose to use these realistic tulips from Amazon. I first purchased them in white a couple of years ago. This spring I purchased another set in this radiant red! Like I said, the stems can be put into water. I love how life-like the blooms are!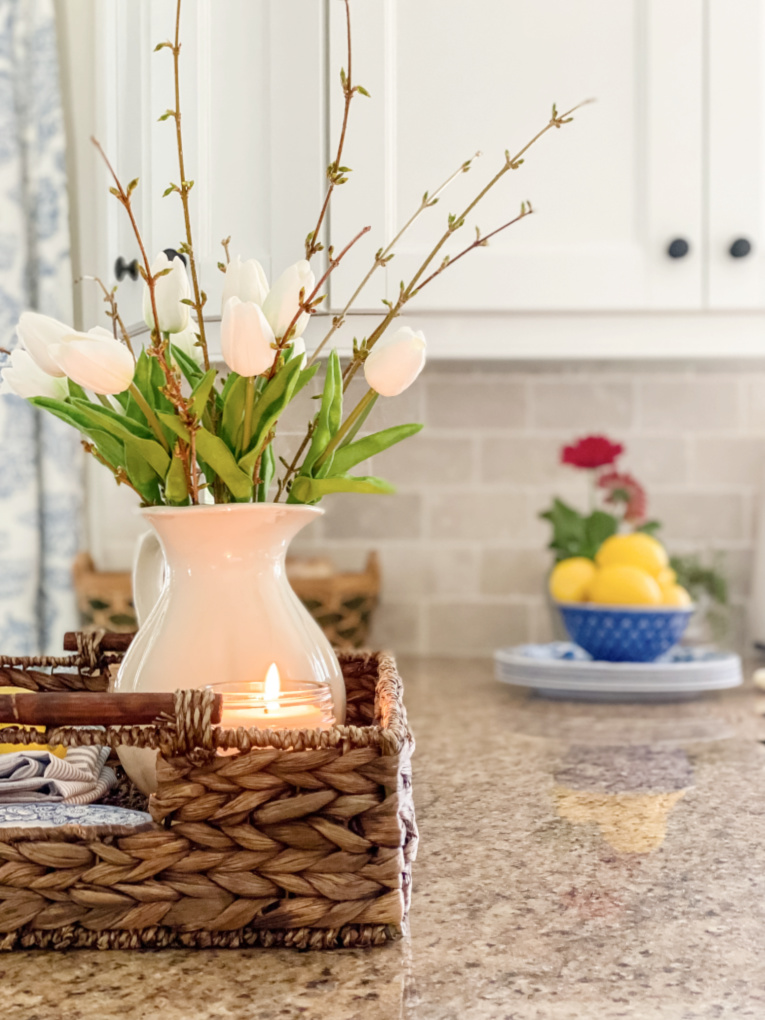 You can see how I used the white tulips last year, pairing them with real forsythia stems. You can read all about it in my 5 Easy Ideas to Welcome Spring Into Your Kitchen.
How to Make Your Spring Centerpiece:
First arrange your mason jars in your wooden box. I used a variety of jar with varying sizes and heights, utilizing what I had on hand.
This would be a good point to add a bit of water into your jars for your daffodil stems.
Next, arrange the tape to create grids where you can place your stems. Ideally, I would use 1/4 inch clear floral tape, but I had run out. I used regular Scotch tape, which worked, but I really prefer a thinner tape.
Arrange the tulips into the mason jars, using the grids you created with the tape. This will help your arrangement have balance and symmetry.
Layer in your fresh daffodil stems. I love the pop of color and contrast that these beauties provide.
It is important to note that daffodils contain a toxic chemical, lycorine. Please be mindful of people and pets when using fresh daffodils in your home.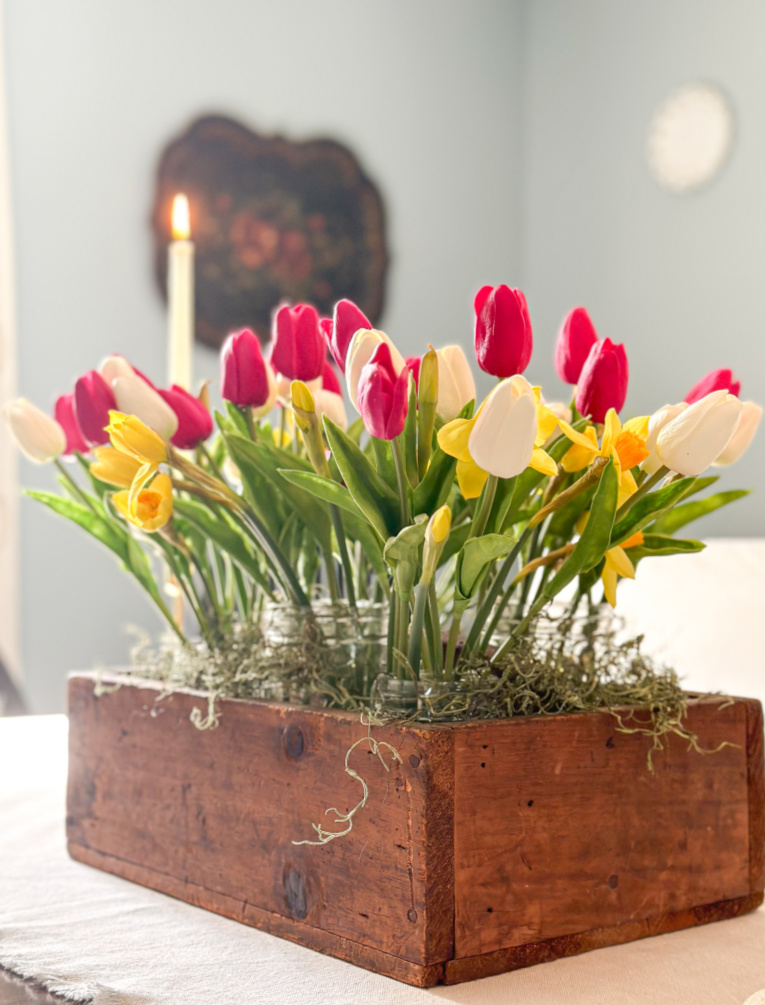 Finally, add some moss to your wooden box to fill in the gaps around the jars. You may even want to add some of these pretty Decoupaged Easter Eggs to your arrangement.
Shop the Look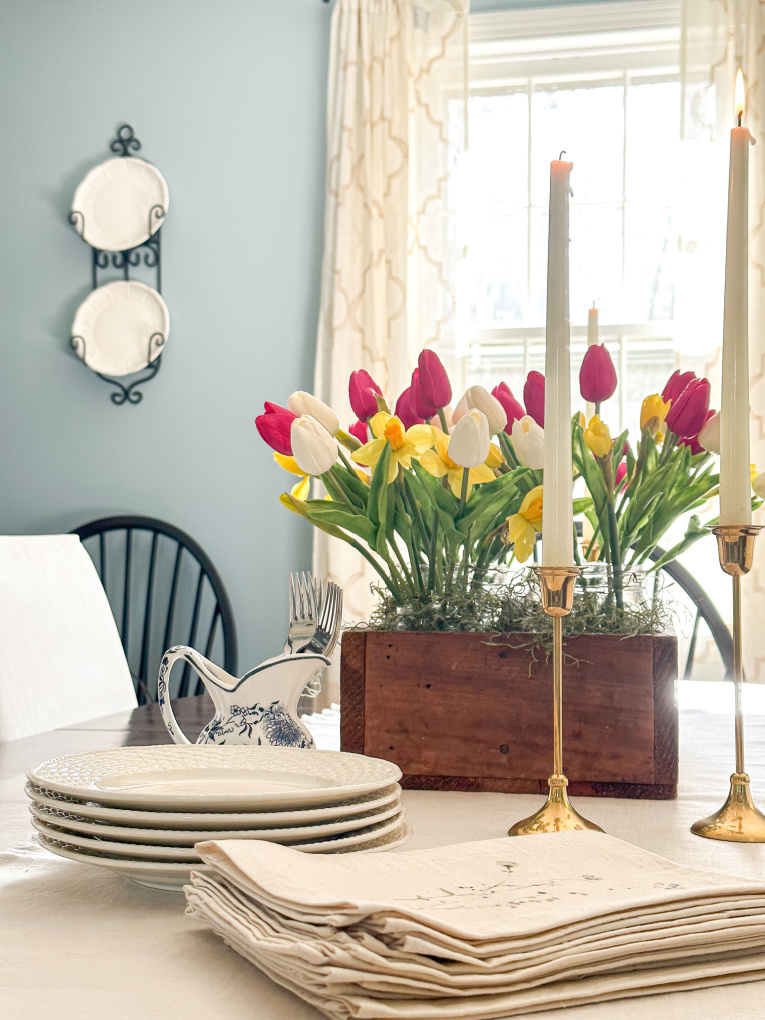 I hope you give this pretty spring floral arrangement a try! Please let me know in the comments below if you make one for yourself. If you post it, please tag me. I would love to see your beautiful creations!
Thank you so much for visiting today. I would love to connect with you on Facebook, Instagram, Pinterest, or here on the blog!