Tuesday Turn About #195 Easter Embellishments
Easter is coming! At this week's Tuesday Turn About, I am featuring beautiful decorative details for celebrating Easter in your home. Tuesday Turn About Link Party #195.
Check out last week's party for more Spring inspiration!
Hello, my friends.
Before we start this party, I wanted to take a moment. My heart is so heavy after learning about the tragic event in Nashville yesterday. Once again, I am finding it challenging to write a post meant to celebrate life at home, while feeling so heartbroken.
Again, I am turning to my faith and sending my love and prayers to the families, the community, and our country.
Let's work together for a safer and healthier nation for our children.
Let's love the people in our lives.
Let's make connections and nourish those relationships.
Let's show patience, grace, and kindness.
Let's show the world that love wins.
Be sure to hop over to My Wee Abode and Reinvented Delaware to check out SIX additional features from Tuesday Turn About! If you haven't been featured at My Family Thyme this week, you may have been featured there!
Though not a requirement at all, we would love it if you would subscribe and/or follow your hostesses on one or more of our social medias:
Household Tip
Last week I shared this easy tip for cleaning your dishwasher. Today, I am sharing an easy way to keep your garbage disposal fresh and clean. Simply take a lemon and cut it into quarter. Then, put the lemon pieces into the disposal. Run the water. This will help to keep your disposal fresh and clean.
Julie's Blogging Tip
A Mastermind group is a great way to brainstorm, share successes, ideas, and even ask for help for fellow bloggers. These types of groups can be super encouraging and motivating!
It's not that hard to create a Mastermind group… Just get together several of your blogging buddies that have the same blogging goals in mind, and start the conversation for meeting once a week or once every other week!
Do you belong to a Mastermind group? Do you find it's helpful to keep it small and intimate, or the bigger the better (more people involved)? Be sure to share your thoughts in the comment area below!
My Family Thyme
Fresh Spring Home Decor | How to Stencil an Outdoor Doormat
My Wee Abode
Add Spring Decor to Your Small Entryway // DIY Unique Spring Tire Wreath
Reinvented Delaware
Reupholster an Old Rocking Chair | Thrift Store Upcycle for Spring

Mason Jar Easter Centerpiece for Your Table
Do you need a centerpiece idea for your Easter Table? Emily from Hunny I'm Home DIY shared her pretty Mason Jar Easter Centerpiece for Your Table. This simple craft is so colorful and cute! I can't wait to make one for my Easter breakfast table!
DIY Bunny Ear Napkin Rings
While setting your Easter table, how about including these DIY Bunny Ear Napkins Rings from Marie of This Dear Casa? In less than 30 minutes, you can make a set for your holiday table, using some simple craft supplies. I think they are adorable!
Designer Easter Eggs Hack
Are you smitten by pretty designer Easter eggs, but don't like the price? Kim from Exquisitely Unremarkable shared her Designer Easter Eggs Hack. Would you believe that in less than an hour, you can make your own. This pretty craft adds such an elegant touch to your Easter decor.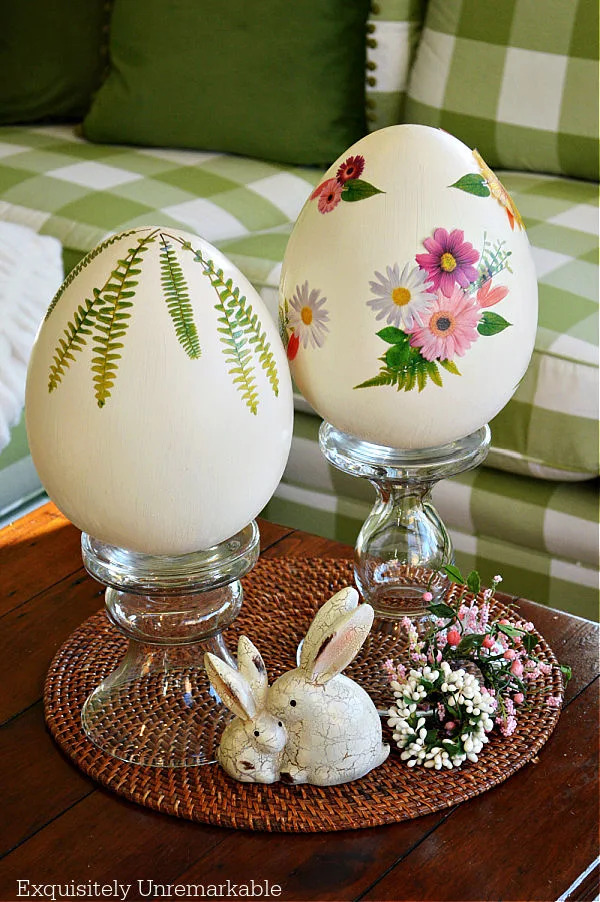 Before you get started, take a look at our guidelines:
This party is for home decor and home-related posts only (recipes, organizing, DIY, crafts, etc.). Link up to 3 related posts. Please do not link up informational posts that do not relate to the topic.
If you would please not link up shops, advertising, round-ups, other link parties, or any posts promoting sales, we would appreciate it.
DO NOT PIN FROM IMAGES ON THIS PAGE (it just won't work right on Pinterest). However, please visit the original post/source and pin from there. That works perfectly!
Please make sure that your images are in a jpeg or png format. If we can't save your image, we may not be able to feature you. So sad!
By linking to the party, you give us permission to share your projects on our blogs and social media. We will always give proper credit with a no-pin image.
Tuesday Turn About Link Party runs from Tuesday at 6 pm EST through Saturday 1 am EST! Join us during those times each week!