Tuesday Turn About #194 Spring Is Here!
Spring is here! At this week's Tuesday Turn About, I am featuring beautiful ideas for enjoying Spring in your home. Tuesday Turn About Link Party #194
Happy Spring! Welcome to this week's Tuesday Turn About Link Party!
Last week I shared some great ideas for DIY Easter Decorations. If you missed it, you can check out the post HERE.
We made it! Spring is finally here! I am so excited for the light and warmth that this season promises to bring!
The beginning of Spring means birthday week in my home. The celebrations will begin tomorrow. My son, Chris, turns 24 tomorrow and my daughter, Elisabeth, turns 21 on Friday. It feels like yesterday that they were curious, little, fun-loving kiddos. As they say, the days are long, but the years go quick.
Are you ready to get this party started?
Though not a requirement at all, we would love it if you would subscribe and/or follow your hostesses on one or more of our social medias:
Household Tip
Did you ever stop to think about cleaning your dishwasher? I didn't until last year when mine needed to be repaired. The repairman showed me all of the grime and build up in the hoses and explained me that the dishwasher actually needed cleaning on a regular basis.
What is the solution? Of course, it is my favorite cleaner, vinegar.
Just take 1/2 to 1 cup of distilled white vinegar and pour it into the bottom of your dishwasher. Then run the dishwasher through a cycle, without any dishes. Do this once a month to help keep the dishwasher and hoses clean. Genius!
Julie's Blogging Tip
Do you have an editorial calendar, or even a weekly planner?
This year, I would really like to set up a REASONABLE schedule with time blocks. You know, setting time periods for weekly/daily tasks that are actually attainable and will set me up for success.
These blocks will include tasks/chores at home and for my mom, as well as blog tasks. If you have this already setup, let me know in the comments what tools you use!
My Family Thyme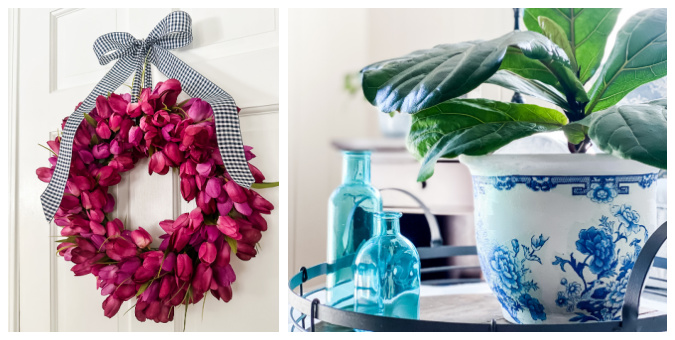 How to Make a Spring Tulip Wreath | How to Decoupage a Pretty Planter
My Wee Abode
Refresh Your Small Apartment Kitchen with Spring Decor |
Free Spring Printable
Reinvented Delaware
Natural Looking Wood Finish | Repurpose an Old Wooden Toolbox

Inspiring Spring Home Tour
Shelley from Calypso in the Country welcomed us into her beautifully decorated Spring home. I love all of the lovely flowers and greenery, along with her ideas for incorporating blue and white decor pieces. I know you will enjoy Shelley's Inspiring Spring Home Tour too!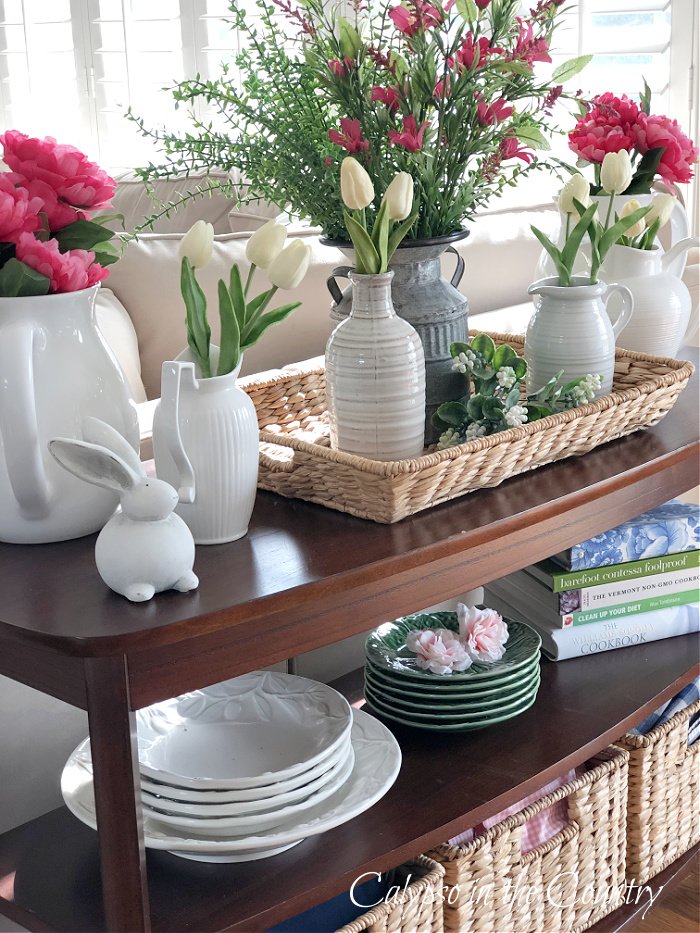 How to Set an Easter Table with Bright Colors
Do you love adding beautiful, bright colors and patterns to your Spring table? Kim from Cottage in the Mitten shows us How to Set an Easter Table with Bright Colors. I can't help but smile when I look at her cheerful, colorful table.
Wooden Keepsake Easter Eggs
Michelle from Thistle Key Lane shared these sweet Wooden Keepsake Easter Eggs. I love the soft colors she used, along her creative ideas for adding the beautiful details. I can't wait to make a set of my own.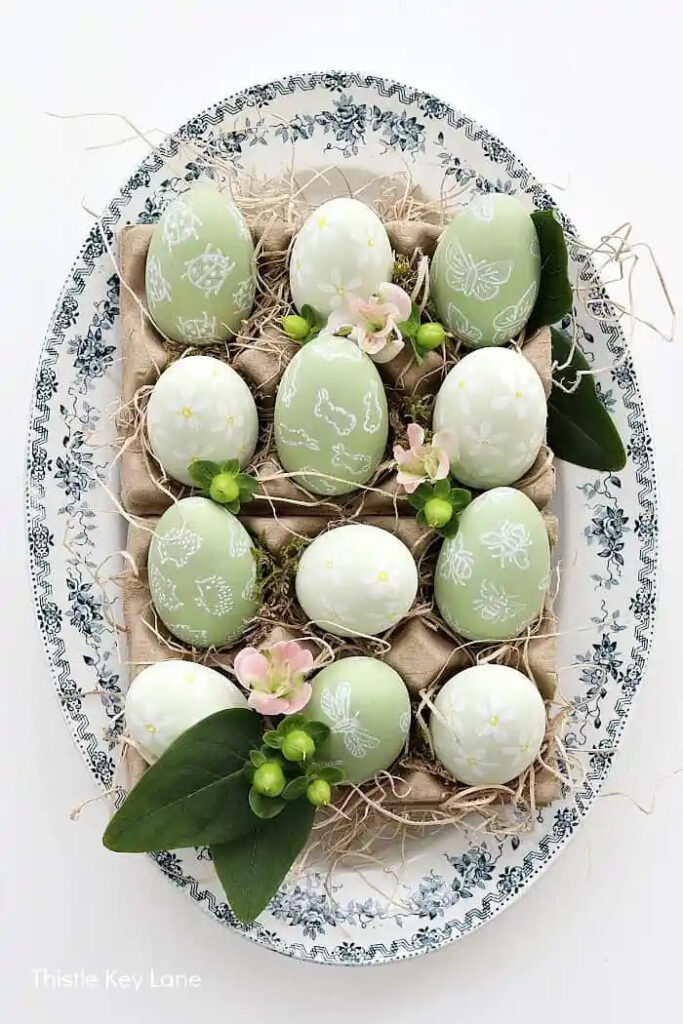 Before you get started, take a look at our guidelines:
This party is for home decor and home-related posts only (recipes, organizing, DIY, crafts, etc.). Link up to 3 related posts. Please do not link up informational posts that do not relate to the topic.
If you would please not link up shops, advertising, round-ups, other link parties, or any posts promoting sales, we would appreciate it.
DO NOT PIN FROM IMAGES ON THIS PAGE (it just won't work right on Pinterest). However, please visit the original post/source and pin from there. That works perfectly!
Please make sure that your images are in a jpeg or png format. If we can't save your image, we may not be able to feature you. So sad!
By linking to the party, you give us permission to share your projects on our blogs and social media. We will always give proper credit with a no-pin image.
Tuesday Turn About Link Party runs from Tuesday at 6 pm EST through Saturday 1 am EST! Join us during those times each week!
Thank you so much for linking up and sharing your creativity with us! Don't forget to head over to Cindy's and Julie's blog to check out their features too! Wishing you a wonderful week!