Tuesday Turn About #196 Creative Confections
Who doesn't love a sweet treat? At this week's Tuesday Turn About, I am featuring some delicious and creative confections. Tuesday Turn About Link Party #196.
Check out last week's party for more Spring inspiration!
Hello, my friends and Happy Tuesday!
It's a great day for a party here in CT! We are so excited and proud of our UCONN Huskies! In case you missed it, our UCONN Men's Basketball Team won the National Championship game last night.
We have been lifelong Husky fans. My daughter, Elisabeth, is a junior at UCONN and we love cheering on our home team! Go Huskies!!!
No celebration would be complete without some treats! So today is the perfect day to share some creative confections, These sweet treat would be a great addition to your Easter or Spring celebration!
We are quickly approaching our 200th link party! To celebrate, we are planning a special 200th "episode" giveaway! Be on the lookout for more details!
Be sure to hop over to My Wee Abode and Reinvented Delaware to check out SIX additional features from Tuesday Turn About! If you haven't been featured at My Family Thyme this week, you may have been featured there!
Though not a requirement at all, we would love it if you would subscribe and/or follow your hostesses on one or more of our social medias:
Before we get this party started, I have a couple tips to share with you.
Household Tip
It's time to think about spring cleaning! My household tip this week is very simple one to help you clean efficiently. Clean from the top down. Start with the upper surfaces in your space, working down, utilizing gravity. Any dust or dirt that has fallen to the floor can be easily be vacuumed or cleaned up at the end.
Julie's Blogging Tip
When choosing plugins ("a small software application that extends the features and functions of a WordPress website") for your blog, be sure it's something you REALLY need and that it is a 'lightweight' plugin. Lightweight means that it won't slow-down your site.
One of the best ways to find out general info about a plugin is to join a trusted Facebook group that addresses tech issues for blogs. One of my favorites is Blogging on WordPress. I've learned A LOT on this FB group, and I'm sure you will, too!
My Family Thyme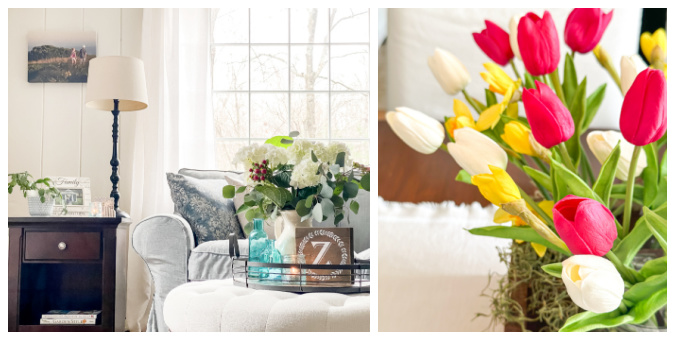 Spring Home Tour: Simple Ideas for Spring Decorating | How to Create a Spring Arrangement Mixing Faux & Fresh Flowers
My Wee Abode
Sweet Spring Printables in Watercolor | How to Add Springtime Florals to a Small Patio
Reinvented Delaware
Repurposed Vintage Seed Spreader | A Functional Laundry Room Refresh

Carrot Cake Cookies
Carrot cake is the perfect spring dessert. But, carrot cake in the form of a cookie? Yes, please! Spaceships and Laser Beams shared their amazing Carrot Cake Cookies. You will love this easy to follow recipe, complete with the tips to make this delicious handheld confection!
Easy Decorated Easter Egg Sugar Cookies
These beautiful Easter Egg Sugar Cookies are easier to make than you might think! Elizabeth of Pine Cones and Acorns shared her simple recipe, along with her helpful tips for decorating these Easy Decorated Easter Egg Sugar Cookies. I would love to find these in my Easter basket!
Oreo Dipped Bunny Cookies
How adorable are these Oreo Dipped Bunny Cookies from Lenny of Fat Dad Foodie? These no-bake treats are so easy to assemble and would be the perfect Easter treat to share with friends and family!
Before you get started, take a look at our guidelines:
This party is for home decor and home-related posts only (recipes, organizing, DIY, crafts, etc.). Link up to 3 related posts. Please do not link up informational posts that do not relate to the topic.
If you would please not link up shops, advertising, round-ups, other link parties, or any posts promoting sales, we would appreciate it.
DO NOT PIN FROM IMAGES ON THIS PAGE (it just won't work right on Pinterest). However, please visit the original post/source and pin from there. That works perfectly!
Please make sure that your images are in a jpeg or png format. If we can't save your image, we may not be able to feature you. So sad!
By linking to the party, you give us permission to share your projects on our blogs and social media. We will always give proper credit with a no-pin image.
Tuesday Turn About Link Party runs from Tuesday at 6 pm EST through Saturday 1 am EST! Join us during those times each week!
I hope you enjoy a wonderful week ahead! Thank you so much for visiting and linking up! We are so grateful that you share your creativity with us each week!