Tuesday Turn About #161 Summer Entertaining Essentials
This week's Tuesday Turn About Link Party is all about summer entertaining! I am excited to share this week's creative features!
Hi Friends and Happy Tuesday! I hope you are having a great beginning to your week!
In an attempt to beat the heat this past week, we got a little pool for Sadie. Well, she absolutely loved it and wanted to go check it out as soon as she woke up each morning. She was so cute and funny!
It's hard to believe that this is the last week of July. As we try to hang onto summer a little longer, my family and I took a couple day trips this week. Andy and I love having both kids home and will miss them when they're back in school!
We enjoyed a day at the shore last week, and last night we headed to Boston to cheer on the Red Sox. During the game, some rain came through. It was a short rain delay, and we were able to get the game in. The best part is that the air feels so much clearer and cooler this morning.
Whatever your week brings during this last week of July, I hope you do something that makes you happy!
This week here at TTA is a little different. Our cohost, Cindy from Reinvented Delaware, is enjoying a summer vacation. She will be back next week. As a result, instead of featuring 3 blog posts, Julie and I have decided to each have FIVE FABULOUS FEATURES!
Even with featuring more posts, it was such a hard decision! There were so many AMAZING ideas being shared here! Thank you so much for continuing to share your talents and creativity with us!
Let's get this party started!
Be sure to hop over to My Wee Abode to check out FIVE additional features from Tuesday Turn About! If you haven't been featured at My Family Thyme this week, you may have been featured there!
Though not a requirement at all, we would love it if you would subscribe and/or follow your hostesses on one or more of our social medias:
Weekly Household Tip
Last week, I shared a great tip for cleaning your grill naturally using an onion. This week, I have a tip for making your grill nonstick…with a potato!
First, heat the grill. Then, cut a potato in half. Pierce the cut potato with a long-handled grilling fork. Carefully, while wearing a grill-friendly oven mitt, hold the handle of the grilling fork and rub the flesh of the potato on the hot grates of the grill.
Now, enjoy grilling your chicken or fish, without sticking!
Weekly Blogging Tip
Have you ever done a blog post 'dump'?
No, I don't mean deleting posts from your site. Or even dumping your whole site!
Find your best blog post and take 5 minutes to write down (as fast as you can) all kinds of related content and subjects to that 'best' post. Don't worry if they are good or not-so-good ideas. Just write them down.
Next week, we'll be back with what you should do with your 'dump'.
My Wee Abode
Quick and Easy Summer Apartment Patio // How to Easily Create a Breezy Summer Mantel
My Family Thyme
Easy Baked Peaches with Brown Sugar Crumble | 8 Ways to Ease Your Child Back to School

A Beautiful Builder Basic Kitchen Makeover Reveal
Summer entertaining begins in the kitchen and Marty from A Stroll Thru Life recently shared her beautiful 5 Years Later – The Builder Basic Kitchen Makeover. All of the details are just gorgeous. I love how light and bright it is! What a wonderful space to gather and cook!
Picnic Breakfast In the Backyard
Summer entertaining means setting a pretty table! Jen from Midwest Life and Style Blog shared her simple ideas for enjoying a Cozy And Casual Picnic Breakfast In The Backyard. You will love all of the beautiful details that Jen incorporated…the china, the glasses, and of course, donuts on a stick! So fun!
An Easy Outdoor Table Setting
Summer is all about enjoying the outdoors. Kim from Cottage in the Mitten shared her creative process for How To Create An Easy Outdoor Table Setting. The colors she used make me smile. Kim's thoughtful attention to detail would make any guest feel special!
Restaurant Style Salsa
Summer entertaining wouldn't be complete without some delicious treats! One of my favorites is salsa! I have been wanting to make homemade salsa and Kristy at Mom Hates Cooking has inspired me to give it a try! Her Restaurant Style Salsa will be perfect to serve with chip or even fresh veggies too!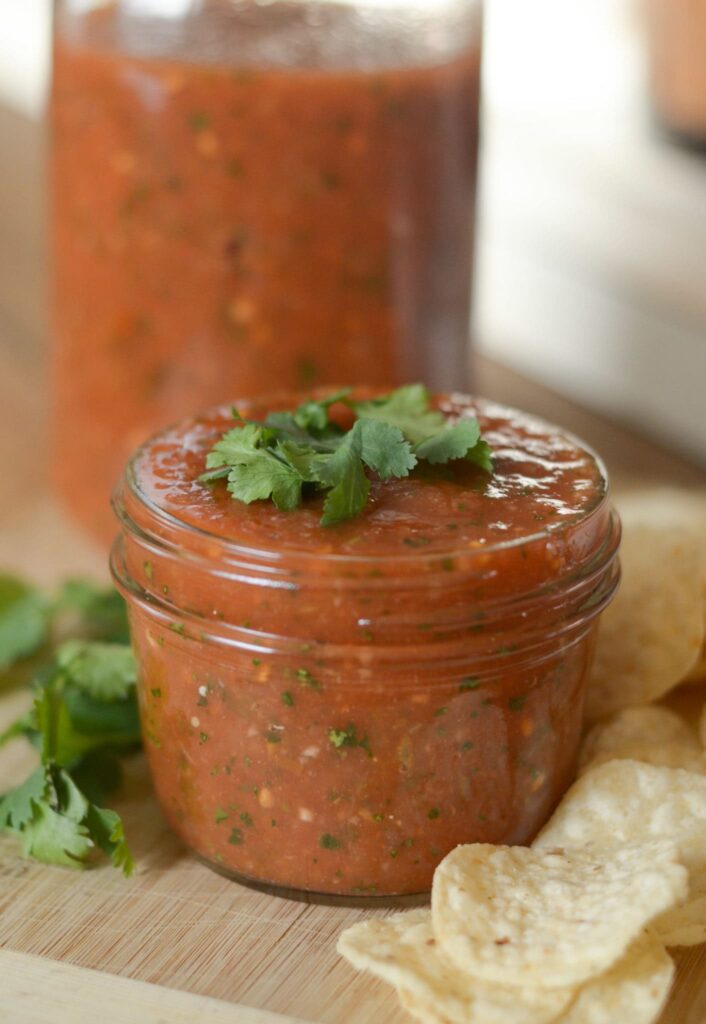 An Easy & Elegant Appetizer Recipe
If you are like me, I could just live on appetizers…especially an easy and elegant appetizer like this Baked Brie with Fig Jam & Cranberries. Rita from Harbour Breeze Home shared this beautiful, flavorful, yet simple appetizer that is perfect for entertaining all year round.
Before you get started, take a look at our guidelines:
This party is for home decor and home-related posts only (recipes, organizing, DIY, crafts, etc.). Link up to 3 related posts. Please do not link up informational posts that do not relate to the topic.
If you would please not link up shops, advertising, round-ups, other link parties, or any posts promoting sales, we would appreciate it.
DO NOT PIN FROM IMAGES ON THIS PAGE (it just won't work right on Pinterest). However, please visit the original post/source and pin from there. That works perfectly!
Please make sure that your images are in a jpeg or png format. If we can't save your image, we may not be able to feature you. So sad!
By linking to the party, you give us permission to share your projects on our blogs and social media. We will always give proper credit with a no-pin image.
I can't wait to see what you all have in store for us this week! Sending my best to you for a great week and please know that I am very grateful for you!