Tuesday Turn About #162 Appetizing August
This week's Tuesday Turn About Link Party is Appetizing August. We are celebrating the flavors of summer. I am excited to share this week's creative features!
Hello and Happy August! I can't believe I just wrote that! It's amazing how quickly the summer is flying by.
While I love the sights and scents of fall, I am holding onto these last few weeks of summer and trying to make the most of each day.
One of my favorite things to do during the summer is to visit our local farmer's market on Sunday mornings. I love the variety of farm fresh fruits and vegetables that are available. So today I am featuring a few fabulous recipes that make the most of summer's harvest.
Let's get this party started!
Be sure to hop over to My Wee Abode and Reinvented Delaware to check out SIX additional features from Tuesday Turn About! If you haven't been featured at My Family Thyme this week, you may have been featured there!
Though not a requirement at all, we would love it if you would subscribe and/or follow your hostesses on one or more of our social medias:
Weekly Household Tip
The last two weeks, I shared some tips for your grill…how to clean your grill naturally and making your grill nonstick. Today I am sharing a cooking tip to keep those burgers juicy! When you're grilling burgers, press an ice cube into each patty. This will prevent your burgers from drying out.
Weekly Blogging Tip
At least week's party, I suggested you do a brain-dump on your highest ranking post.
After you finish your brain-dump, take 2-5 of your favorite ideas and SEO those topics to death.
For starters, plug-in your topic to Pinterest and see if people are looking for that solution; type the subject into Google and see what auto populates (and don't forget to scroll down a bit and look at the Google questions). Then use additional SEO tools that are available to you.
After you've done some research, take 1-3 of those topics and write posts for them. Remember to link to your original post in all your new ones, as well as link between all the new same subject posts.
My Wee Abode
Easy Creamy Fresh Peach Tartlet | Free Fall Watercolor Printable Art
Reinvented Delaware
White Wax Dark Furniture | Washstand Makeover
My Family Thyme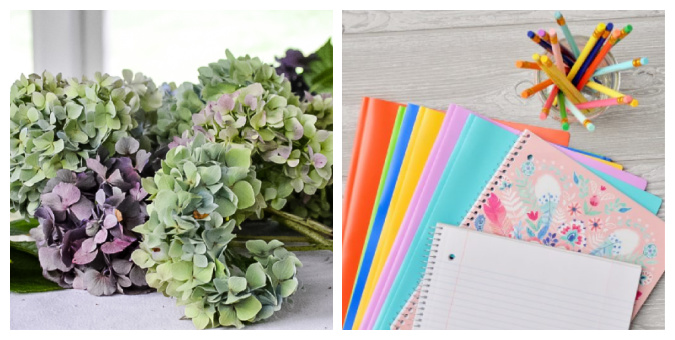 How to Dry Hydrangeas for Fall Decorating | Ten Helpful Back To School Organization Tips For Parents

Gluten Free Blueberry Cheesecake Bars
I am a big fan of blueberries and cheesecake, so I couldn't help but be drawn to these easy and delicious Gluten Free Blueberry Cheesecake Bars from Shay at What the Fork Food Blog. I recently made some blueberry jam that would be perfect for this recipe, but would love to try strawberry, blackberry, or raspberry jam too! What flavor would you like to try?
Healthy Gluten Free Crock Pot Peaches Recipe
Amber from Follow the Yellow Brick Home recently shared her recipe for Healthy Gluten Free Crock Pot Peaches. I love how easy and versatile this recipe is. These crock pot peaches would be the perfect with oatmeal, yogurt, or ice cream too!
Lemon Zucchini Bread
If you're looking for a way to use your summer zucchini, then Niky from The House on Silverado has a treat for you! Her Lemon Zucchini Bread is moist, satisfying, and full of flavor. I'll be baking a loaf or two this weekend!
Before you get started, take a look at our guidelines:
This party is for home decor and home-related posts only (recipes, organizing, DIY, crafts, etc.). Link up to 3 related posts. Please do not link up informational posts that do not relate to the topic.
If you would please not link up shops, advertising, round-ups, other link parties, or any posts promoting sales, we would appreciate it.
DO NOT PIN FROM IMAGES ON THIS PAGE (it just won't work right on Pinterest). However, please visit the original post/source and pin from there. That works perfectly!
Please make sure that your images are in a jpeg or png format. If we can't save your image, we may not be able to feature you. So sad!
By linking to the party, you give us permission to share your projects on our blogs and social media. We will always give proper credit with a no-pin image.
Whatever your week brings during this first week of August, I hope you do something that brings you joy!