Simple Patriotic Summer Decor
Looking to add touches of red, white, and blue to your home's decor? Enjoy these simple patriotic summer decor ideas for your home.
Welcome to the Bloggers' Best Summer Home Tours!
Many thanks to my sweet friend Kelly of The Tattered Pew, for hosting this amazing summer home tour! Kelly is one of the kindest, most generous, and encouraging bloggers. If you don't know her, please head over and visit her and her gorgeous Colorado home.
Today I am so happy to welcome you into my home as part of the 2023 Bloggers' Best Summer Home Tours! I am thrilled to join 26 other bloggers to share summer decorating ideas with you. This summer blog tour has been happening all week. Be sure to check out all of the inspiration at the end of this post!
If you are visiting from my friend Pasha, of Pasha is Home, welcome to my home! I love Pasha's style and tips for styling summer shelves!
If you are new here, I am Lynne. I am a wife, mom, and elementary school teacher by day, and a home enthusiast by night. My Family Thyme is my creative place where I share crafts, recipes, and home decor ideas.
My family and I live in beautiful northern Connecticut, in a traditional New England Colonial home. Last year as part of the Bloggers' Best Tour, I shared some of my favorite easy ideas for summer decorating. Today I am happy to welcome you into my porch and kitchen.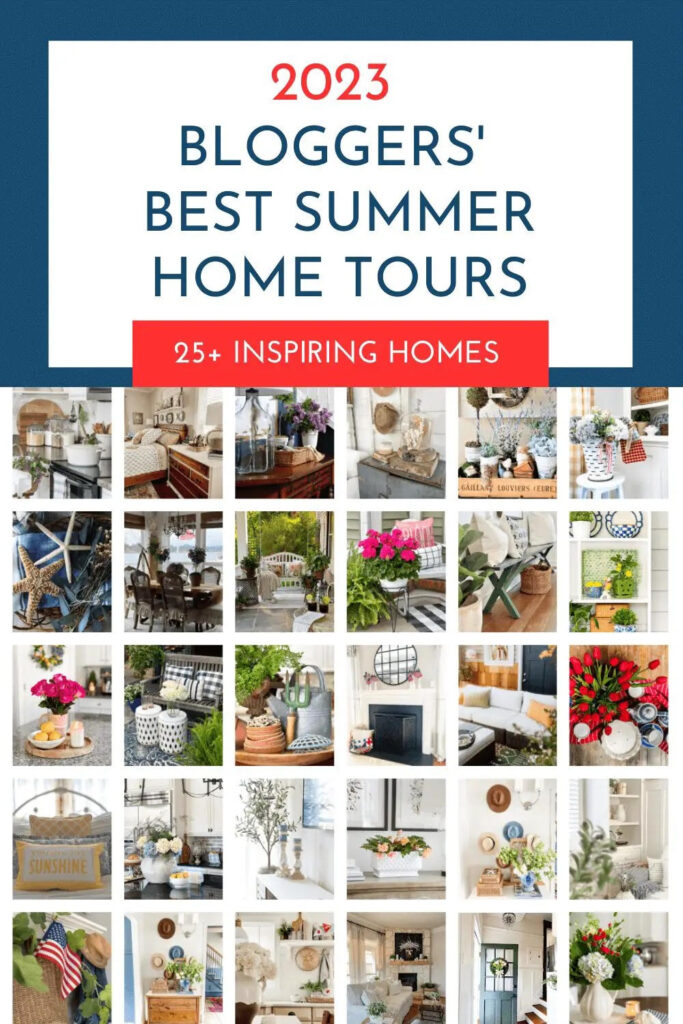 This post contains affiliate links. Please see my disclosure policy here. Thank you for your support.
Simple Patriotic Summer Decor
Nothing says summer like a little red, white, and blue! By adding some simple festive patriotic touches, we are ready for the new season.
The Back Porch
Come on in! Everyone who visits our home enters through our back porch. This is one of my favorite spaces, especially at this time of year. It's a great place to gather, enjoy a meal, or just have some quiet time.
A few years ago I spray painted this old wicker set a dark brown to update it a bit. Since then, each year it gets a good cleaning and a new coat of paint. It is such an easy way to keep fresh.
To bring some red, white and blue into the porch, I shopped my home. I made a few changes from last year's patriotic porch. These gingham pillows have been used in my living room. I brought them out here, along with the red and white striped pillows. The flag pillow was a Home Goods find a few years ago. A little glass bottle filled with mini flags complete the space.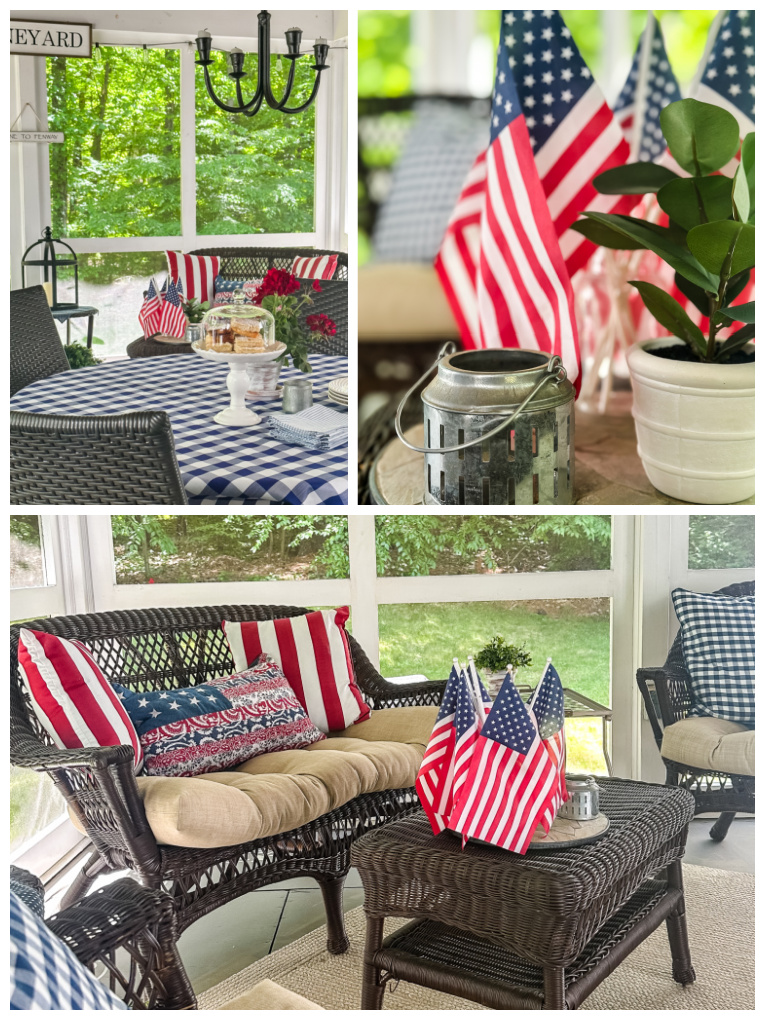 Let's head over to the eating area. A gingham tablecloth ties the two spaces together. It is an indoor/outdoor, spill proof tablecloth that I had purchased on Amazon. On the table, I put out some lemon squares, one my daughter's favorite treats.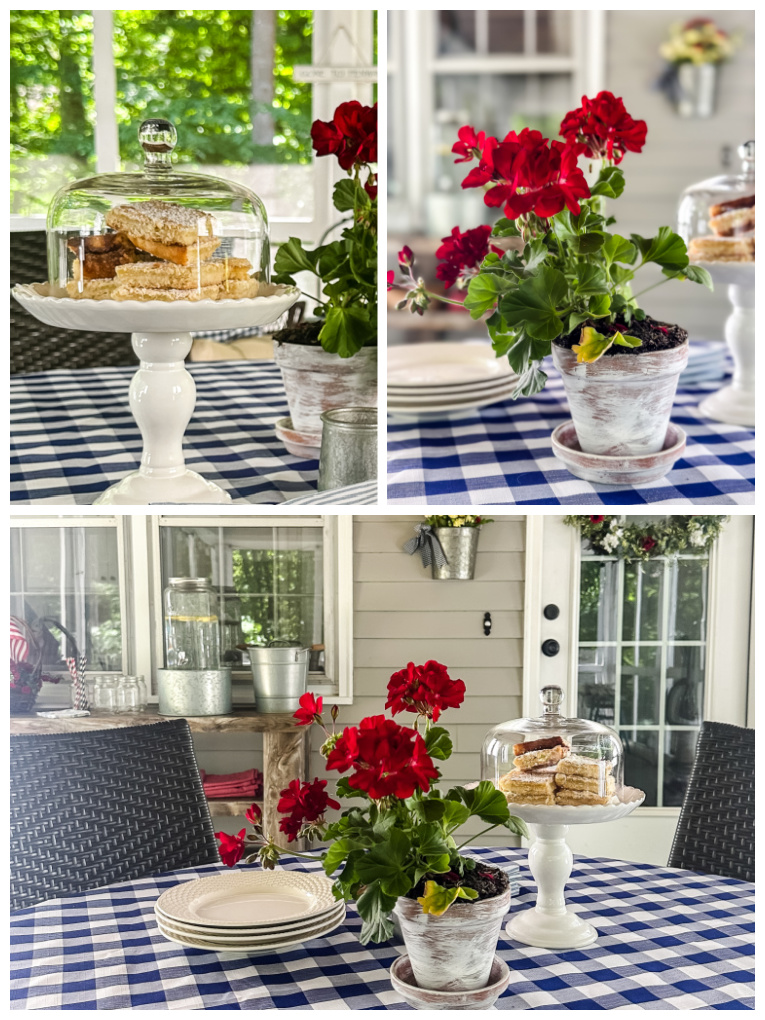 Shop the Look

I created a little vignette here by grouping items of various textures, colors, and heights. Red geraniums in my dry brushed painted flower pots add a pop of color, along with the lemon squares on a mini white cake stand and one of my diy faux mercury glass votive holders complete the grouping.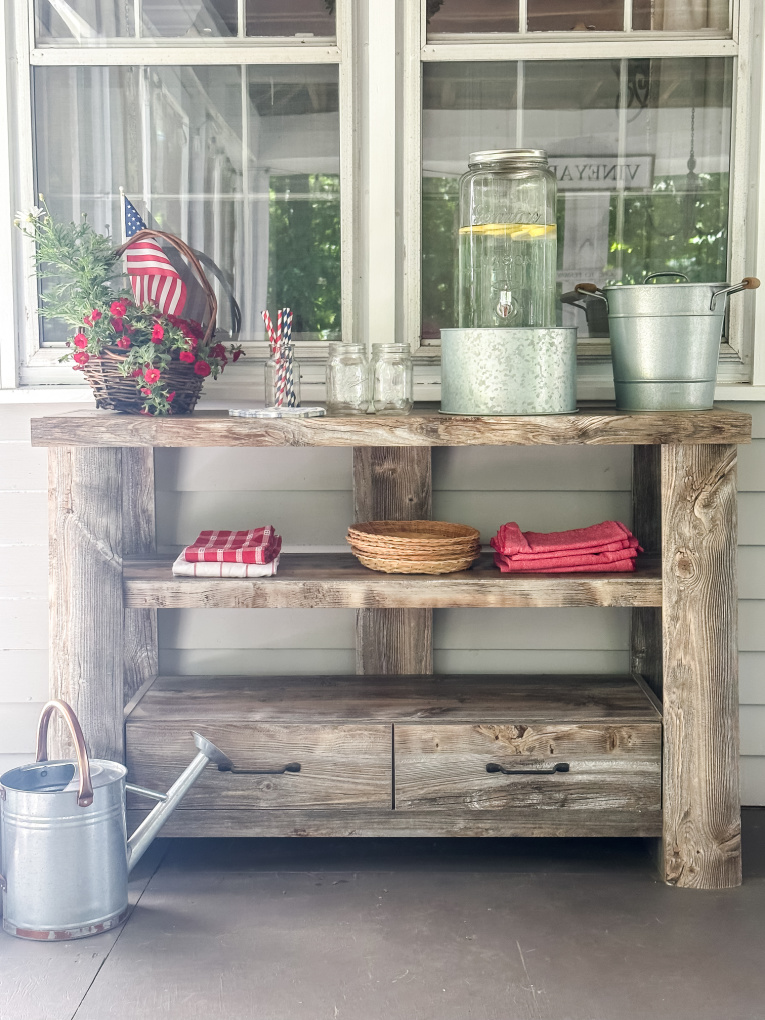 Along the white mini cake stand, this side table was from our local Buy Nothing site. I have been using it as both a serving area, as well as a potting bench. Buy Nothing is a wonderful community Facebook site where local neighbors give and receive, share, and lend. It's so true that one man's trash is another man's treasure! I have both given and received gifts over the past couple of years.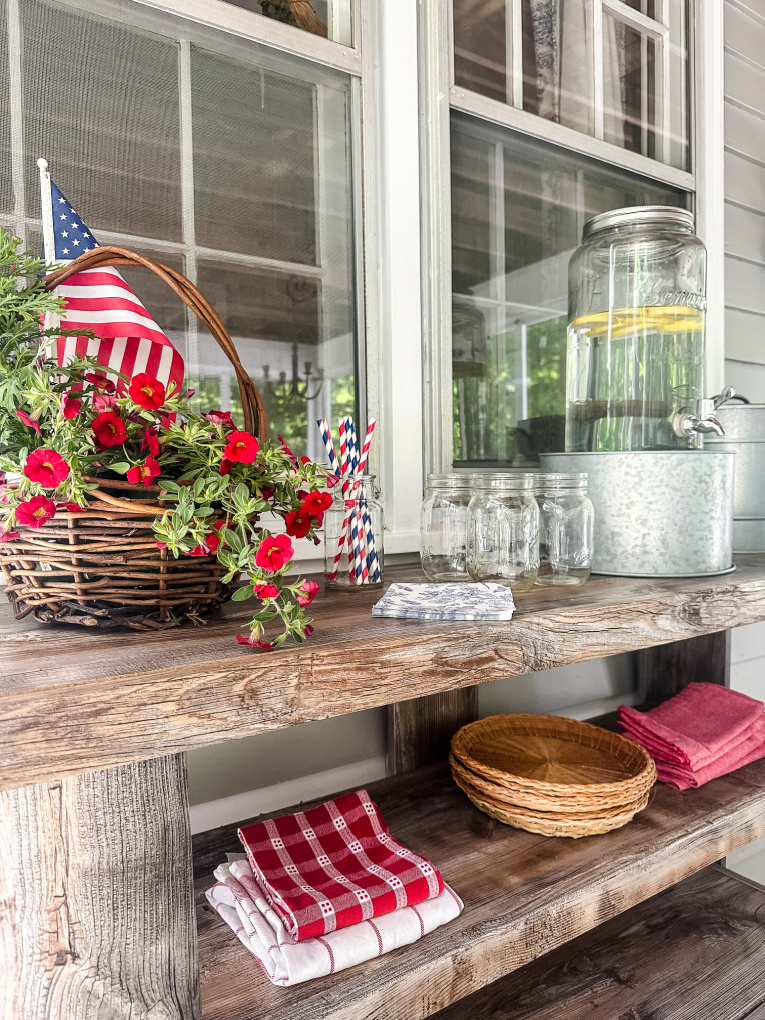 Adding red annuals to a basket with another mini flag, along with some linens helps this space to be both pretty and functional.
On the back door hangs a pretty DIY Patriotic Floral Summer Wreath. This simple wreath is full of flowers, greenery, and a touch of red, white, and blue.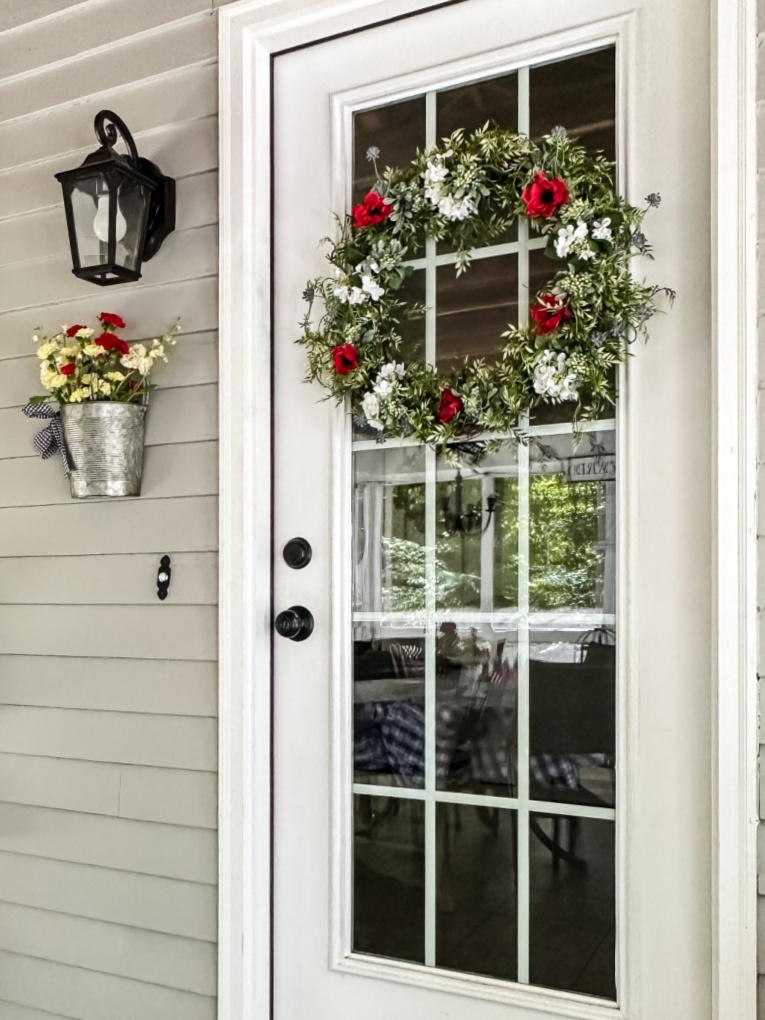 Next to the back door is a galvanized bucket. Inside I have placed a mason jar filled with fresh stock and carnations. These fresh flowers will last a couple of weeks and add a pop of color.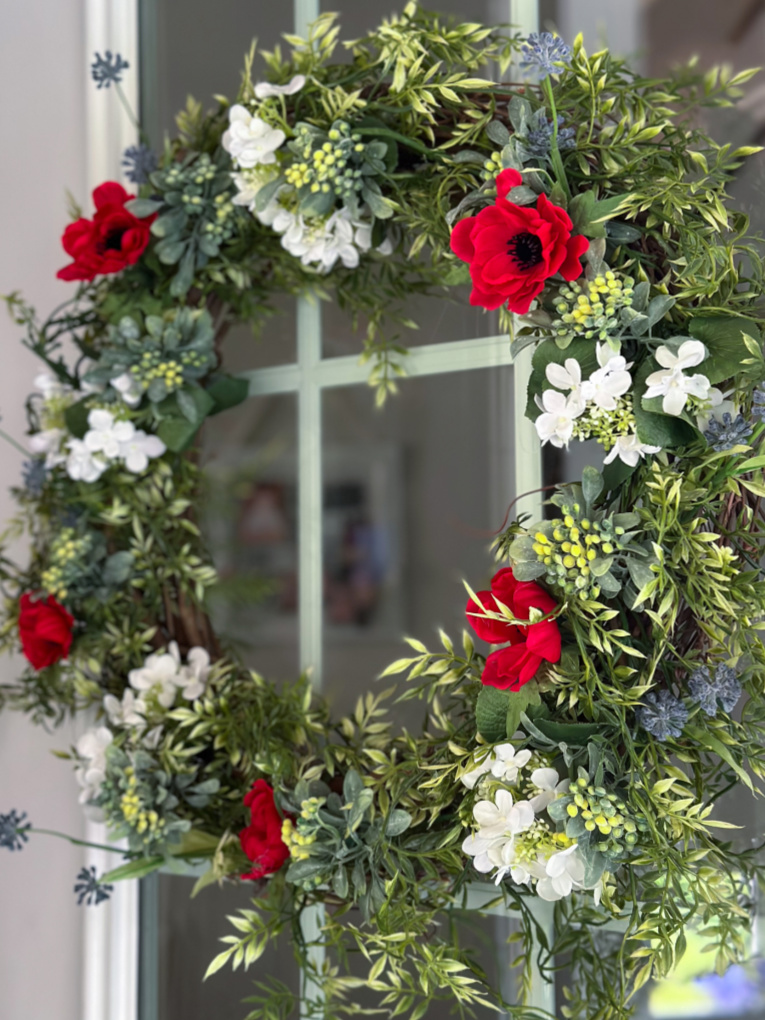 Let's head inside!
The Kitchen
Life is really busy for my family at this time of year, so I keep our home decor pretty minimal and simple. I made just a few small changes since I shared my spring kitchen.
To bring some patriotic touches to the kitchen, I added some hydrangeas, stock, carnations, and greenery from Trader Joe's into a white pitcher. Their flowers are so beautiful, inexpensive, and instantly add a festive look!
To me, seashells just feel like summer. They are beautiful souvenirs from summers at the beach and make great home decor pieces.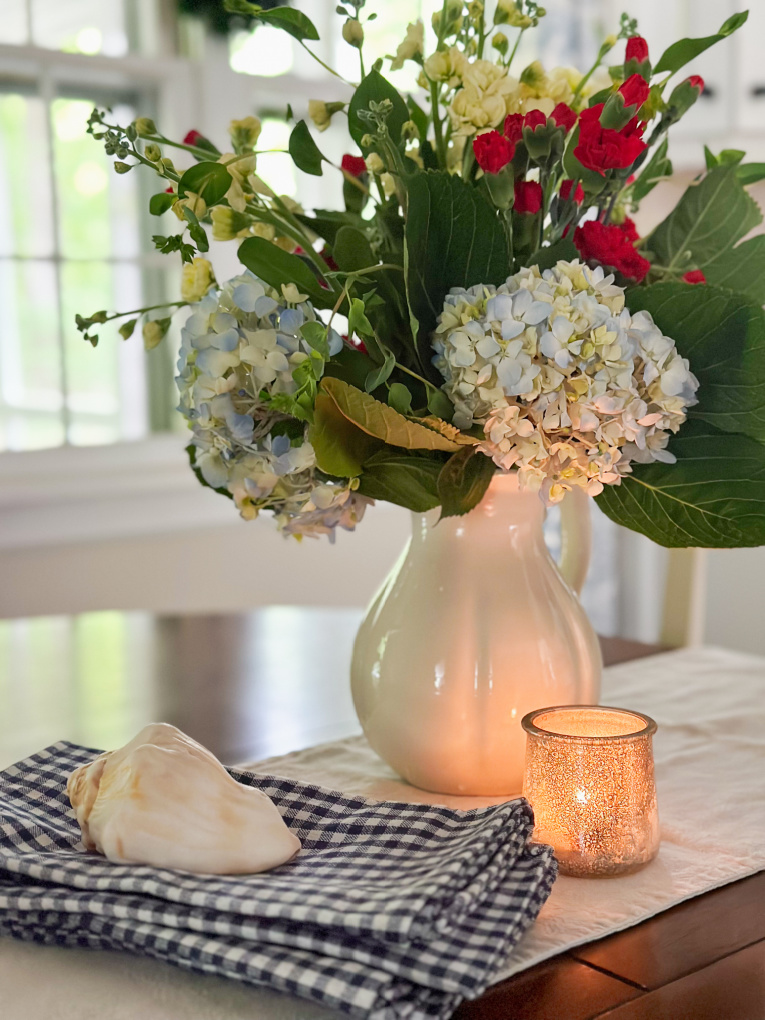 Again, blue and white gingham, along with another diy faux mercury glass votive holders add a summer touch.
More blue and white linens, a seasonal candle, and a cute patriotic sign from Michaels Craft Store welcome summer.
You may remember this wreath that hung on my back door this spring. To update it for summer, I changed out the pink flowers for red poppies and some blue accent stems. Such a quick and easy change.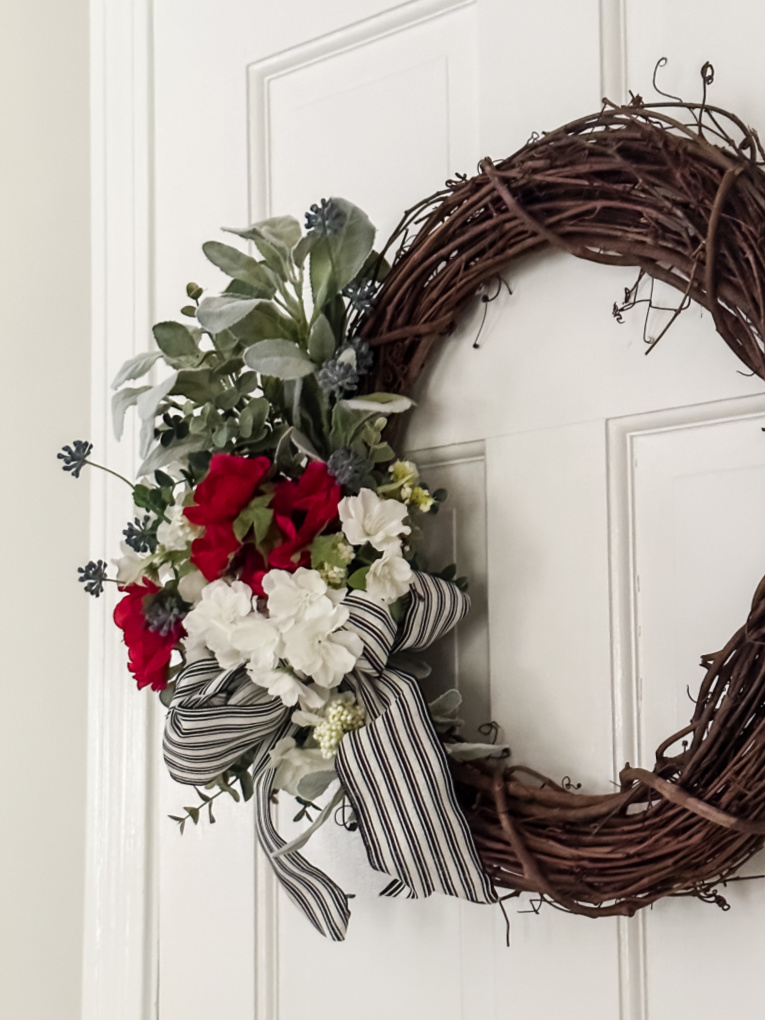 Thank you so much for visiting my home today! These pops of red, white, and blue have added some simple patriotic summer decor to my home. I hope you are leaving with an idea or two to use in your own home.
Now, be sure to head over to visit my talented friend Jen of Midwest Life and Style. She is sharing more ideas for adding red, white, and blue to your summer home.
If you have any questions about anything, please feel free to reach out to me. I would love to connect with you on Facebook, Instagram, Pinterest, or here on the blog!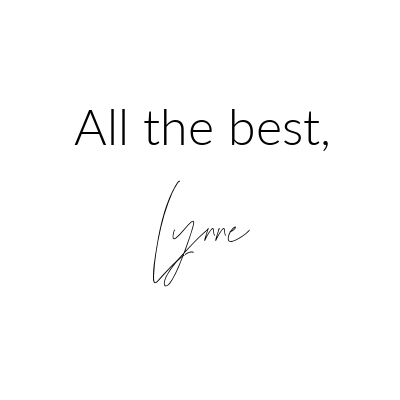 Bloggers' Best Summer Home Tours
This week I am joining some of my blogging friends for the Bloggers' Best Summer Home Tours. Twenty eight talented and creative women will be opening their homes up for you to tour all week long. You can visit each summer home tour by clicking the links below.
Monday's Tours

The Tattered Pew // Worthing Court // StoneGable
My Wee Abode // Southern Home and Hospitality // My Thrift Store Addiction
Tuesday's Tours

She Gave It a Go // Cottage In The Mitten // Eleanor Rose Home
Peacock Ridge Farm // Bricks n' Blooms // Cottage On Bunker Hill
Wednesday's Tours

White Arrows Home // A Life Unfolding // Simply2Moms
WM Design House // White Lilac Farmhouse
Thursday's Tours

The Ponds Farmhouse // Thistle Key Lane // Open Doors Open Hearts
Robyn's French Nest // Cloches and Lavender // DIY Beautify
Friday's Tours

Pasha Is Home // My Family Thyme