Easy Ideas for Summer Decorating
Welcome to my summer home! I am sharing easy ideas for summer decorating using simple DIY craft projects, lighter textiles, seasonal flowers & greenery, and vacation keepsakes.
Blogger's Best Summer Home Tours
Hello and welcome to the Bloggers Best Summer Home Tour, hosted by my sweet friend Kelly from The Tattered Pew. I am thrilled to be joining a talented group of bloggers to share ideas for summer.
Each day this week a different group of bloggers welcomed you into their homes and shared their summer decorating ideas with you. Please be sure to visit all of the links at the end of this post. There is so much creativity being shared here!
If you are visiting from my talented friend, Jen, at Noting Grace, welcome! I always love visiting her beautiful home. It is always so light, bright, and welcoming!
For those of you who are new to My Family Thyme, welcome! I am so glad you're here! My name is Lynne and I am a Connecticut wife, mom, and elementary school teacher, as well as a lover of all things home and family. Here at My Family Thyme, you will find budget friendly home decor idea, creative craft projects, and simple recipes.
This post includes affiliate links; you can read my disclosure policy here. Thank you for your support.
Easy Ideas for Summer Decorating
Today I am sharing seven easy ideas for summer decorating to freshen all your spaces for the season ahead.
During the summer, I like to keep things easy and casual, and my summer home style reflects that. Inspired by the colors and textures of nature, I love to use light fabrics and bring the outdoors in as much as possible with fresh flowers, greenery, along with shells and some sea glass too.
Spruce up your porch with a new doormat to welcome guests
Welcome to my Connecticut home! I live in a traditional New England colonial, with a modest front entry. Although it is a small space, I like to add some seasonal decor to welcome our guests.
This fun summertime doormat is a recent budget-friendly DIY. Creating your own customized doormat using is easier than you might think. Check out this tutorial to learn how to stencil an outdoor doormat.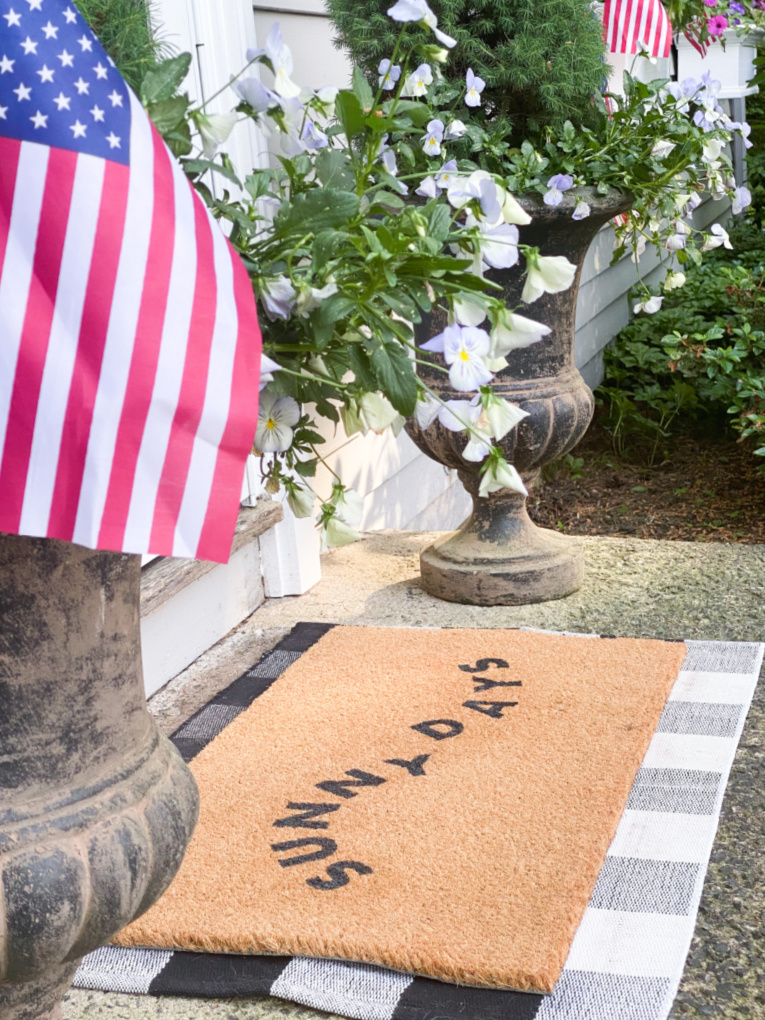 Switch out dark and heavy textiles for lighter fabrics
Come on in! Let's head into our family room. Our family room is the room where you will most likely find me. We recently updated this room by painting the walls Edgecomb Gray by Benjamin Moore Paints. I love how fresh and bright it is!
We recently purchased a new sectional from Ikea and had a custom made slipcover made from this Etsy site. I love the simplicity of slipcovers…especially for summer. When they get dirty, I can just throw them in the washing machine.
When the warmer weather began to arrive, I switched out the heavier textile curtains and pillow covers for lighter fabrics. The faded floral blue pillow cover is from an Etsy Shop. The quality is amazing and I love purchasing items that support small businesses.
Bring the outdoors in with greenery and flowers
Use what is in season and is blooming in your area. We just finished peony season here in Connecticut, and I love bringing these beauties into my home! Adding some freshia and silver dollar eucalyptus from Trader Joes, complete this pretty arrangement.
Here is a simple tip for keeping your peonies fresh! Cut the stems, then add a teaspoon of sugar to cold water. Also, peonies like cold. At night, put them outside or in the refrigerator to help them stay longer.
What is growing in your area that you can bring indoor?
Add fresh summer candle scents
When I think about decorating my home, I try to think about all of the senses. How does my home look? How does it feel? How does it smell? This new season calls for light, fresh scents.
Shop the Look

Bring in pops of color
During the summer months, everything is lighter and brighter. Bringing in unexpected pops of color is such a simple way to add a summer touch to your home. Whether it is with a towel, a pillow cover, or a beautiful bloom, don't be afraid to add color.
As the season goes on, our hydrangeas will be in full bloom. Each year I have been adding another bush as I can't get enough of the vibrant color of these beauties!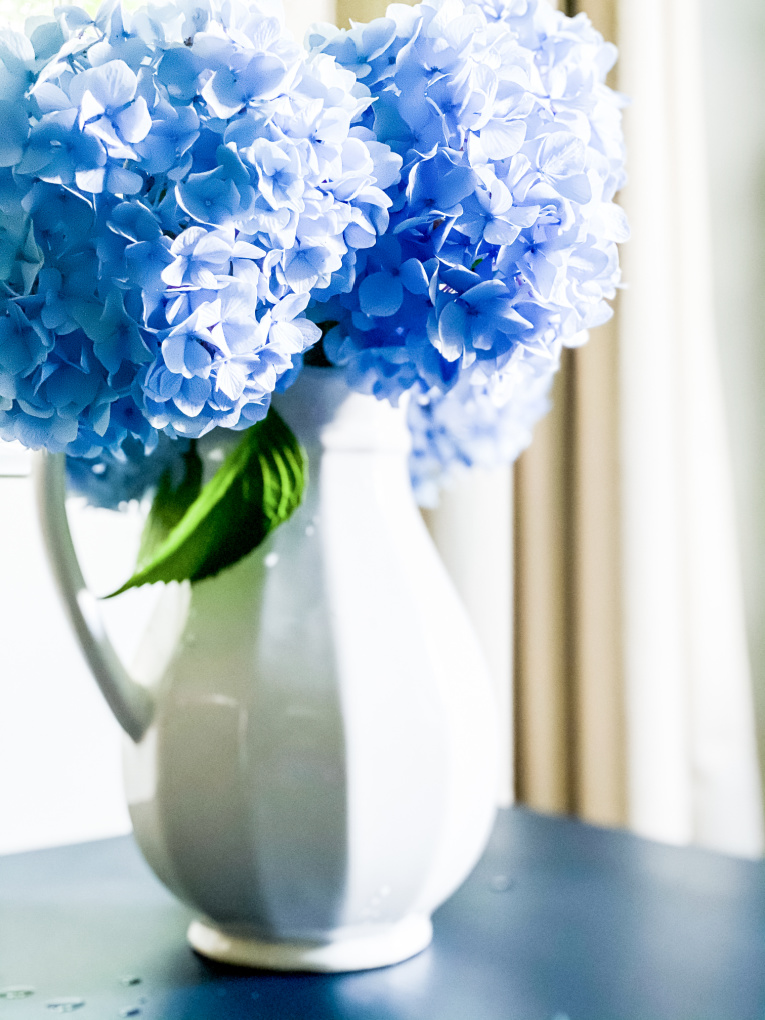 Display Vacation Mementos and Memories
Whenever I see these seashells and sea glass displayed in our dining room, below, it reminds me of our Martha's Vineyard vacations and I can't help but smile. Every time we're there, we walk the shore and come home with pockets full of treasures.
When my children were little, they used to think that these thin shells looked like potato chips and would scour the beach to try to find them! It's fun to use these sweet treasures in our home decor. I love the memories they bring back.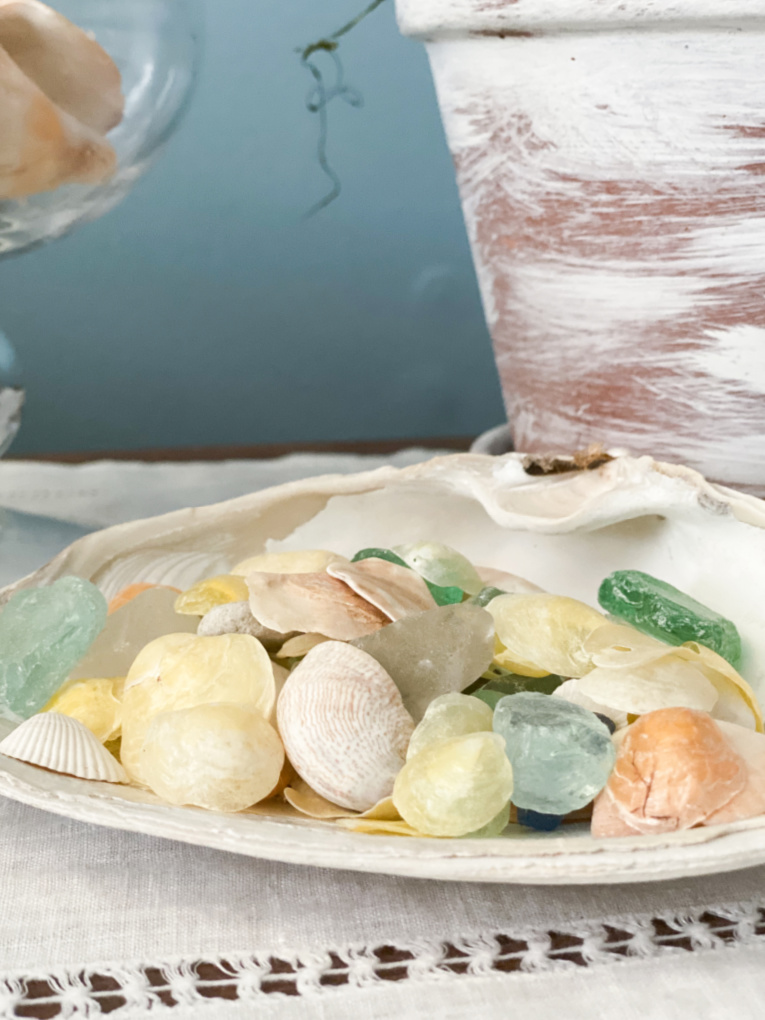 I have created a collection of Martha's Vineyard watercolor prints that I use in my home decor and I would love to share them with you! Just subscribe to my email list and you will have full access to these beautiful printables!
Add Pretty Touches to Your Outdoor Area
Since we spend a great deal of time on our porch, I try to add a few pretty touches out here too. In the summer, you can never go wrong by adding patriotic touches for the summer. I recently shared more about my Easy Patriotic Decor on the Porch.
By adding some simple and budget friendly touches, you can make your your al fresco dining experiences feel truly special. Here, I added a simple piece of fabric as a tablecloth, along with some natural woven placemat, and my DIY cloth napkins to create a simple summer table setting.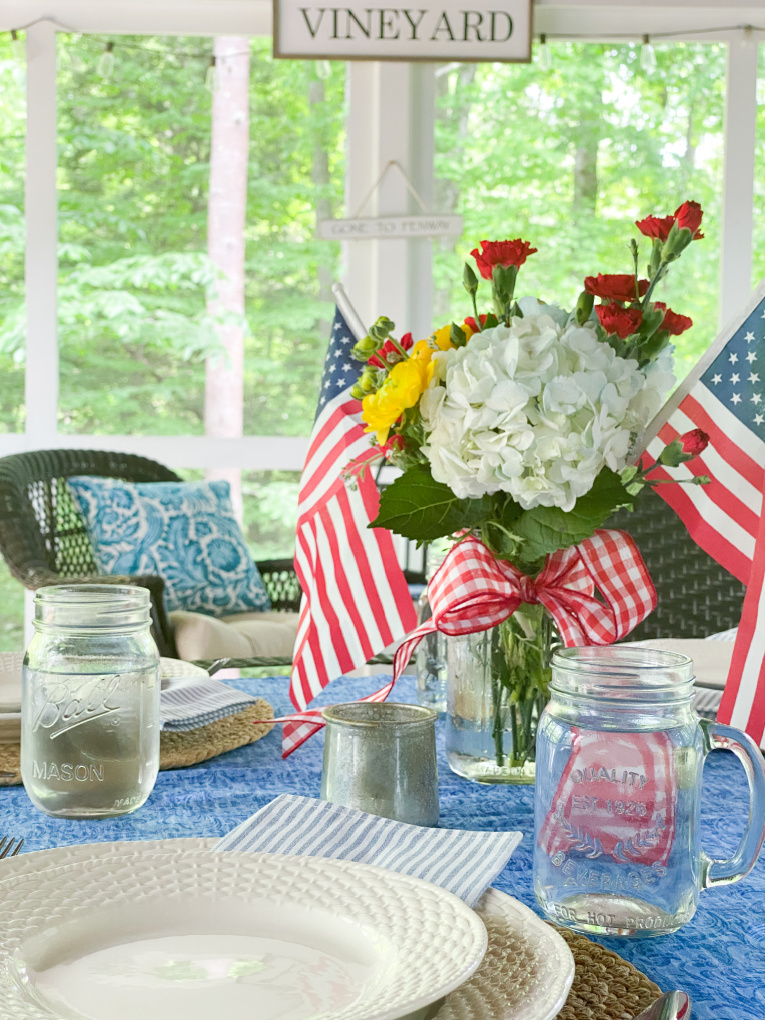 Thank you so much for visiting me today! Next up is Cynthia from Vintage and Grace Living. I enjoy her style and her creative, budget-friendly decorating ideas! You are going to love her summer home!
Bloggers' Best Summer Home Tours
This week I am joining some of my blogging friends for the Bloggers' Best Summer Home Tours. Thirty talented and creative women will be opening their homes up for you to tour all week long. You can visit each summer home tour by clicking the links below.
Monday's Tours

The Tattered Pew / Cottage On Bunker Hill / She Gave It A Go
Cottage In The Mitten / Stonegable / My Wee Abode
Tuesday's Tours

Thistle Key Lane / Midwest Life & Style / White Lilac Farmhouse
My Thrift Store Addiction / Willow Bloom Home Blog / Dabbling and Decorating
Wednesday's Tours

Bricks 'n Blooms /Amy Sadler Designs / Peacock Ridge Farm
White Arrows Home / Pasha Is Home / The Ponds Farmhouse
Thursday's Tours

Simply2Moms / Country Peony / Southern Home and Hospitality
Shiplap and Shells / Eleanor Rose Home / Cloches and Lavender
Friday's Tours

Le Cultivateur / Lora Bloomquist Create & Ponder / Noting Grace
My Family Thyme / Vintage and Grace Living / County Road 407
Thank you so much for stopping by today! If you have any questions about anything, please feel free to reach out to me or leave a comment below. I would love to connect with you on Facebook, Instagram, Pinterest, or here on the blog!