Tuesday Turn About #212 Think Pink!
At this week's Tuesday Turn About link party, I invite you to think pink! Let's celebrate all things pink! Tuesday Turn About Link Party #212
This post contains affiliate links. Please see my disclosure policy here. Thank you for your support.
Hello and Happy Tuesday! Welcome to this week's Tuesday Turn About Link Party!
Today is a bittersweet day at TTA.
Today is Cindy's last TTA post. She is leaving our link party to free up time in her busy schedule for other blog tasks.
I am going to miss co-hosting with Cindy! I have loved working with this amazing lady and am excited to see what the future brings for her!
We are looking forward to continuing to work together with blog hops and learning opportunities, but I will miss our daily chats. Best wishes, Cindy!! xo
Be sure to hop over to My Wee Abode and Reinvented Delaware to check out SIX additional features from Tuesday Turn About! If you haven't been featured at My Family Thyme this week, you may have been featured there!
Though not a requirement at all, we would love it if you would subscribe and/or follow your hostesses on one or more of our social medias:
With the opening of the Barbie movie this week, I invite you to think pink! This is a great time to add a little pink to our lives. Both Julie and I are featuring all things pink this week!
Household Tip
This past week we had a small infestation of fruit flies that I think got into the house with an overripe bunch of bananas. I tried my go-to all natural remedy of mixing apple cider vinegar with a little bit of Dawn dish soap. It worked ok, but I felt that we needed something a little stronger.
I purchased the Safer Home Indoor Plug-In Fly Trap from Amazon. It arrived on Monday and so far, it is working really well! These insect traps simply use UV light to attract insects and a very sticky glue board to trap them.
Julie's Blogging Tip
Kate Ahl from Simple Pin Media has a weekly 20-minute podcast that is well-worth a listen! She offers great information, and definitely keeps up on all things Pinterest.
My Family Thyme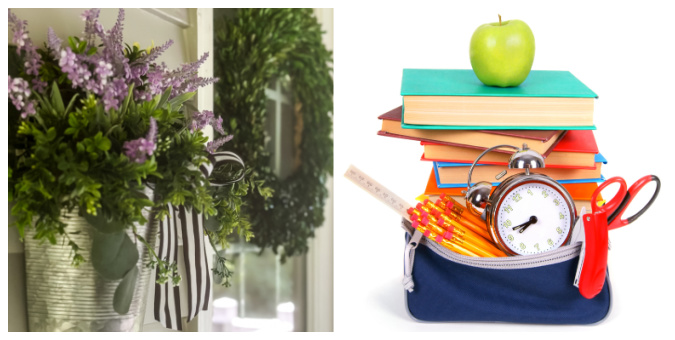 How to Create a Floral Wall Basket with Boxwood | Ten Helpful Back To School Organization Tips For Parents
My Wee Abode
Easy Egg-free Black Forest Trifle Recipe and FREE Printable |
Christmas in July – DIY Velvet Ornaments Two Ways
Reinvented Delaware
Easy Homemade Butter | Sewing Cabinet Makeover

How to Decorate with Pink for a Fresh Classic Look
Kim of Perfecting Places shared her ideas for adding pretty pops of pink into our homes with her post, How to Decorate with Pink for a Fresh Classic Look. No matter what your decorating style, you will love all of her ideas for incorporating pink into your decor!
Pink Painted Nightstand
Learn how to update your old furniture with paint! Natalie of A Ray of Sunshine shared her step by step tutorial for a pretty blush Pink Painted Nightstand. I love this new look!!
A Simple Decoupage Bottle Idea
Missy of Sonata Home Design shared her Simple Decoupage Bottle Idea for upcycling old bottles into beautiful decorative accents. Of course, you can choose any napkin design you would like, but I just love the pretty pink and yellow citrus themed napkins Missy chose!
Let's start sharing! Because this is a party, we encourage all who link up to visit several other bloggers who have linked as well – comments and pins are a great way to spread the love!
Before you get started, take a look at our guidelines:
This party is for home decor and home-related posts only (recipes, organizing, DIY, crafts, etc.). Link up to 3 related posts. Please do not link up informational posts that do not relate to the topic.
If you would please not link up shops, advertising, round-ups, other link parties, or any posts promoting sales, we would appreciate it.
DO NOT PIN FROM IMAGES ON THIS PAGE (it just won't work right on Pinterest). However, please visit the original post/source and pin from there. That works perfectly!
Please make sure that your images are in a jpeg or png format. If we can't save your image, we may not be able to feature you. So sad!
By linking to the party, you give us permission to share your projects on our blogs and social media. We will always give proper credit with a no-pin image.
Thank you so much for visiting today! I hope you enjoy a beautiful week ahead!