The Easiest Way to Cook Bacon
Who knew there was such a quick and easy way to cook crisp, delicious bacon without the mess!
This post contains affiliate links. If you click on an affiliate link and purchase something, I may receive a small commission, at NO additional cost to you.
Good Morning and Happy Saturday!
We just got my youngest daughter, Elisabeth, off to her SAT testing this morning. I can hardly believe that she begins her senior year of high school on Wednesday. I keep asking myself where the time went!
With school starting, we're all starting to think of breakfast ideas. How can we keep it simple and easy, but still get everyone fed and out the door on time? I want to share a little trick that my dear friend, Mary Ann, shared with me a few years ago when we were staying with her. With this simple method, you will have crisp, evenly-cooked bacon in just a few minutes!
What is the easiest way to cook bacon?
Here's the easy, no mess method Mary Ann taught me:
Begin by lining a microwave-safe plate or dish with paper towels. I usually use two to three layers.
Lay each strip of bacon on top of the paper towel, being careful not overlap.
Microwave for 4-5 minutes. Start by checking after 4 minutes. Microwaves vary in wattage and cooking strength. You can always add another minute or two so it is cooked to your desired crispiness.
Be very careful when taking the plate out of the microwave as it will be very hot. You might want to use pot holders or oven mitts to avoid a burn.
Then, just enjoy!  No pan full of grease or splattering all over your stovetop or oven! The paper towel will have absorbed the grease, so all you are left with this crispy, flavorful bacon.
This is a great way to cook bacon if you want just a few slices for a meal, on a sandwich, or as part of a salad.
I'm thinking that bacon might be a great addition to my Spinach and Mandarin Orange Salad or Red, White, and Blue Summer Salad.
A few strips of bacon go well with these make ahead Spinach, Feta, and Tomato Egg Muffins. Packed with flavor and easy to make ahead, they're perfect for busy mornings!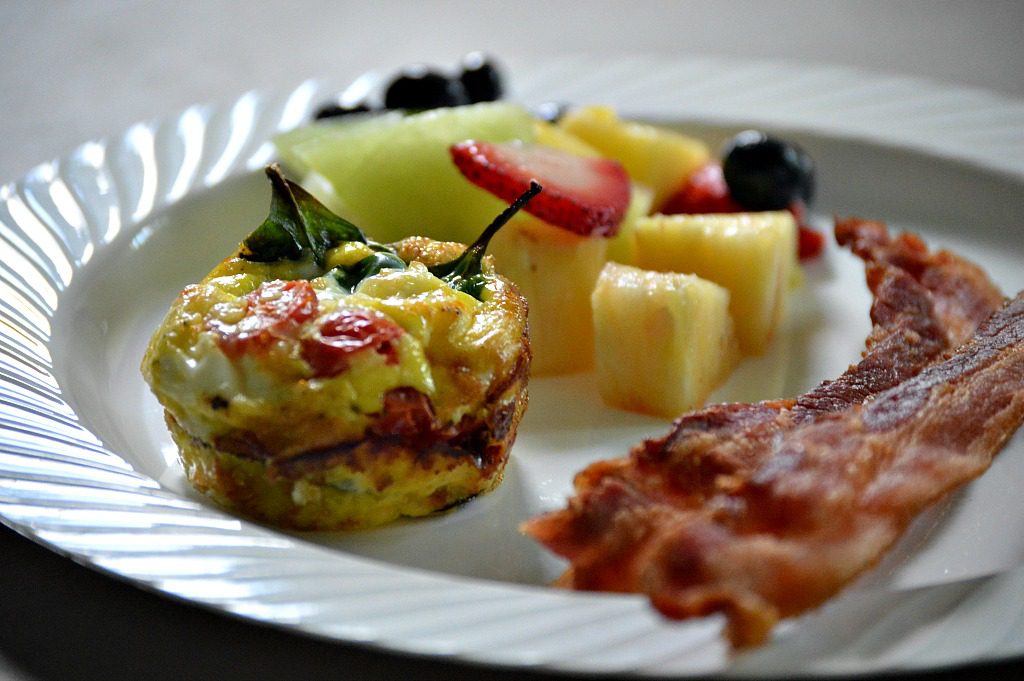 What are some of your quick and easy cooking tricks and tips!  I would love to hear your thoughts!