Tuesday Turn About #185 Ideas for a Sweet Valentine's Day
Today I am sharing features with ideas for creating a sweet Valentine's Day. Tuesday Turn About Link Party #185
This post includes affiliate links; you can read my disclosure policy here. Thank you for your support.
In case you missed it, last week I shared ideas for creating a cozy and organized winter home. Check out last week's party HERE!
Hi Friends! I hope you are having a great start to the week.
Yesterday we didn't have school as we observed the birthday of Dr. Martin Luther King. Last week, my class and I spent some time honoring the life and legacy of Dr. King with the children's book March On!, written by Dr. King's sister, Christine King Farris. We brainstormed and wrote about ways we could make the world a better place. The children had such thoughtful and beautiful ideas! I hope you will join us in spreading a little more kindness, compassion, and love in our communities.
Speaking of spreading love…Valentine's Day is right around the corner. Today I have some wonderful features that will help you as you plan to celebrate this day of love!
Be sure to head over to My Wee Abode and Reinvented Delaware to check out SIX additional features from Tuesday Turn About! If you haven't been featured at My Family Thyme this week, you may have been featured there!
Though not a requirement at all, we would love it if you would subscribe and/or follow your hostesses on one or more of our social medias:
Before we check out this week's new features, here are some helpful tips!
Household Organization Tip
Do papers tend to multiply on your counters during the week? Corral your notes, mail, and receipts in a pretty, decorative lidded storage box. Then, once a week, go through your papers' box and clear it out.
Julie's Blogging Tip
We have a Pinterest tip this week!
While we wait for Pinterest to add the promised link-feature to the Idea Pin creator, did you know you can add your post's URL in the description area of your Idea Pin?
On the last page of the creator, just before you publish, scroll down and open the Add Details field. Click on "Notes" and paste your URL there. You can even add something like, "Find the tutorial for this project at: …." Voila! Your link is now able to be copied and pasted by your reader!
I even put a note on my last photo of the idea pin to "Find the link in the description".
My Family Thyme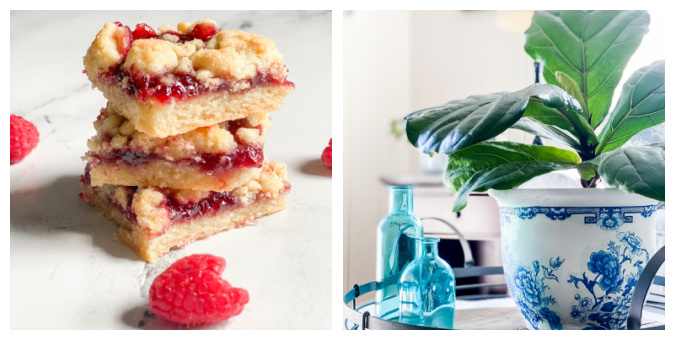 Fabulous Five Ingredient Raspberry Bars | How to Decoupage a Pretty Planter
Reinvented Delaware
Upcycling Junk – 3 Easy DIY Ideas | 5 Ingredient Instant Pot Chili
My Wee Abode
Add a Little Spice with a Valentine Door Tote |
The Best Christmas Decor Storage Solutions | DIY Red Ticking Fabric Heart Wreath

Melted Crayon Valentine Stained Glass Hearts
Karin from Karin's Cottage shared her Melted Crayon Valentine Stained Glass Hearts. This is such a fun, easy, and inexpensive craft! These hearts would look so pretty in the sunlight. I can't wait to give this project a try!
DIY Valentine Pillow
Do you have a plain pillow that could use a Valentine's Day touch? Regina from Saved by Salvage shared three different fabulous ideas to create a DIY Valentine Pillow. Check out her post and let me know which one is your favorite!
Cake in a Jar Recipe for Valentine's Day
You can't celebrate Valentine's Day without a sweet treat! Emily from Hunny I'm Home shared her Cake in a Jar Recipe for Valentine's Day. This is such a great dessert that you can easily customize for your friends or family!
Before you get started, take a look at our guidelines:
This party is for home decor and home-related posts only (recipes, organizing, DIY, crafts, etc.). Link up to 3 related posts. Please do not link up informational posts that do not relate to the topic.
If you would please not link up shops, advertising, round-ups, other link parties, or any posts promoting sales, we would appreciate it.
DO NOT PIN FROM IMAGES ON THIS PAGE (it just won't work right on Pinterest). However, please visit the original post/source and pin from there. That works perfectly!
Please make sure that your images are in a jpeg or png format. If we can't save your image, we may not be able to feature you. So sad!
By linking to the party, you give us permission to share your projects on our blogs and social media. We will always give proper credit with a no-pin image.
Tuesday Turn About Link Party runs from Tuesday at 6 pm EST through Saturday 1 am EST! Join us during those times each week!
Thank you so much for visiting today! I hope you enjoy a wonderful week ahead!