Tuesday Turn About #170 Fabulous Fall Crafts
Sharing fall craft ideas and seasonal inspiration for you to celebrate fall! Tuesday Turn About Link Party #170
This post includes affiliate links; you can read my disclosure policy here. Thank you for your support.
Hi Friends and Happy Tuesday! I hope your week is off to a great start!
At last week's party, we enjoyed the delicious flavors of fall and this week I am excited to feature three FABULOUS fall crafts.
Please remember to…
Be sure to head over to My Wee Abode and Reinvented Delaware to check out SIX additional features from Tuesday Turn About! If you haven't been featured at My Family Thyme this week, you may have been featured there!
Weekly Household Tip
Are you a coffee drinker? My daughter and I are! I use my Keurig coffee make everyday and have for the past nine years!
To keep it working well, it needs regular cleaning. I have tried cleaning it with vinegar, but to be honest, it took a so many rinses to get rid of the vinegar taste that I looked for a different option. The one cleaning product that I have found that really works well is Quick and Clean Cleaning Cups for Keurig Machines. With easy to follow directions, cleaning your Keurig is fast and easy. These pods provide great results for keeping your machine brewing smoothly.
Julie's Weekly Blogging Tip
Do you backlink to similar blog niches or "authorities" in your posts?
Don't be afraid to do this. Adding links to your posts that are helpful to your content is a great way to create Domain Authority which, in turn, tells Google to pay attention to your site! So go on… add a link (or two) to an outside source that enriches your content and helps your readers! It will help you, too!
Cindy's Photography Tip
Do you use your smartphone camera or a DSLR? Here are Cindy's thoughts.
You know by now that my preference for photography is using a DSLR. I know many of you prefer using a smartphone since the cameras on a smartphone are so sophisticated now.
There are many reasons I prefer a DSLR over my iPhone camera, especially for blogging but the main reason is the amount of control I have over the initial capture and the control I have in editing.
I won't go into all of that in this post but maybe it is something we should chat about in the future. Let me know in the comments if you are interested and we will chat about it!
In the meantime, if you are using your smartphone for photography, be sure to consider the distortion that it will create. And believe me, it will create distortion!
The biggest error I see bloggers make (especially since joining in as a host on this link party!) is not paying attention to the object that is closest to the lens.
Whatever is closest to the lens will appear larger. That's something to consider when capturing images for your posts.
Here is a good habit to get into: take a picture with your phone camera, then look at it with different eyes. Study the image and make sure the subject is correctly proportionate to what you see in real life.
The camera distorts, but your eyes do not. We need to see the image the way the camera sees it and adjust our position and angle to correctly show what the scene is like in person without the distortion of the camera.
This is a skill and it takes practice but you can develop an eye for spotting distortion! 😊
My Family Thyme
Make an Easy and Inexpensive DIY Fall Wreath | How to Make Gingham Painted Pumpkins | How to Easily Make Leaf Stamp Tea Towels for Fall
Reinvented Delaware
Thrifted Sweater Pumpkins | Copper Leaf Pumpkins DIY
My Wee Abode
Small Apartment Fall Living Room Tour | Fast and Easy Fall Tin Door Decor

How to Make a DIY Pumpkin Bushel Basket
How cute is this pumpkin bushel basket?! Beth from Creatively Beth shared her adorable, quick and easy 30 minute craft! Head over to learn How to Make a DIY Pumpkin Bushel Basket.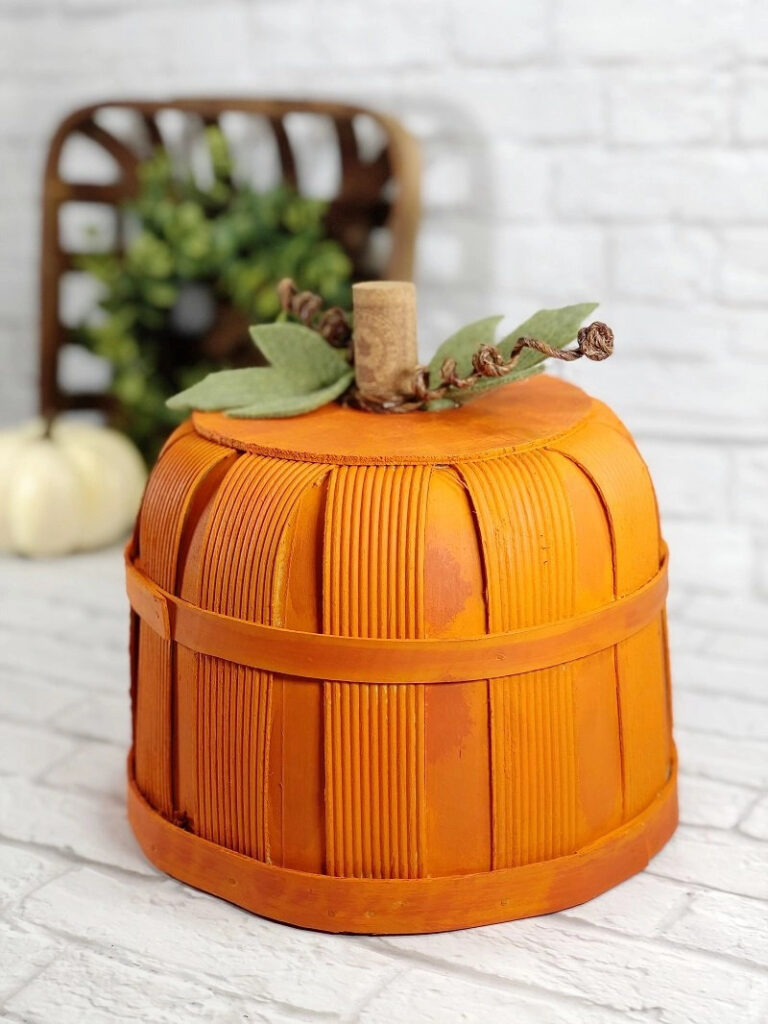 How To Dry Your Own Pampas Grass For A DIY Wreath
Fall is the perfect time to make a fluffy Pampas Grass wreath! Marie from This Dear Casa shared a simple, easy to follow tutorial for How To Dry Your Own Pampas Grass For A DIY Wreath. Where would you hang one in your home?
How to Paint Pumpkins on Wood
Have you ever tried to Paint Pumpkins on Wood? You will be inspired to give it a try by following Juliet's step by step guide for creating your own pumpkin painting! Head over to A Loverly Life for this seasonal art project!
Before you get started, take a look at our guidelines:
This party is for home decor and home-related posts only (recipes, organizing, DIY, crafts, etc.). Link up to 3 related posts. Please do not link up informational posts that do not relate to the topic.
If you would please not link up shops, advertising, round-ups, other link parties, or any posts promoting sales, we would appreciate it.
DO NOT PIN FROM IMAGES ON THIS PAGE (it just won't work right on Pinterest). However, please visit the original post/source and pin from there. That works perfectly!
Please make sure that your images are in a jpeg or png format. If we can't save your image, we may not be able to feature you. So sad!
By linking to the party, you give us permission to share your projects on our blogs and social media. We will always give proper credit with a no-pin image.
Tuesday Turn About Link Party runs from Tuesday at 6 pm EST through Saturday 1 am EST! Join us during those times each week.
I am so grateful for you and can't to see what you all share with us this week! Best wishes for a beautiful week ahead!