Tuesday Turn About #169 Flavors of Fall
This week's link party has started! Tuesday Turn About #169 Flavors of Fall
Last week we looked at beautiful inspiration to make the most of your fall porch.
Good Afternoon and Happy Tuesday! I hope you are doing well and your week is off to a great start.
This week brings the arrival of autumn! Are you getting excited? I am ready for the vibrant leaves, harvest fairs, a chill in the air, and of course, the warm, comforting tastes of fall. So let's celebrate with some tasty treats, featuring some favorite fall flavors!
Let's get this party started!
Be sure to hop over to My Wee Abode and Reinvented Delaware to check out SIX additional features from Tuesday Turn About! If you haven't been featured at My Family Thyme this week, you may have been featured there!
Weekly Household Tip
Do you ever get pesky fruit flies in your kitchen? We had a fruit fly problem last week that we think came with a batch of very ripe bananas. A few fruit flies can quickly multiply and become a big problem. But not to worry…I have a very effective solution. Just add some apple cider vinegar to a small bowl. Then mix in a squirt or two of dish detergent. The fruit flies will be attracted to the scent of the vinegar.
My Family Thyme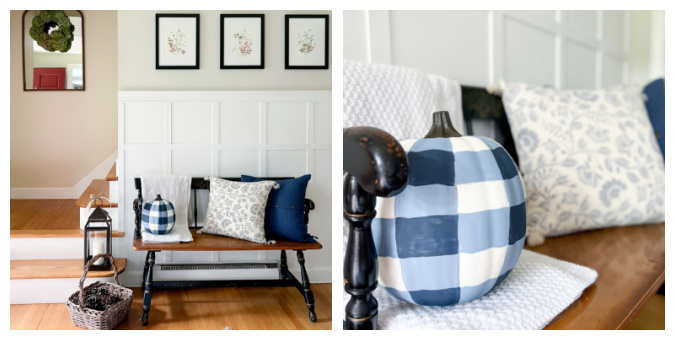 Simple Fall Entryway Decorating Ideas | How to Make Gingham Painted Pumpkins
My Wee Abode
Easy Fall Decor Ideas for a Small Home | DIY Fall Hydrangea Wreath in 15 Minutes
Reinvented Delaware
Pinecone Wreath with Acorns | Easy Bowl of Chili

Apple Cinnamon Bread
Nothing says fall like the flavors of apple and cinnamon. Michelle from The Wooden Spoon Effect shared her recipe for Easy Apple Cinnamon Bread. This sharable, pull-apart bread is so simple to make and tastes like fall! I'll be making a loaf of this delicious seasonal bread this week!
Healthy Pumpkin Smoothie Recipe
I am a big fan of pumpkin spice! If you are too, this is a treat for you! This Healthy Pumpkin Smoothie Recipe from Shay at Lowcalicious looks like a such a healthy, hearty, and flavorful breakfast treat. What a great way to start the day!
Summer Harvest Basil Pesto
My basil plant did really well this summer and as a result, I have an abundance of basil. Thanks to Michele from Vintage Home, I know what I can make. Michele shared How to Make Late Summer Harvest Basil Pesto. This delicious and flavorful pesto can be frozen and enjoy throughout the fall and winter!
Before you get started, take a look at our guidelines:
This party is for home decor and home-related posts only (recipes, organizing, DIY, crafts, etc.). Link up to 3 related posts. Please do not link up informational posts that do not relate to the topic.
If you would please not link up shops, advertising, round-ups, other link parties, or any posts promoting sales, we would appreciate it.
DO NOT PIN FROM IMAGES ON THIS PAGE (it just won't work right on Pinterest). However, please visit the original post/source and pin from there. That works perfectly!
Please make sure that your images are in a jpeg or png format. If we can't save your image, we may not be able to feature you. So sad!
By linking to the party, you give us permission to share your projects on our blogs and social media. We will always give proper credit with a no-pin image.
Tuesday Turn About Link Party runs from Tuesday at 6 pm EST through Saturday 1 am EST! Join us during those times each week.
I am so grateful for you and can't to see what you all share with us this week! Best wishes for a beautiful week ahead!