Tuesday Turn About #165 Embracing End of Summer Beauty
Today I am excited to feature ideas for embracing the glorious end of summer beauty at Tuesday Turn About link party!
Hello my friends! I hope you are well and enjoying this last full week of August!
It is a busy week for me! We moved my daughter back to college yesterday. She and her friends are getting settled into their first apartment. They put together her first piece of furniture and made their first of many Target runs today. Safe to say, they are off to a great start.
I am also heading back to school this week. My classroom is coming together nicely. I have done some major cleaning out there this summer. I have been working at my school for 24 years and it is amazing what you can accumulate in that time. I am finding things that I forgot I had and can put to use this year. At the end of the week, I will meet my new students and their parents. I'm getting excited for the new year!
So while we are looking forward to fall, I am still embracing summer's beauty. This week's features all focus on summer's enjoying our late summer gardens and blooms.
Thank you so much for visiting! And, thank you to all of the incredible bloggers for continuing to share your creativity with us! You are all AMAZING and I feel so fortunate to connect with you here!
Now, let's get this party started!
Be sure to hop over to My Wee Abode and Reinvented Delaware to check out SIX additional features from Tuesday Turn About! If you haven't been featured at My Family Thyme this week, you may have been featured there!
Weekly Household Tip
Baking soda is a natural deodorizer. If your closet is getting musty with the humidity at this time of year, just store an open box of baking soda in your closet to naturally neutralize the air.
Likewise, you can also use baking soda to freshen your smelly trash can. After washing the can out, just sprinkle baking soda in the bottom of the can to get rid of any lingering smells.
Did you realize there were so many uses for baking soda? Read all about the last two week's baking soda household tips here and here.
My Family Thyme
Welcome Home Saturday Fall Inspiration | How to Update Your Floor with Tile Stickers
My Wee Abode
Tiny Entryway Fall Decor Ideas Pinterest Challenge |
DIY Mod Podge Pumpkins Coastal Style
Reinvented Delaware
How to Reupholster | 39 Budget Fall Themed Decor Ideas

Sunday Flowers…Time for Wreaths
Lynne from Thrifting Wonderland shared her post, Sunday Flowers, Time for Wreaths. Here, Lynne shared how to make a homemade wreath and decorate it with items gathered from her garden. Adorned with rosemary, thyme, Russian sage, and oregano, along with dried hydrangeas, this wreath brings the outdoors in.
Paint a Vase for a Fall DIY Makeover
Would you believe that this vase is a DIY? Kim from Perfecting Places shared how to give a dated vase a beautiful update with her post, Paint a Vase for a Fall DIY Makeover. I just love this old weathered and rustic look that Kim achieved. So beautiful! I would love to make one for my end of summer blooms.
5 Tips From the Gardening Bench
Lynn from Living Large in A Small House shared 5 Tips From the Gardening Bench. These practical and valuable tips are perfect to help you make the most of your late summer gardens. Thanks to Lynn's post, I am going to divide my Peonies, Irises, and Hostas to fill in some bare spots in my garden. This is definitely a post you don't want to miss!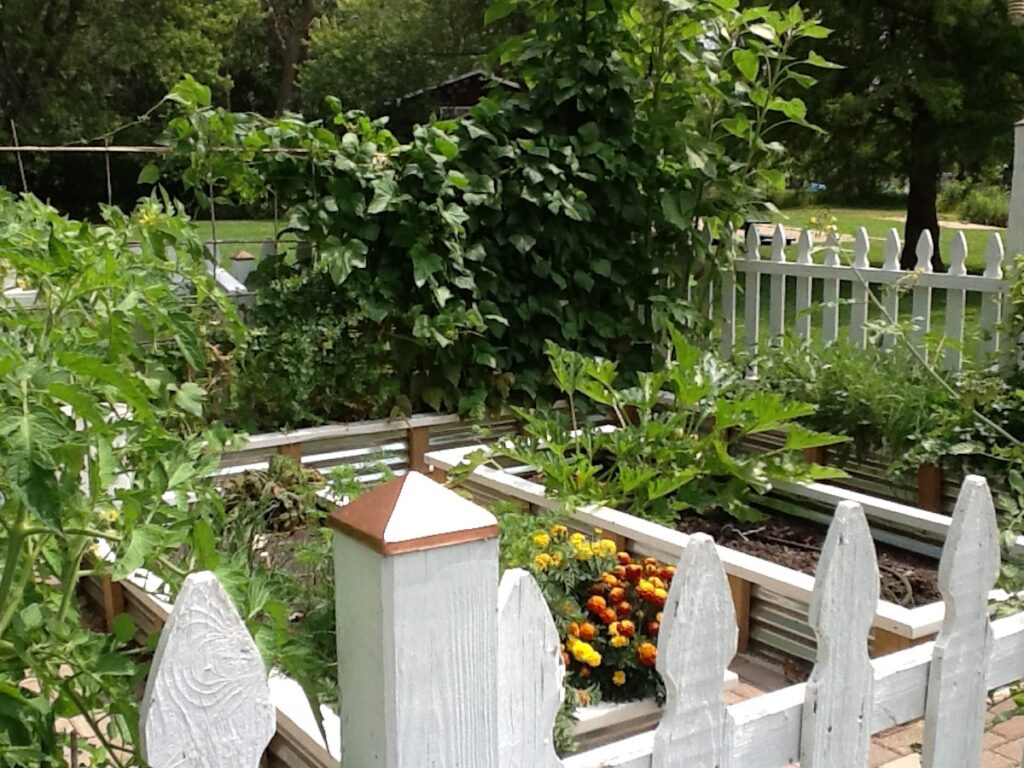 Before you get started, take a look at our guidelines:
This party is for home decor and home-related posts only (recipes, organizing, DIY, crafts, etc.). Link up to 3 related posts. Please do not link up informational posts that do not relate to the topic.
If you would please not link up shops, advertising, round-ups, other link parties, or any posts promoting sales, we would appreciate it.
DO NOT PIN FROM IMAGES ON THIS PAGE (it just won't work right on Pinterest). However, please visit the original post/source and pin from there. That works perfectly!
Please make sure that your images are in a jpeg or png format. If we can't save your image, we may not be able to feature you. So sad!
By linking to the party, you give us permission to share your projects on our blogs and social media. We will always give proper credit with a no-pin image.
Whatever this week brings you, I hope you do something that brings you joy!