My Family Thyme At Christmas Part 1
Welcome my dear friends!  I am humbled and honored to be joining a creative and talented group of ladies for the Sparkle Home Christmas Tour, organized by Debbie at Chatham House on the Lake.  We are all so excited to welcome you into our holiday homes!
For those of you who are visiting for the first time, welcome!  My name is Lynne and I am a Connecticut wife, mother of two teens, and a full-time elementary school teacher.  My Family Thyme has grown out of my love for cooking, crafts, décor, and all things home on a budget.
I would be so grateful to keep in touch with you!   Please consider subscribing to my email list.  You may also want to follow me on Instagram, which is my favorite place to share!  We can also pin together on Pinterest.
Christmas is just around the corner…and here in New England, I've dressed up my colonial home with simple, natural, and traditional elements…while staying on a budget.  Wreaths are on the front windows, candles in the windows, and we are enjoying all of the sights, sounds, and scents of this season.
Friends who knows me and my family well, know to come to our back door.   Come right through our screened in porch and into the kitchen.  Welcome!
A couple of years ago, we had some MAJOR ice damming, which resulted in an unexpected kitchen remodel.  While it wasn't fun to go through, we are so grateful for this room.  It is truly the heart of our home.  Due to the porch, this room does not get a great deal of light.  As a result, we went with bright white cabinets and neutral accents.  My daughter, Elisabeth, helped to pick out many of the elements in the kitchen.  It really was a family effort!
I love bringing nature into our home.  For the holidays, these evergreen branches from our local Boy Scouts are the perfect addition to our kitchen.  The fragrant scent of pine fills this room.
Next to the sink is a tray from Home Goods, with a homemade Christmas tree that my daughter made many years ago.  I tend to be very sentimental and keep all of the homemade treasures from years past.
To add some Christmas spirit to this room, I have added a fresh boxwood wreaths to the window and door from Trader Joe's, complete with festive ribbon.
You can imagine my surprise when I found out that I was fortunate to win a wonderful giveaway on Instagram from Dixie Do Designs.  If you don't know them, you should definitely check out this talented couple who make beautiful handmade signs.  This "Joy" sign with the with the rich red script brings some holiday cheer.
Being in New England, warm drinks are essential after an afternoon of sledding, skiing, or just enjoying our winter weather.  I have set up a little "Hot Cocoa" bar, complete with some fun snowman décor and a festive sign from Hobby Lobby.  Candy canes, marshmallows, cinnamon sticks, and Andes Candy (what are left after my children discovered them!) are delicious additions to a mug of cocoa.   These Rae Dunn mugs were also part of that generous giveaway from Dixie Do Designs.  I love their sweet messages and their farmhouse feel.
On our window kitchen windowsill, you will find some paperwhites are growing in preparation for a holiday bloom.  Please see Paperwhites for the Holidays to learn how easy they are to grow.  They make great gifts too!
Along with the paperwhites, another childhood decoration adorns the windowsill.  This sweet homemade tree is made out of a pencil.  So cute and clever!
Let's head down the hall and into the family room.  Along the way, you can check out our chalkboard.  This is a great place to add some seasonal inspiration to our home.  Lines from a favorite Christmas hymn decorate this thrift store chalkboard.  Please check out Christmas Chalkboard Art for a free printable, with a step by step tutorial.  I added some fun buffalo plaid Christmas tree garland that I found at Target's dollar spot.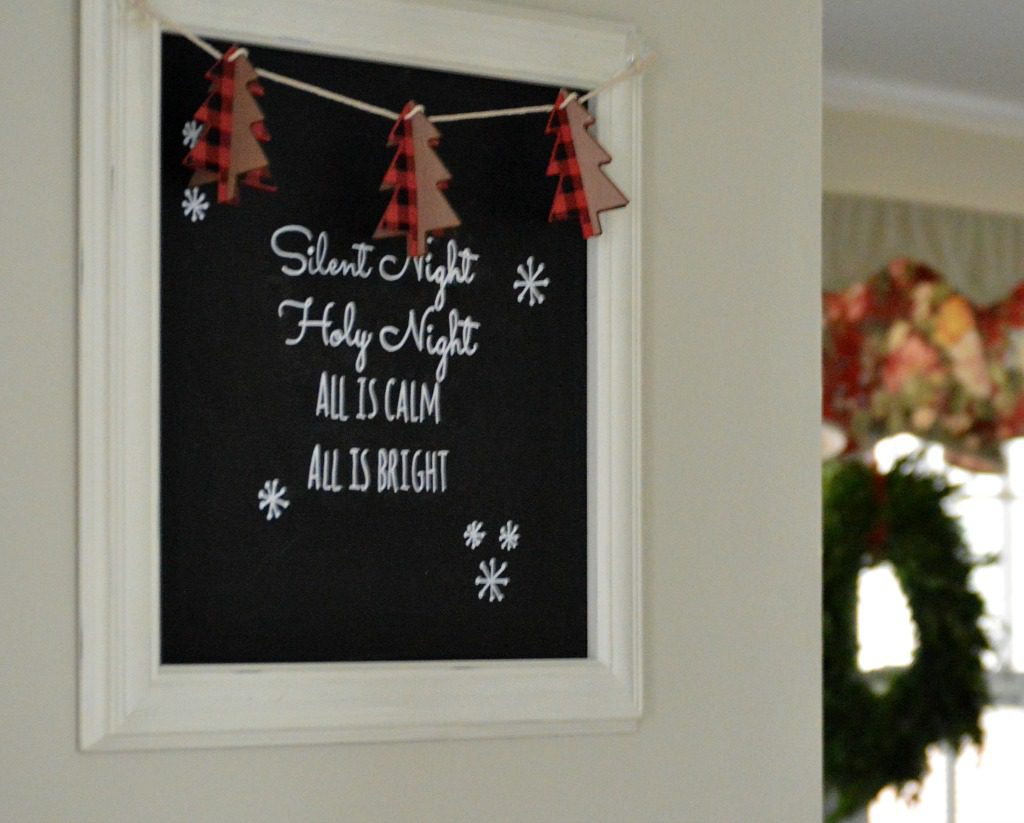 Our family room is the room that sold me on our home.  I love the large window that brings in streams of natural light.  Wood paneled walls and ceiling, along with wide planked wood floors make this space so cozy.
The stockings are hung by the chimney with care…
These stockings, belonging to my children and our dog, are joined by a Noel sign, found at HomeGoods, along with some fresh greens from our yard.  A couple of picks from Michael's, a painted candlestick from Goodwill, topped with a red candle, and some white lights complete the mantel.
A cozy blanket, along with plaid pillow covers made from napkins for just $3 each, add pops of holiday colors!  I found this festive Merry Christmas pillow at Target last year.
A bowl of pine cones, along with a tray complete with a seasonal candle, a Santa box, and another paperwhite bulb decorate the top of this DIY Coffee Table Refinish .
To add some more holiday cheer to this room, I have added fresh greenery from our yard.  A mixture of boxwood, holly with berries, and faux berries bring natural colors of the season.
One of our favorite Christmas specials is Charlie Brown's Christmas.  This Peanut's snow globe is a family favorite.  Accented with our Christmas cactus, as well as more fresh holly and berries from our yard, it brings a personal touch to our holiday décor.
Decorating around the television can be a challenge.  This past summer I hung this shelf,  decorated with items from our favorite vacation spot…Martha's Vineyard.  For Christmas, I just added some colorful bulbs we had, along with some more fresh greens, and a festive holiday pick.
What are some of your favorite ways to add touches of Christmas to your home?  I would love to hear some of your thoughts and ideas!
Thank you so much for stopping by!  Please come back next week and join me to see a few more rooms dressed up for the holidays.
In the meantime, enjoy all of the amazing homes on the Sparkle Home Christmas Tour!
Warm wishes for a very Merry Christmas from my family to yours!
Open House Begins Dec 8th at:
Open House Begins Dec 9th at
Open House Begins Dec 10th at
Open House begins Dec 11th at