How to Make a Simple Spring Floral Wreath
Welcome Spring into your home! Learn how to make this simple spring floral wreath that is perfect for inside your home or on your door. This seasonal DIY wreath comes together in just six steps.
Welcome to My Family Thyme! I am happy you are here! If you are visiting from my sweet friend, Sonya's home, welcome! Don't you just love her style and those French inspired Easter eggs? She's so talented and creative!
I am so excited to join in the Celebrate Spring Blog Hop hosted by the lovely Leen from Sand Dollar Lane.
Every day this week, there will be spring decorating inspiration from some of your favorite home decor bloggers. You will find all of the links at the end of this post. I know you'll be inspired by all of the creativity!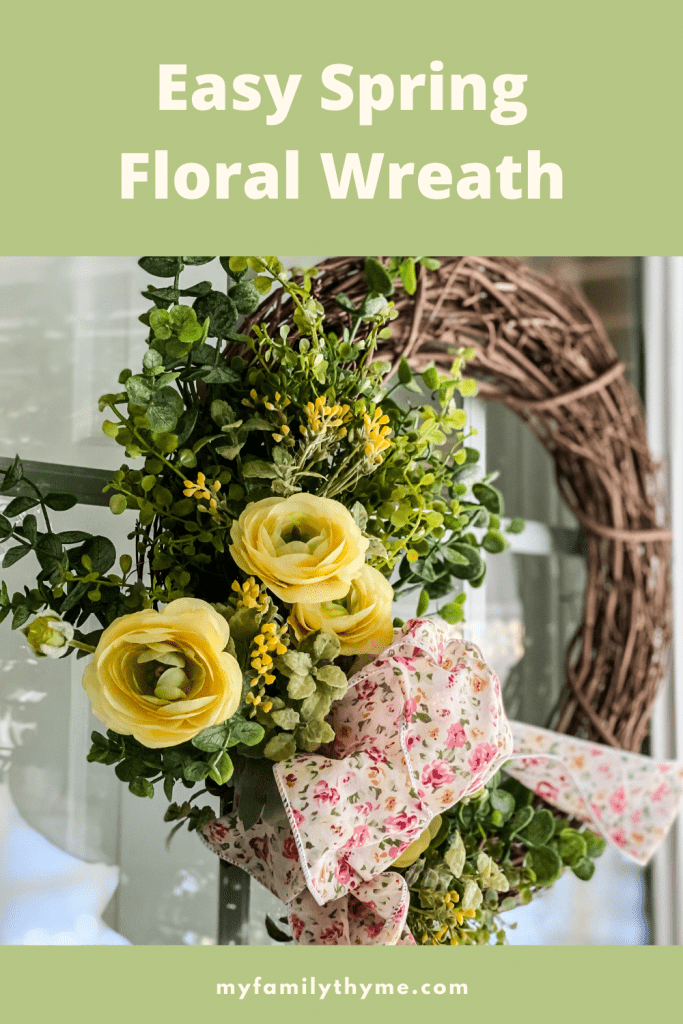 After a long gray winter here in Connecticut, it finally feels like spring is on its way!
The snow is melting, birds are chirping, and it feels like the world is waking up. This time of year is filling me with a renewed sense of optimism.
To welcome this season, I have started to add a few spring touches inside my home. I recently made and shared these simple Decoupage Easter Eggs along with this adorable Easter Bunny Reverse Canvas, but I needed something for the outside. When I was shopping at Hobby Lobby, this yellow ranunculus caught my eye. I decided it would be perfect in an easy spring floral wreath for my back door! Let me show you how you can make one too!
Materials needed to make a spring floral wreath
Affiliate links are included in this post for your convenience, with no additional cost to you. Thank you for your support!
greenery (2 bushes)
flower stems (I chose ranunculus)
wired ribbon of choice (I purchased my ribbon at Michaels Crafts. This is a similar ribbon.)
glue gun and glue
Follow these six simple steps to make your spring floral wreath:
Using the wire cutters, trim any loose pieces from your wreath.
Cut each little cluster of flowers and greenery off of its bunch, leaving at least a couple of inches of the wire stem.
Arrange the greenery on the wreath, layering the two different kinds. I began with the boxwood and added the second. When you are happy, tuck the wire stem into the wreath and secure it with hot glue. Do this for both the top and the bottom of one side, leaving a gap where you will attach a bow.
Repeat this process by arranging and layering in the flower stems. Play with the greenery so it overlaps a little. When you are happy with the placement, tuck the wire stem and secure it with hot glue. I love to create visual interest by layering the variety of textures and colors.
Using the Bowdabra, the Bowdabra bow wire and wired ribbon, create a bow by making a loop and then twisting the center before creating the next loop. I have had this tool for at least 20 years. I love it and use it to create all of my bows!
With the bow wire, attach the bow to the back of the wreath. Hang your new spring floral wreath and enjoy!
How do you attach the greenery and flowers to the wreath?
When trimming the greenery and flowers, be sure to leave the wire stem long enough that you could easily tuck it into the grapevine wreath. Then, secure it with hot glue.
How do you attach the bow to the wreath?
When you tie your bow together with the Bowdabra wire, make sure that the wire is long enough that it will easily fit around the side of the wreath. Then tie the wire on the back of the wreath to secure the bow.
How do you hang the wreath?
To hang the wreath, I first attached a piece of jute, by tying a loop on the back of the wreath. To hang the wreath on my door, I used a large suction cup with a hook. I have also used Command Strip wreath hooks to hang wreaths on my exterior doors. They work really well.
I actually made two of these wreaths…one for my home and one for my mom. She suffers from Alzheimer's Disease and lives at a long-term care facility. After six long months, I will finally be able to have an in-person visit with her. I am so thankful for her amazing caregivers that have kept her safe, healthy, and happy through this challenging time. I am hoping that this spring floral wreath will bring a smile to her face and to those around her too!
Thank you so much for visiting today! I would love to connect with you on Facebook, Instagram, Pinterest, or here on the blog! Please let me know if you make a spring wreath. Please tag me if you do, as I would love to see it!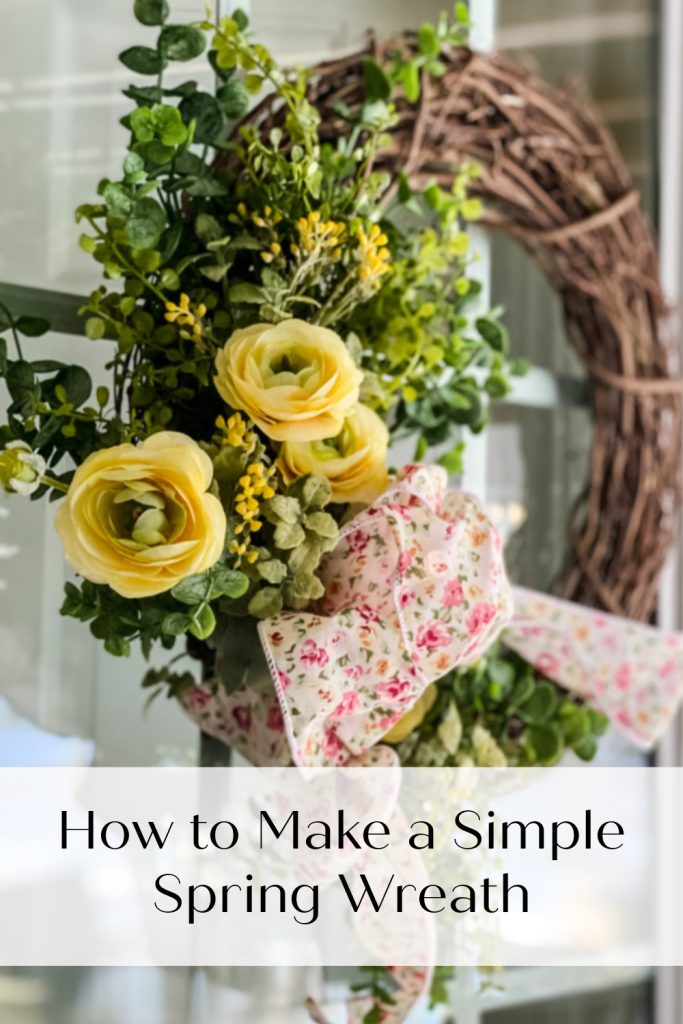 Be sure and stop by my friend Sarabeth's blog, The February Fox. You won't believe the DIY ring tray she's sharing. It's simply beautiful!
Thistlewood Farms // A Life Unfolding // Noting Grace // Blue Sky at Home // The Tattered Pew
Zucchini Sisters // Hearth and Vine // Sonya Burgess Blog // My Family Thyme // The February Fox
The Little by Little Home // Worthing Court // Aratari at Home // What Meegan Makes // The Roots of Home