Tuesday Turn About #139 March Motivation
Hello Friends and Welcome to Tuesday Turn About!
I hope you had a wonderful weekend and your week is off to a great start! We've had a couple of days off of school here in Connecticut and that little break has me feeling reenergized.
Over the weekend, I took a day trip to visit my daughter at UCONN and we spent an afternoon together. It felt so good to hug her! We laughed, ate, shopped, and laughed some more. We found a new Home Goods/TJ Maxx and ended up spending a little extra time there while a snow squall came through. As a result, it gave us a little extra time together, and some more time to find a few more goodies.
It was a fabulous week here at Tuesday Turn About! With March right around the corner, I am excited to share some features that are perfect for the upcoming month.
Thank you so much for linking up and sharing your creativity with us! Don't forget to head over to Cindy's and Julie's blog to check out their features too!
---
---
Before I share this week's fabulous features, I have some helpful tips for you!
Be sure to visit each blog, each week, to get some great tips for the home (and for blogging too)!
Weekly Household Tip
One simple way to make your home feel neater and cleaner is to make your bed. It sounds so simple, but it's true! Making your bed only takes about five minutes and is absolutely free. When you make your bed each morning, it will make you feel like you have accomplished a task and make you more productive. Your bedroom will instantly look neater and more like the retreat that you want to enjoy at the end of the day.
Weekly Blogging Tip
When you are writing a tutorial for your readers, remember to write it FOR and TO them, not ABOUT you.
For example, when sharing how to sew a pillow cover, sometimes we naturally say, "First, I put the two pieces together. Next, I sewed them on the machine. Then, I turned it inside-out." (Notice how this is written talking about "me" and what I did.)
Try writing the post for/to your readers. "First, you take two pieces of fabric and put them together. Next, you sew them on the machine. Then you turn the fabric inside-out."
The difference will let your readers know they CAN do the project, instead of the them thinking, "Yeah, YOU can do it, but I don't think I can." 😉
Now, let's party!
---
Though not a requirement at all, we would love it if you would subscribe and/or follow your hostesses on one or more of our social medias:
Let's Create Community!
My Wee Abode
How to Use Vinyl Stickers for a Wallpaper Look | How to Add Springtime Florals to a Small Patio
Reinvented Delaware
End Table Makeover Idea | Demilune Table Makeover
My Family Thyme
How to Make a Simple Spring Floral Wreath | How to Make the Most Delicious Guacamole

Set a special table for a Saint Patrick's Day Dinner Party!
Jen from Midwest Life and Style Blog shared an Elegant Green and Gold St Patrick's Day Tablescape that's perfect for a festive, Irish-inspired dinner party! Wouldn't you love to be a guest at her table?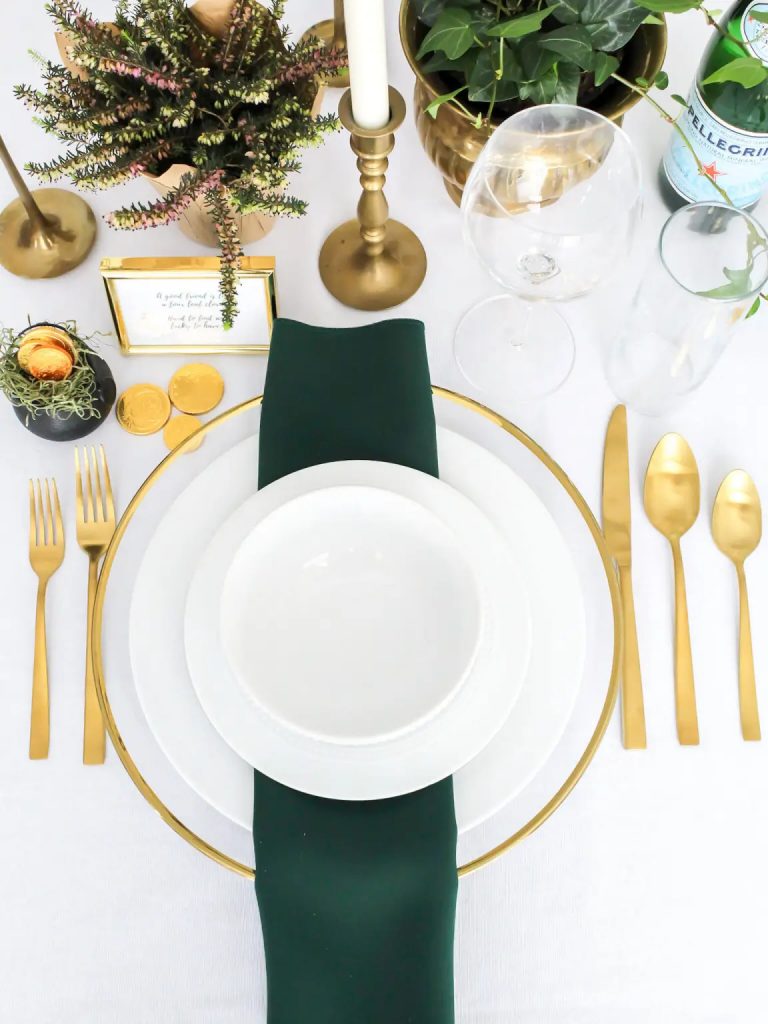 Refresh your kitchen for Spring!
Niky, from The House on Silverado, shared her Simple Spring Kitchen Decor Ideas. Her fresh spring styling ideas are so inspiring!
A moist, rich chocolate cake? Yes, please!
Elizabeth from Pine Cones and Acorns shared Nigella Lawson's Dense Chocolate Loaf Cake. With bittersweet chocolate, coffee, and bourbon, this cake looks absolutely divine!
Check out our Tuesday Turn About Link Party Pinterest board! All NINE featured posts are pinned to this board each week!
Let's start sharing! Because this is a party, we encourage all who link up to visit several other bloggers who have linked as well – comments and pins are a great way to spread the love!
Before you get started, take a look at our guidelines:
This party is for home decor and home-related posts only (recipes, organizing, DIY, crafts, etc.). Link up to 3 related posts. Please do not link up informational posts that do not relate to the topic.
If you would please not link up shops, advertising, round-ups, other link parties, or any posts promoting sales, we would appreciate it.
DO NOT PIN FROM IMAGES ON THIS PAGE (it just won't work right on Pinterest). However, please visit the original post/source and pin from there. That works perfectly!
Please make sure that your images are in a jpeg or png format. If we can't save your image, we may not be able to feature you. So sad!
By linking to the party, you give us permission to share your projects on our blogs and social media. We will always give proper credit with a no-pin image.
It is so wonderful to have all of the bloggers and readers join us each week! We are looking forward to seeing what you're creating and sharing this week!