Christmas Mason Jars: Simple Centerpieces and Pretty Paperwhites
Use these versatile jars to create natural Christmas Mason Jar Centerpieces and grow beautiful Paperwhites in Jars.  
This post contains affiliate links. If you click on an affiliate link and purchase something, I may receive a very small commission, at NO additional cost to you.
Welcome to Day 8 of the Fourth Annual 12 Days of Christmas Series!
We have teamed up with 50 plus bloggers to bring you a oodles of DIY Ideas and Recipes to make your holiday season merrier. There are 12 different posts in the series and we have spread them out over a four week period with three posts per week. Now is the time to subscribe!
GO HERE for the complete list of Dates and Topics plus a collection of most popular holiday ideas including ornaments, games, recipes and more from all 50 plus talented bloggers!
It's Day 8 and we are sharing Christmas In A Jar Ideas!
---
I just might have a slight obsession with mason jars.  I use them for everything around my house…from packing salads to vases to holding our spare change in our laundry room. So, naturally they needed to play a part in my Christmas decor!  
This Christmas I used mason jars two different ways and I am so excited to share these ideas with you.
Mason Jar Centerpiece
It is so easy to create this simple and natural centerpiece!
Materials:
mason jar
boxwood clipping
water
fresh cranberries
tealight candle
Directions
Clip some fresh boxwood and add it to a mason jar.
Fill the jar with water and add fresh cranberries to the top of the jar.
Lastly, just add a tealight candle.
I love the natural green and red colors with the glow of the candlelight.
Paperwhites in a Jar
The second idea is one that I have been doing for many years.  This project involves a little planning ahead, and it results in delightful decorations and/or gifts.  One year, I made these jars of Paperwhites for many of my friends and they were well received.  They are so simple to make, but grow into beautiful, fragrant blooms.
Materials
mason jar
pea gravel
Paperwhite bulb
water
ribbon
decorations/tags
hot glue (optional for decorations)
Directions:
Fill the jar about 3/4 of the way up with pea gravel.
Add the Paperwhite bulb to the top, pressing the bulb into the pea gravel.  The pointed side of the bulb should be facing up.
Fill the jar with water.  The water should reach the bottom of the bulb.
Using a small dot of hot glue, add some holiday ribbon and/or festive decorations to the rim of the lid.
If you are giving this Paperwhite jar as a gift, add a gift tag.
Note:  Paperwhites take between 4 and 6 weeks to bloom and last several weeks.
Click here to learn more about how to create your own DIY painted signs!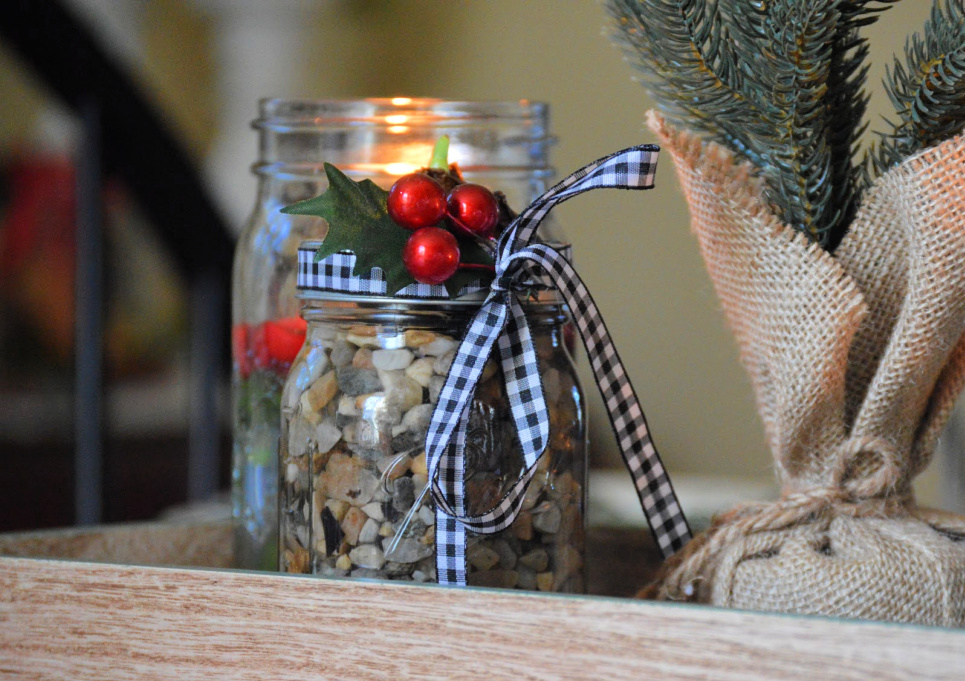 Scroll down for many more Christmas In A Jar Ideas you are sure to love!
---