An Easy Side Table Makeover With Fusion Mineral Paint
Are you a fan of painted furniture? Learn how to easily update and refresh an old side table using Midnight Blue Fusion Mineral Paint.
I love home decor, but I believe that creating a beautiful home doesn't have to be expensive.
I often find myself saying things like, "I could make that!" or "Don't throw that away…I can do something with it!"
Can you relate?
If so, you have come to the right place! Today I am thrilled to be joining a very talented and creative group of ladies who are part of the "Thrifty Style Team". Each month, Julie from Redhead Can Decorate hosts this group of bloggers, who share a variety of amazing and affordable ideas for your home. I am so honored to join them.
Our theme is (as always) thrifty, affordable, free, inexpensive, dollar store, garage sale, or hand me down home styling/decorating ideas. Wait until you see all of the beautiful ideas for your home decor! Please be sure to visit all of the links at the end of this post!
Honoring friends
Before I share my project, I want to take a moment to honor two amazing ladies who were both part of The Thrifty Style Team, and sadly, left us too soon.
My friend Paula, from Virginia Sweet Pea, passed after a courageous battle with lung cancer. Paula loved all things vintage and always shared the most wonderful stories of her beautiful treasures. I was fortunate to meet Paula at the Haven conference a few years ago. We had connected over our love of teaching, as well as our love of blogging. Paula was kind, generous, and a friend to all. She will be greatly missed. My thoughts and prayers go out to her husband, her mom, and her fur baby, Sherman.
The blogging community also lost Michelle from The Painted Hinge. While I did not know her personally, I always enjoyed visiting her blog and left feeling inspired. I admired her creativity and talent. I am sending my prayers to her family.
Let's share some thrifty ideas that Paula and Michelle always enjoyed.
---
The Table
This table belonged to my grandparents. I found it in the basement, while cleaning out my mom's house. You can read more about this house here. I remember this table always being in my grandparents' living room. This piece is solid and sturdy, with beautiful character, but has been neglected. Multiple layers of paint and polyurethane cover it, definitely not creating a smooth surface. With a little TLC, I can bring back its natural beauty!
Materials needed for an easy side table makeover with Fusion Mineral Paint:
Affiliate links are included in this post for your convenience, with no additional cost to you. Thank you for your support!
Fusion Mineral Paint TSP Alternative Cleaner
container for mixing
rag or cloth
fine sanding sponge or sandpaper
super fine sanding sponge or sandpaper
Fusion Mineral Paint in Midnight Blue
Fusion Mineral Paint Synthetic Bristle Angled Paintbrush
hardware of your choice
How do you prepare your piece of furniture for painting?
Remove the hardware.
Mix TSP alternative in a clean container according to directions.
While wearing gloves, thoroughly clean your piece with the TSP alternative to remove any grease and dirt. Wipe the piece down and let it dry.
When the piece is completely dry, lightly sand with a fine sanding block or a fine grit sand paper.
Wipe it down completely with your lint-free cloth to remove any dust.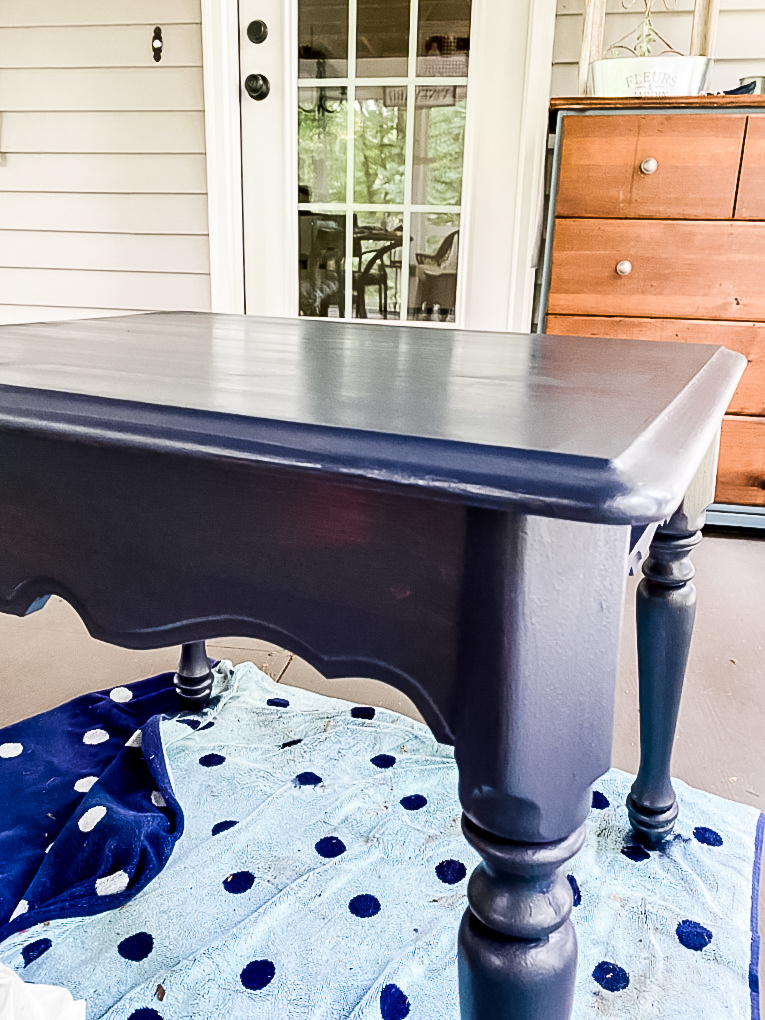 How to Paint Using Fusion Mineral Paint
After you have prepared your piece, follow these simple steps to paint your furniture with Fusion Mineral Paint:
First, mix your paint in its pot.
Next, dip your brush into the paint. Do not overload your brush with paint. A little will go a long way!
Then, paint your piece, using long, even strokes, following the grain of the wood.
It will dry to the touch in two hours, but it is recommended to wait at least 4 hours to dry before applying another coat. You may need to apply 2 to 4 coats, depending on your piece.
The paint will dry to a beautiful, silky matte finish, but does take 21 days to fully cure.
Patience is the key here (and I am not always patient!). Wait about 48 hours before placing any items on your painted piece.
Do you need to sand your piece first?
Lightly sanding with a fine grit sandpaper (220 grit or higher) will help Fusion Mineral Paint grip to the surface of your piece.
Do you need to prime your piece before using Fusion Mineral Paint?
There is no need to prime. This paint will adhere to the wood and create a smooth, uniform finish.
What type of paintbrush should you use?
This is a situation of you get what you pay for. Using a high quality brush will result in high quality results. I look at it as an investment. I wash and care for my brushes so I can reuse them for multiple projects.
How do you get a smooth finish when painting your piece?
Using a high quality brush and multiple thin coats will help ensure a smooth finish. When painting, paint in long thin, coats. Allow 4 hours to dry between coats. You may lightly sand with a super fine grain sandpaper (300 grit or larger) or sanding sponge between coats and wipe away any dust with a lint-free cloth.
Do you need to seal the piece after painting with Fusion Mineral Paint?
No need to seal! Fusion Mineral Paint has a built-in top coat and will cure after 21 days.
Now, this pretty little side table sits in my living room. I am so happy I found it and was able to refresh it.
Spring is the perfect time for a DIY project! I hope you are inspired to give an old piece of furniture a second look and update it using paint!
Now, be sure to head over and visit my friends for some simple and affordable Spring home inspiration!
Thrifty Style Team
Redhead Can Decorate – 3 Simple No-Sew Home Decorating Ideas Using Fabric
Our Crafty Mom – Bumble Bee Craft Mason Jar
DIY Beautify – Salt Dough Rabbit Ornaments
2 Bees In A Pod – Stamped Eggs for Spring
The How To Home – Hand Stamped Napkins
Postcards From The Ridge – Paper Egg Ornaments
Vinyet Etc. – Thrifty Vintage Planters – Spring
Lora B. Create & Ponder – 7 Ideas for Decorating the Tops of Armoires, Bookcases (and any tall furniture)
The Tattered Pew – 5 Thrifty, Chic and Simple Spring DIY Projects
Cottage On Bunker Hill –Inspired Antique Brass Planter
Amy Sadler Designs –Easy DIY French Country Table Runner
Songbird – Easy Fresh Flower Spring Wreath
My Family Thyme – Easy Side Table Makeover with Fusion Mineral Paint
Thank you so much for visiting today! I would love to connect with you on Facebook, Instagram, Pinterest, or here on the blog!