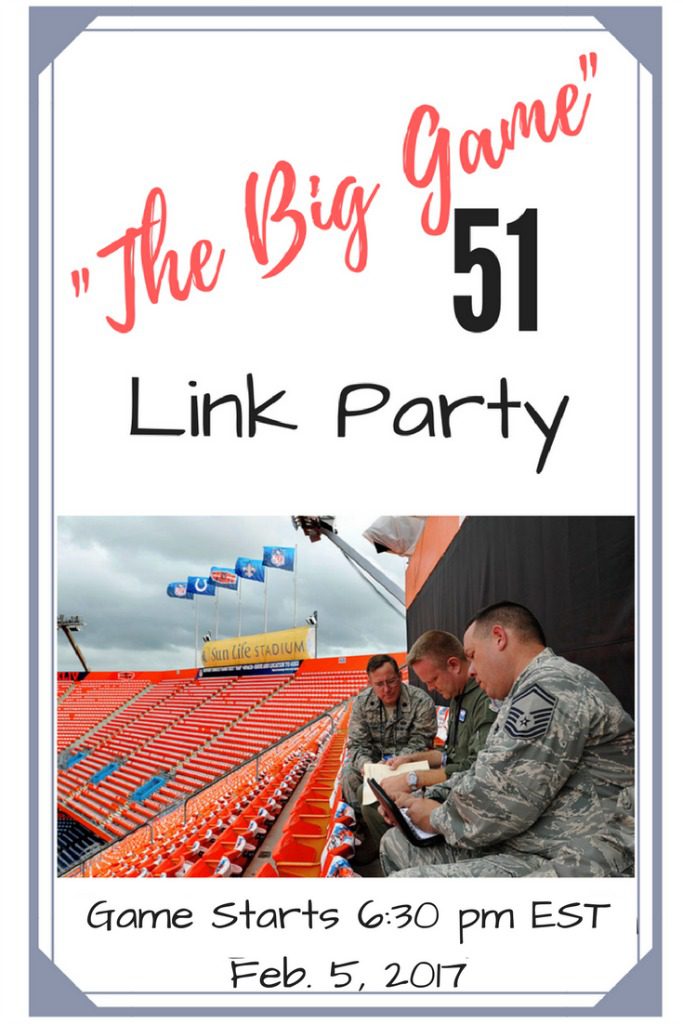 I am so happy to be part of "The Big Game" link party, hosted by the talented Melony from Sledgehammer Queen. Join me and 5 other bloggers as we share recipes and tips for making the most of  the 51st Big Game.
For those of us old enough to remember, do you recall when a new episode of Little House on the Prairie (When Almanzo and Laura finally got together) or Dallas (who shot JR?) aired? That's all anyone was talking about the next day. It was a shared experience back when there were only a handful of shows on TV at any given time.
Now, between hundreds of channels, Netflix, Hulu, etc. a show can be cancelled and you never even knew it was on TV in the first place! It's very difficult to discuss your favorite show with your bestie when you are all caught up and your BFF is binge watching the series but is only on Season 3.
I miss those shared experiences and the Big Game is one of those occasions when most of the United States, at least, stops and experiences something together in real time. It's a bonding experience and I love it. Unfortunately my team lost the AFC championship game so I'm going to make the best of it and enjoy really awesome commercials, a half-time show and super yummy food!!
This year we celebrate the Big Game 51! and this year the Big Game is going to be even better as four of my blogger friends are sharing great recipes for the game and one has a great idea for a hostess gift!! All you have to do is click on each link below to access these ladies' creative ideas!
1.Check out our host post at Sledgehammerqueen.com – She is a football fan! – She is including a Football Tutorial!
2. Craft Lily Pad has 5 tips for a successful Super Football Shindig! Love it!
3. My Family Thyme has some awesome Chicken Nachos. They just look fabulous.
4. Red Shutter Cottage is sharing her fabulous Confetti Chili.
5. A new blogging friend and Interior Designer by trade Kristy Mastrandonas is sharing a super cute idea for a hostess/host gift. I love it. Find it here!
6. And last but I hope you take a peek, I am sharing 10 fabulously yummy slow-cooker dips for the big game day! Woot! Find the recipe links here.