How to Decoupage a Pretty Planter
Using craft paint and napkins, this pretty decoupage planter is a simple, budget-friendly DIY for your Spring home's decor!
Spring time is the perfect time to refresh our home's decor!
If you're like me and want to refresh it on a budget, you've come to the right place!
Today I am excited to be joining a very talented and creative group of ladies who are part of the "Thrifty Style Team". A big thank you to Julie from Redhead Can Decorate, who hosts this amazing group of bloggers!
Our theme is (as always) thrifty, affordable, free, inexpensive, dollar store, garage sale, or hand me down home styling/decorating ideas. I know you will love all of their creative ideas for your home this Spring!
My Planter
Last month I shared this easy side table makeover, using an old table that I had belonged to my grandparents. I had found it in the basement, while cleaning out my family's home. This home was built by my grandparents and then belonged to my mom. You can read more about this special house here.
While cleaning out, I had also found this planter. I brought it home with me and used it for a while, but the style didn't really fit into my decor. Recently, I decided to change it up with the help of a little craft paint and a couple of napkins.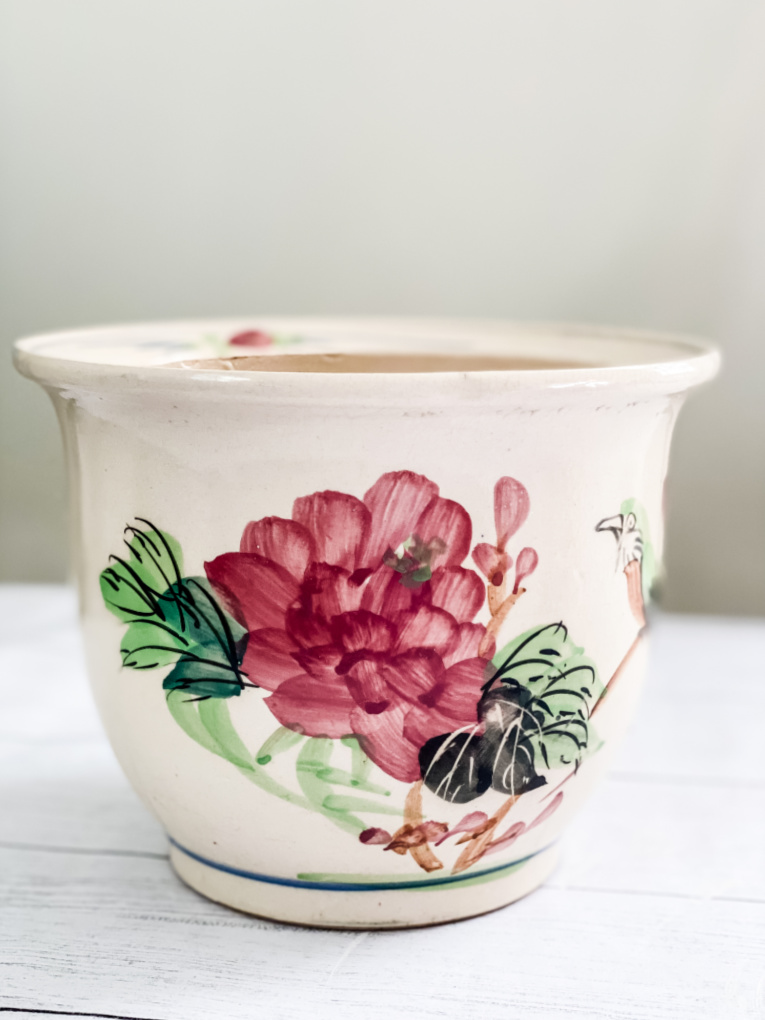 Materials Needed to Decoupage a Planter
planter
acrylic craft paint
2 sponge paint brushes
pretty napkins (I used two for this project.)
Mod Podge matte sealer
Thrift stores, tag sales, and flea markets are great places to find a variety of inexpensive planters for this project. You could also use a terracotta pot.
How to Decoupage a Pretty Planter
First, paint your planter. My planter took 3 coats of paint to completely cover it.
The planter won't take long too dry. When it is drying, you can begin to prepare the napkin to decoupage.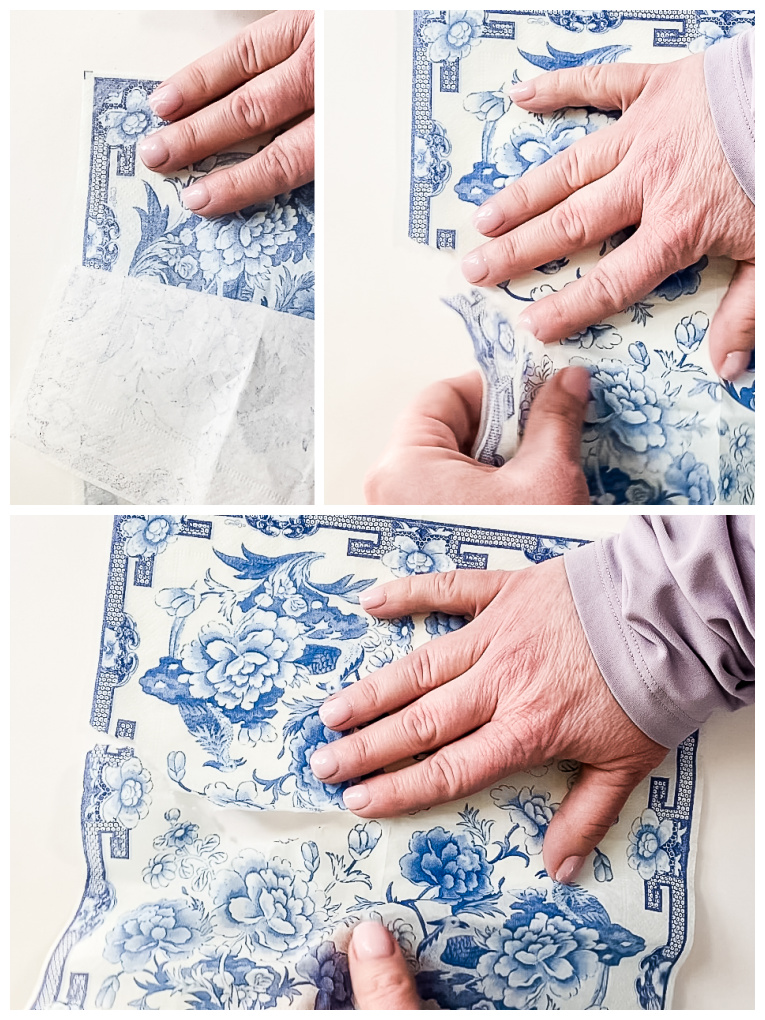 Open your napkin and separate the layers of the napkin. Be sure to use only one layer of the napkin. You can toss the other layers.
Find the part of the decorative napkin that you would like to use. Gently tear the napkin into smaller, manageable pieces.
Working in small sections, apply Mod Podge to the area of the pot, using a sponge brush. Gently lay the piece of napkin on the pot.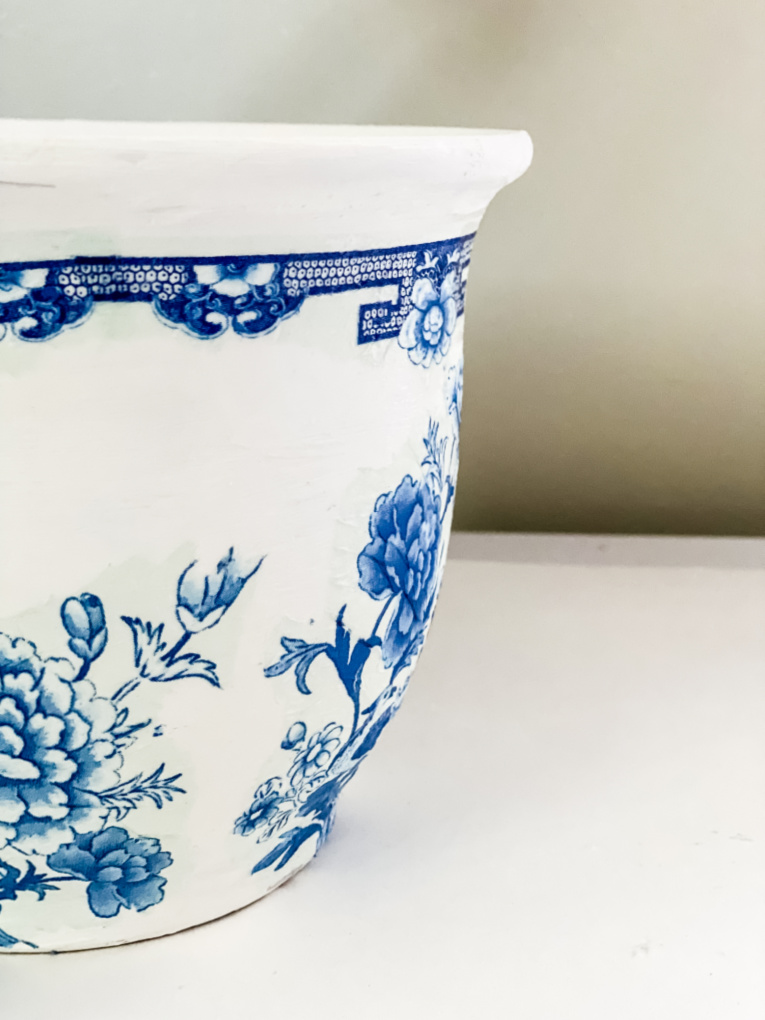 Then, add a little more Mod Podge on top of the napkin to adhere it to the pot.
When you have finished, let it completely dry. Then, give the pot one more coat of Mod Podge to seal it.
I love how this planter now mimics the look of classic blue and white chinoiserie.
Shop the Supplies
This post contains affiliate links. Please see my disclosure policy here. Thank you for your support.

Helpful Tips for Decoupaging Using Decorative Napkins
Here are a few helpful tips for decoupaging your own pretty planter:
When decoupaging, it is best to work in small, sections.
Tearing the napkin, instead of cutting it with scissors will give the edges a softer, smoother edge.
To smooth the napkin, dip your finger in water and gently smooth out the napkin.
Your napkin may not be completely smooth and that is ok. Resist the urge to play with it too much. Once it is dry, give it a final coat of Mod Podge to achieve a smoother look.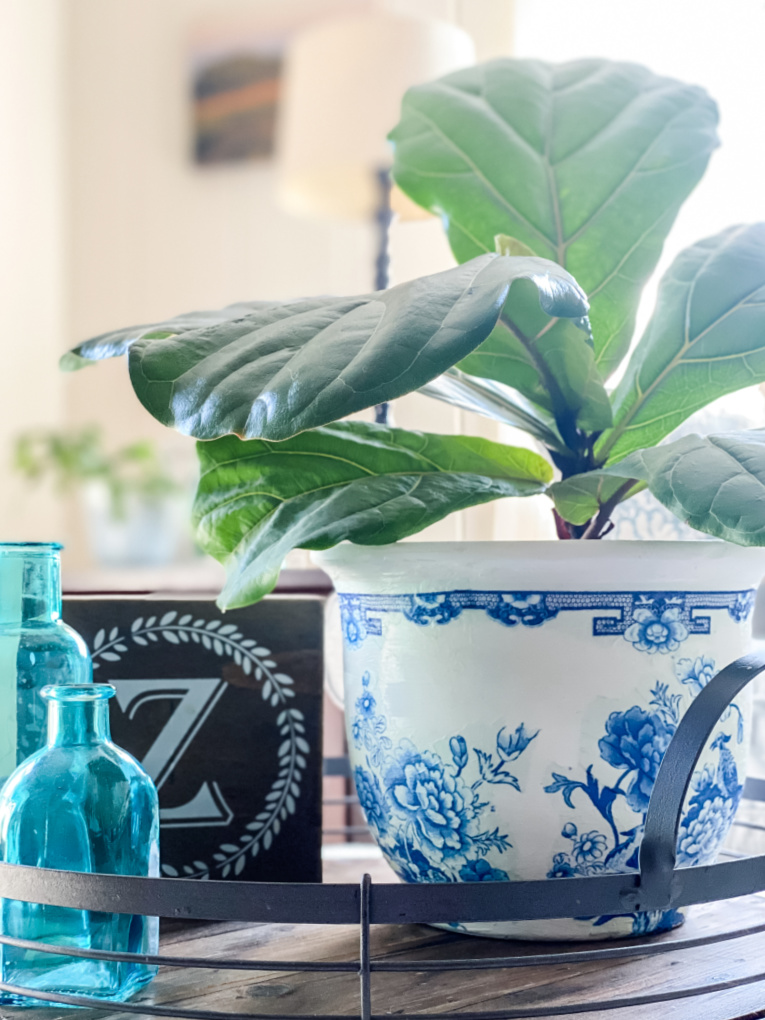 What a fun Spring project!
How wonderful that craft paint and a simple napkin can make a pretty planter! I am so happy with how this came out and am enjoying it in my family room this Spring.
I am already thinking about how I can decoupage more planters for my home. Maybe I'll make some smaller pots for fresh herbs in my Spring kitchen. Where would you put a pretty planter in your home?
Thank you so much for visiting today. I am so grateful for you! I would love to connect with you on Facebook, Instagram, Pinterest, or here on the blog!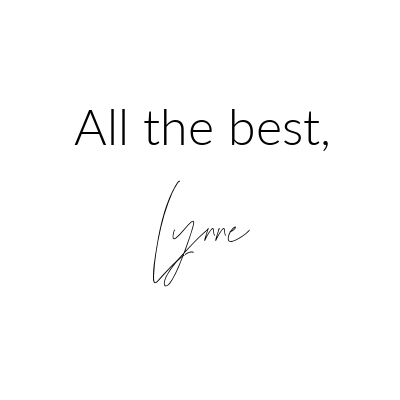 Be sure to head over and visit my creative blogging friends! You are sure to be inspired by these amazing ladies!!
The Thrifty Style Team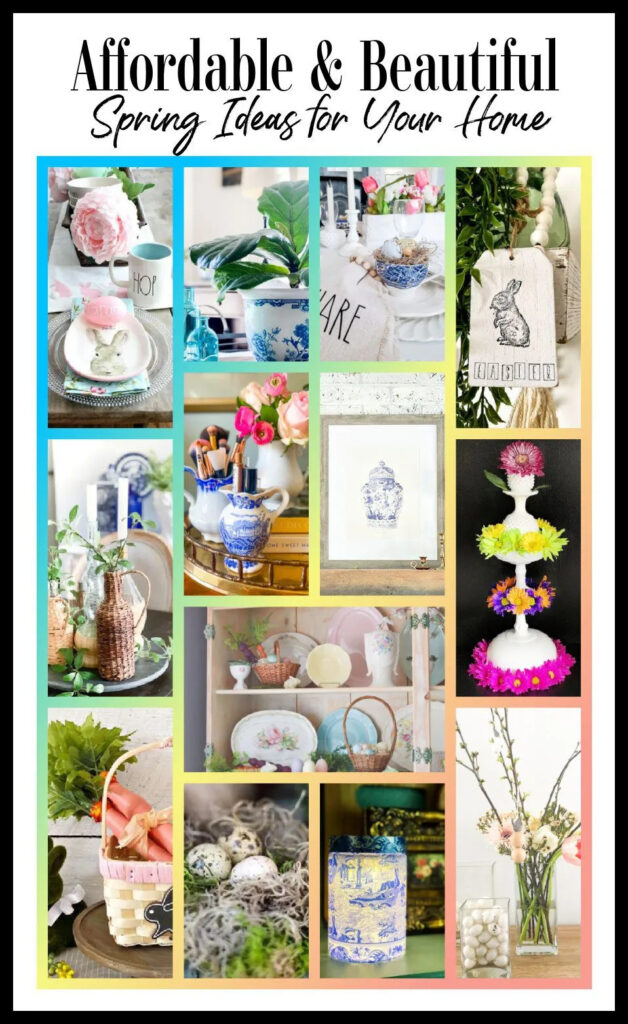 If you are looking for more thrifty Easter decor ideas, please visit this week's Tuesday Turn About link party!